Stone Tool Page
3/4 Grooved Axe - #9-1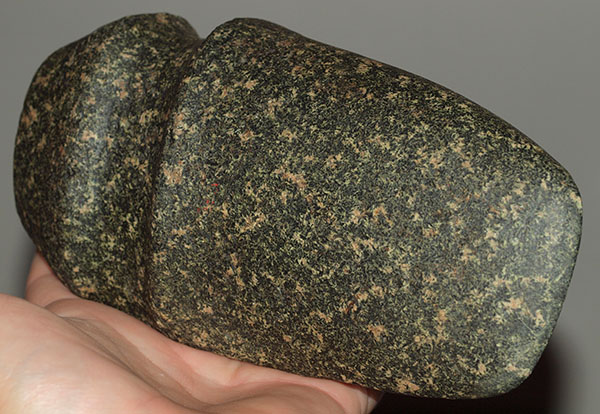 Size: 6 3/4" long x 2 1/2" W x 3 1/2" tall.
Provenance: This axe was in a museum that closed down in Illinois called the Red Barn Museum. Ray Fraser helped the family distribute the collection, and this was an early pick. Blue ink, reminiscent of Dr. Stan Copeland, appears on the bottom. I am 90% sure the ink reads Wood Co, Ohio. From my personal collection, and my catalog card will be included.
Condition: Super. How great is this material? Not sure if you classify it as porphyritic, or just a very vivid green and white speckled granite. Outstanding form, with a trophy like constricting poll, excellent fluted bottom, great polish, and it stands very nicely. Top grade Ohio axe.
Price: $SOLD> THANK YOU>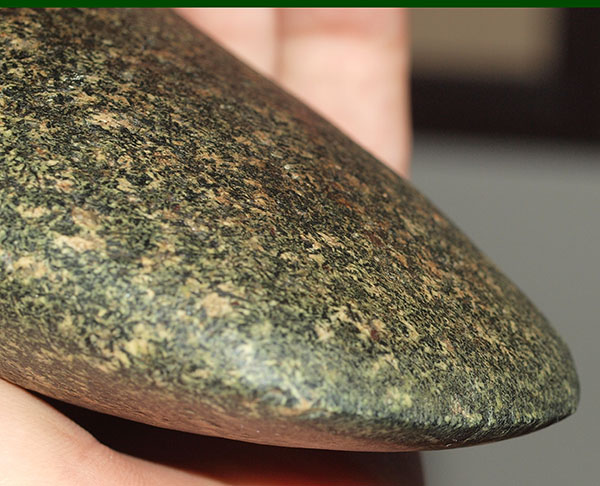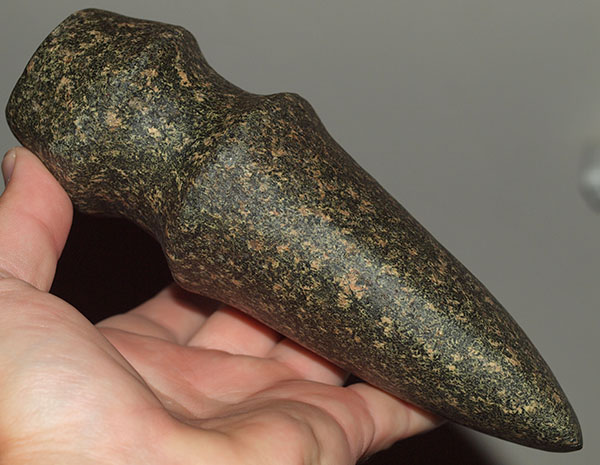 Fat Body Celt - #9-2
Size: 4" long x 1 5/8" tall
Provenance: Ohio. Cliff Bauer collection.
Condition: Super. Very nice hand size celt. Tons of bit polish, and well formed.
Price: $ON HOLD.
Bit Polished Celt - #9-3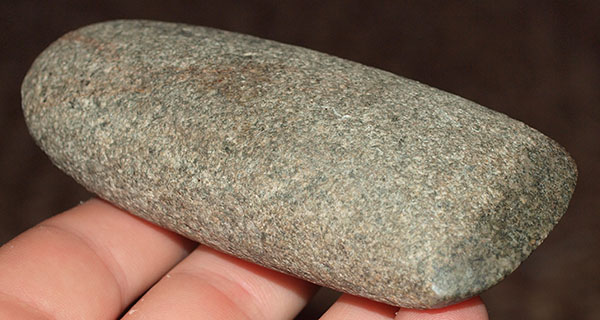 Size: 4 1/4" long x 1 7/8" tall.
Provenance: Ohio. Cliff Bauer collection.
Condition: Super. Highly polished bit area. I have heard on occassion that when the bit is polished like this that it means the piece was modernly ground. This is completely untrue, and many authentic celts show this feature. I don't know if it is caused by the "work" only rubbing against the front 3/4" inch or if it is evidence that some of the celts were hafted to that point.
Price: $40.
Hammerstone - #9-4
Size: 3 1/4" diameter
Provenance: Ohio. This is a Cliff Bauer piece purchased at the AT Wehrle Estate sale held on 4/11/1956. Additionally, there is an M 852 number on the side. This collection was known to be purchased by Wehrle, but I can't find anybody who is sure what collection it was. Best theory I have heard, is that it was Don McBeth's.
Condition: Super. I run into hammerstones in collections from time to time. Some are cool, most are not. Haven't ever sold one on the website, but this one has earned a spot on the website. Material is an incredible quartz infused brown/tan hardstone. When handled, there are many subtle dents, polished areas, and even a flat spot on the bottom (so it doesn't roll off your relic shelf, lol). If you want one hammerstone example, this is it.
Price: $40
Head Knocker - #9-5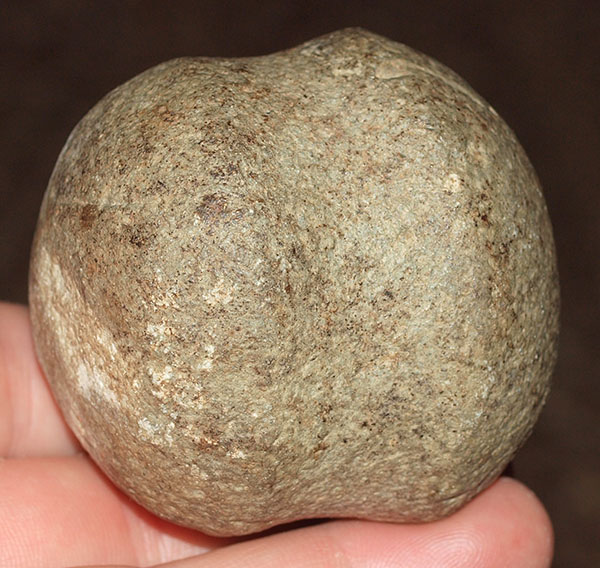 Size: 3 3/4" tall x 2 1/4" wide.
Provenance: Found in Delaware County, Ohio by Jack Johns.
Condition: Perfect. Great form, worm tracked hardstone, and mini-sized.
Price: $100
Wisconsin Style Fluted Axe - #9-6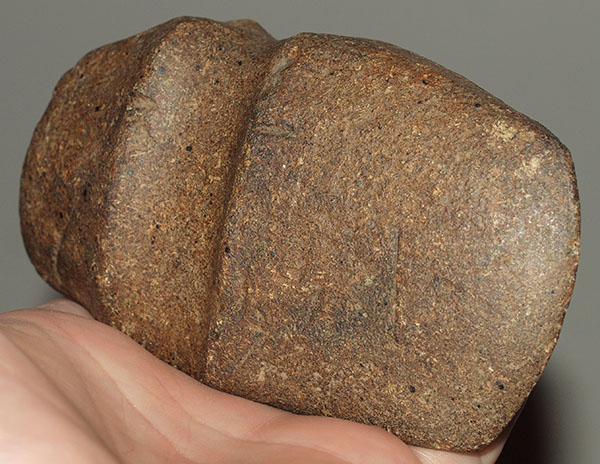 Size: 4 7/8" long x 2" wide x 2 3/4" tall
Provenance: Labeled Lucas County, Ohio by the well known old time (19th century) collector E.C. Fritch. I purchased from Trevor Garrett, and I believe he found the piece in a farm sale.
Condition: Good. This piece has multiple nicks and scrapes, but nothing that removes any chunks from the piece. This is a true Wisconsin style fluted axe. The top and bottom flutes are easy to picture, but there are 10 distinct flutes all the way around the poll. They average 5/16" wide each. For some reason they are hard to picture, but they are prominent. Very few of these axes were ever found outside of Wisconsin, and I know of none that have been found in Ohio. With this in mind, it is very possible that the early provenance was done in error, or this could be the one that travelled to Ohio. Either way, this is one of the most desirable and absolutely the rarest forms. I guess I should have chalked the flutes, so they could be seen easier, like I have seen in so many journal articles.
Price: $SOLD> THANK YOU>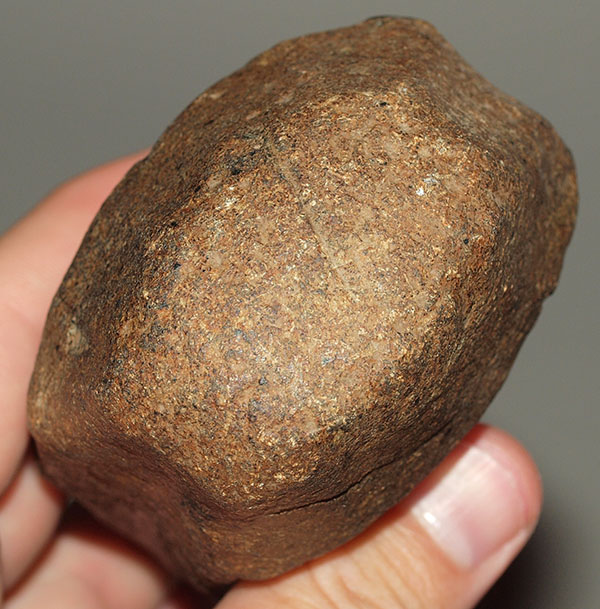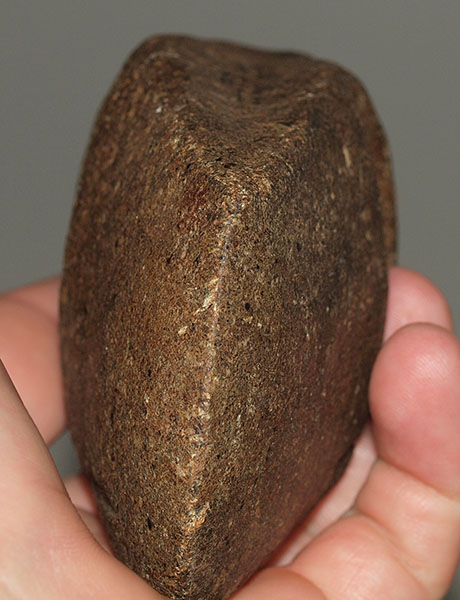 Mini Celt - #9-7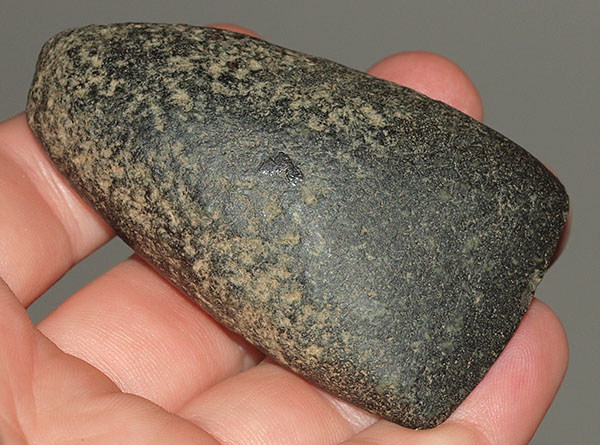 Size: 3" long x 1 5/8" wide.
Provenance: Ohio. Bauer Collection.
Condition: Excellent. Tiny amount of bit chatter. Yet another great ancient piece for the price of a pizza and a pop.
Price: $ON HOLD.
Full Groove Axe - #9-8
Size: 4 3/4" long x 3 1/4" tall.
Provenance: Ohio. This was in with the personal finds of Cliff Bauer. Most likely along Darby Creek in Franklin County, Ohio.
Condition: Good. This would qualify as a field grade axe, but still a solid example with many interesting twists and turns.
Price: $SOLD> THANK YOU>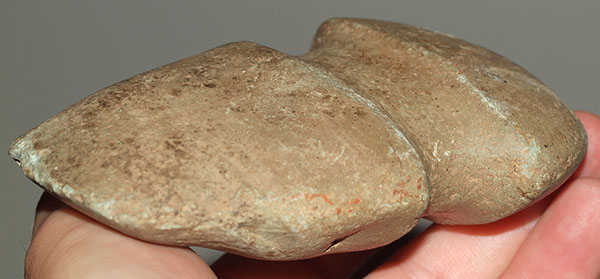 3/4 Groove Hammer Axe - #9-9
Size: 4" long x 2 7/8" tall
Provenance: Ohio. Personal find of Cliff Bauer.
Condition: Good. Another field find tool. The extra high ridges above the groove are the best feature.
Price: $ON HOLD>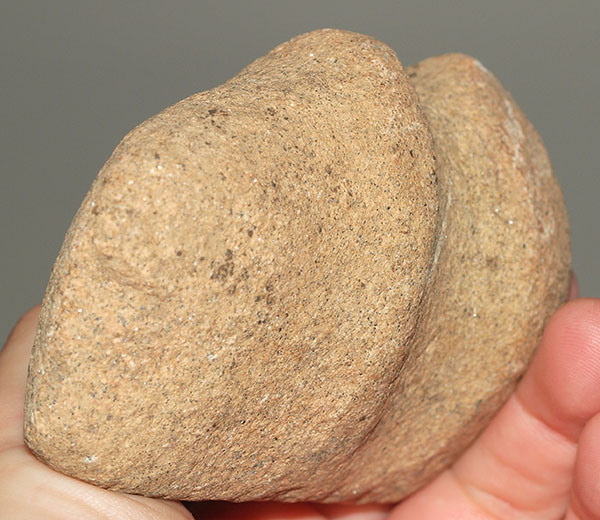 NOT FOR SALE SECTION:
I like Porphyry.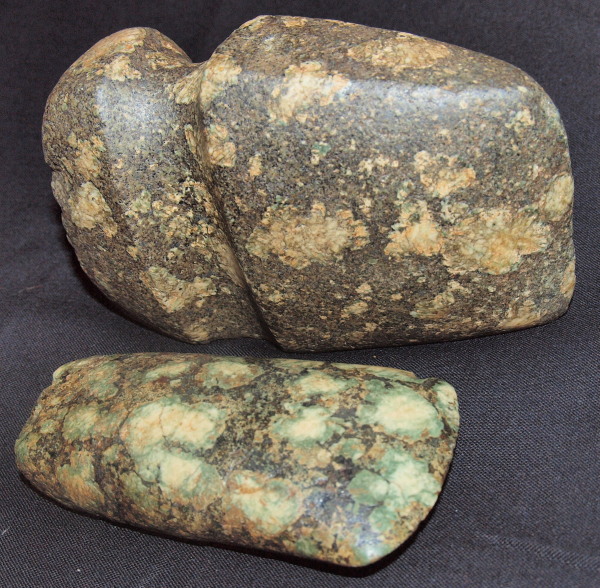 I like bullseye banding on slate: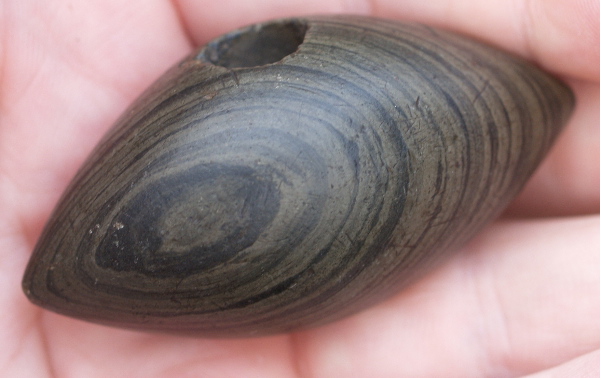 I like things I can't have: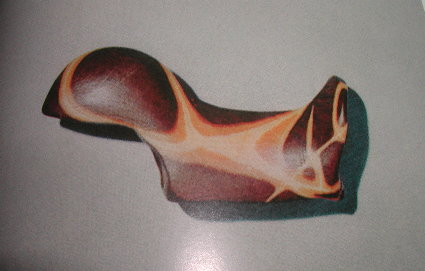 I like Flint Ridge Flint:
Jon Dickinson
Copyright 2004 (Dickinson Contract Marketing). All Rights Reserved.