Stone Tool Page
12/10/19
Fine Celt - #9-1
Size: 4 3/4" L x 2 1/8" W
Provenance: Hamilton County, Ohio. X: Shiveley, McNeal.
Condition: Perfect. As good as they get.
Price: $SOLD> THANK YOU
Museum Quality Celt - #9-2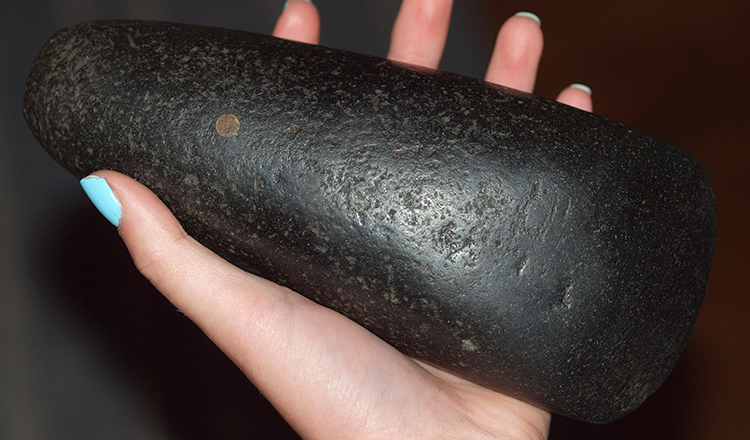 Size: 7 1/2" long x 3" wide.
Provenance: I cannot read the old tag, which looks like Byron Knoblock's style of tag. I do know that the piece is X: Jacob Waterlander (C-4), Clark Steinbarger, Richard Heitkamp. Quite a list of Michigan old timers.
Condition: Museum. I have to be careful about throwing around terms like "the best", so I will just say this is probably my favorite celt I have sold on this site in 15 years. Pictures just didn't work out. I tried multiple hand models, and light settings, but the piece did not want to have great pics. The problem was that the surface is so polished that the flash would bounce back and create photo "burn". That and it was too big for me to hold and fit in the macro view screen. Item is big, perfect, and highly polished. There is a very small amount of bit chatter that does not hurt piece in the least.
Price: $SOLD> THANK YOU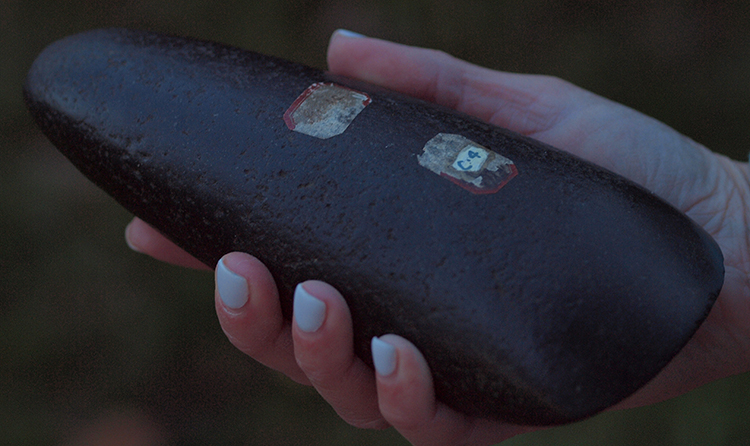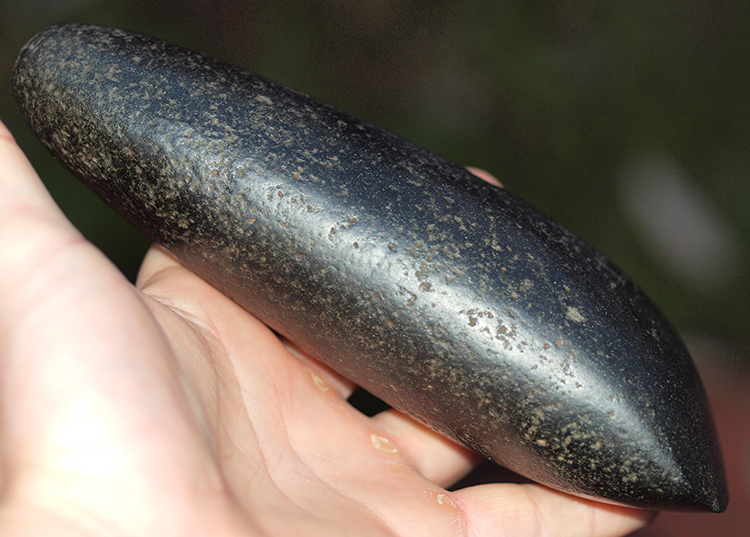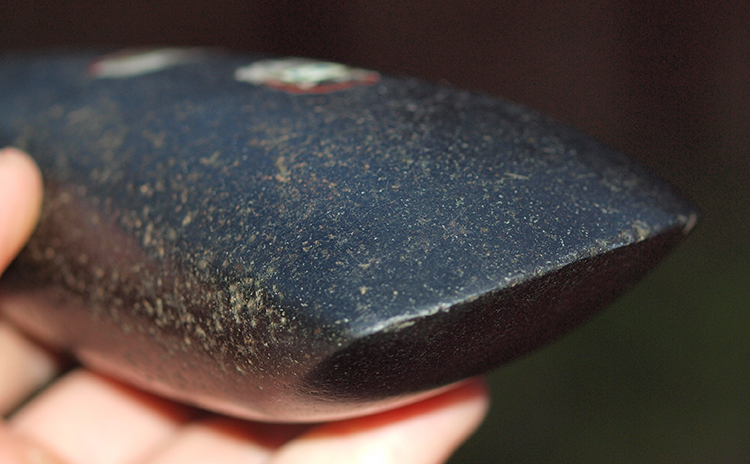 Fluted or Raised Center Ridge 3/4 Groove Axe - #9-3
Size: 6 3/4" long x 2 1/2" tall x 2 1/4" W
Provenance: Found by Ken Stafford near town of Fremont, Newago County, Michigan. X: Templeton, Ken Spaulding.
Condition: Super Rare.Within the stone tool world, this is something extremely rare. I am not 100% sure what to call it. The piece has a well formed center ridge running from the groove to 3/4" before the bit on both sides. The ridge is centered top to bottom, and almost perfectly bi-sects the piece. I have not seen a piece like this except in a journal article that covered 2 examples from Iowa that Maury Meadows owned. He called them Ridged Axes, but I see differences between those examples and this one. Most importantly, geography being different by 500 miles+. The other possibility, and most likely, is that this axe falls into the Fluted Axe tradition of Wisconsin. A very rare and great axe.
Price: $SOLD> THANK YOU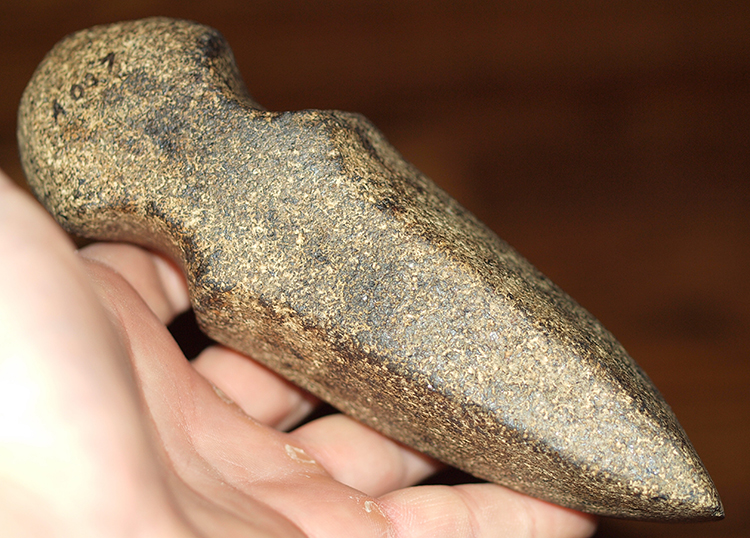 Flint Celt - #9-4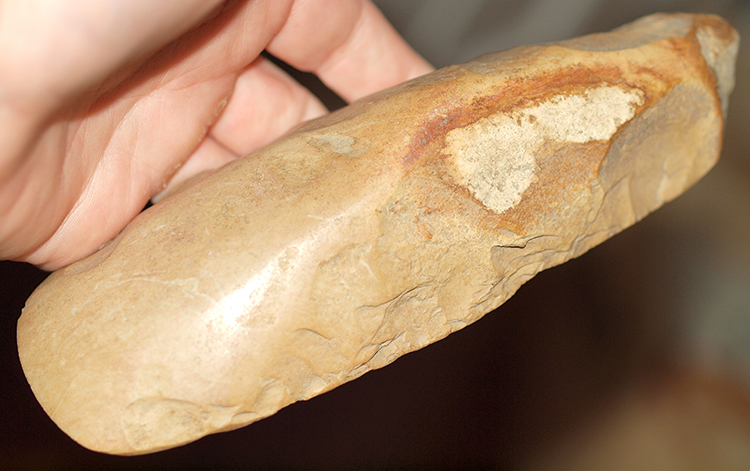 Size: 7 3/8" L x 2 5/8" W.
Provenance: Found by Lyman A. Hussey at the famous Twin Mound and Village Site located in Ballard County, Kentucky. Piece was found prior to 1958. I purchased from the family.
Condition: Super. Please note that the poll end is not damaged. Many of this type were made to use every bit of available material, and the poll ends often show the natural edge of the original piece of flint. Speaking of flint: What is this made from. Dominant color is brown/tan, but there are some subtle pinks and white quartzy streaks. Maybe St. Louis Green material. I am sure this is a great piece, and one of the handful of best finds from the Hussey family out of 50,000 pieces.
Price: $400. B/c it is Christmas.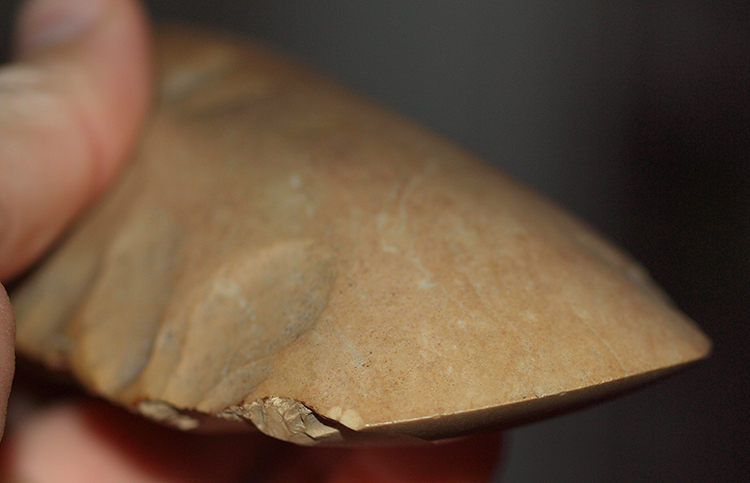 Old "33" Celt - #9-5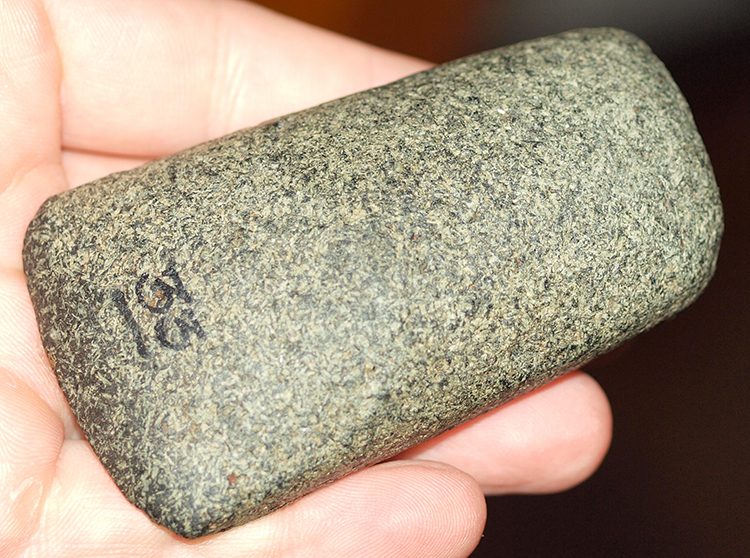 Size: 3 1/2" long x 2" wide.
Provenance: I don't have a find location, so let me get on the soapbox for a minute. Don't label your pieces with a number. If labeling, put the basic info (County, State...) on it. If you think your catalog will always be together with your "numbered" pieces, you are wrong. I see it nearly everytime. I do know that I bought this piece years ago out of the Tom Razmus collection, and he was a prolific hunter in Southern Illinois/Indiana. For all I know, the "33" is paying homage to Rolling Rock beer and their 33 on every bottle.
Condition: Super. Nearly perfect. One small area of old damage that was smoothed out prehistorically. Almost a Flared bit, and I would guess Hopewell for the culture. There is a subtle ridge that runs across the piece about 1 1/2" from the bit. This was used to assist in the haft, and is a seldom seen feature. It does not show up well in pics, but I guarantee you will feel it in hand.
Price: $SOLD> THANK YOU
Salt-n-Pepper Adze - #9-6
Size: 3 7/8" L x 2 1/8" W.
Provenance: Fulton County, Indiana. Labeled this way, and also with a number 317. No idea what the number means, but I do understand where Fulton County is....
Condition: Super. Very nearly perfect again. I am a tough grader... Great adze form, with tremendous material, form, and polish. Top notch adze.
Price: $SOLD> THANK YOU
Wirey Granite Adze - #9-7
Size: 3" long x 1 3/4" wide.
Provenance: Found by Mrs. Bair on 3/12/1985. Where she found it is anybody's guess. Another one of the Razmus celts that I have had tucked away for quite a while. Should be Southern Illinois, but I can't know for sure.
Condition: Super. Handling this piece as I type, and not happy at all with the pics. Under a deadline, so I am not going to re-do them. Just know this piece is better than the images.
Price: $SOLD> THANK YOU
Polished Large Pestle - #9-8
Size: 6" tall x 4 1/2" diameter in the bell
Provenance: Midwest. Exact location not known, other than it is #15 in white India ink.
Condition: Excellent. Look at this piece in the first picture. One of the finest pestles in existence from this angle. As you can see in the bottom picture, there is a chunk missing off the side. Damage is old, and was used after this occurred. Even with damage, still a top quality example.
Price: $SOLD> THANK YOU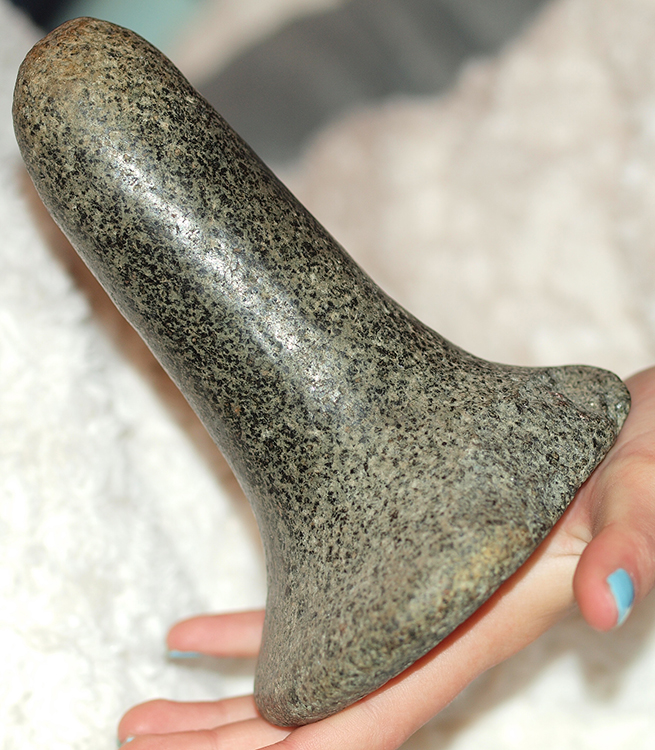 Chisel with a Stripe - #9-9
Size: 4 1/8" Long x 1 1/16" wide.
Provenance: Midwest.
Condition: Super. There is a tiny, I mean tiny, amount of bit chatter, and two surface plow marks on the bottom. This chisel has a really great feel in your hand, and it screams craftsmanship. It also has a really great polish, which doesn't show up well in the pics, but the whole piece is very smooth and slick.
Price: $125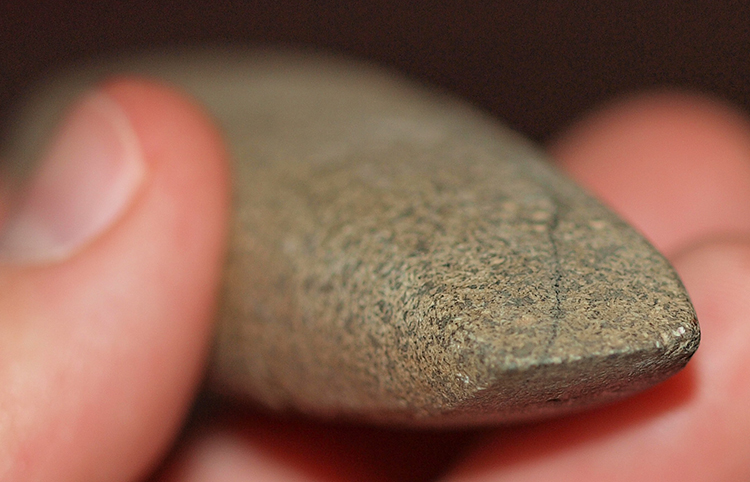 The Painted Axe - #9-10
Size: 6 3/8" long x 4" Tall x 2 1/8" Wide
Provenance: Purchased from finder out of Central Kentucky.
Condition: Super. Apparently, his kids used it for a class project many years ago. Nice choice of paint colors. Reminds me of my favorite childhood book: Oh, Were They Ever Happy. Paint can be removed, but I didn't. A great axe, with big size, and super condition. Paint gets you a big discount.
Price: $250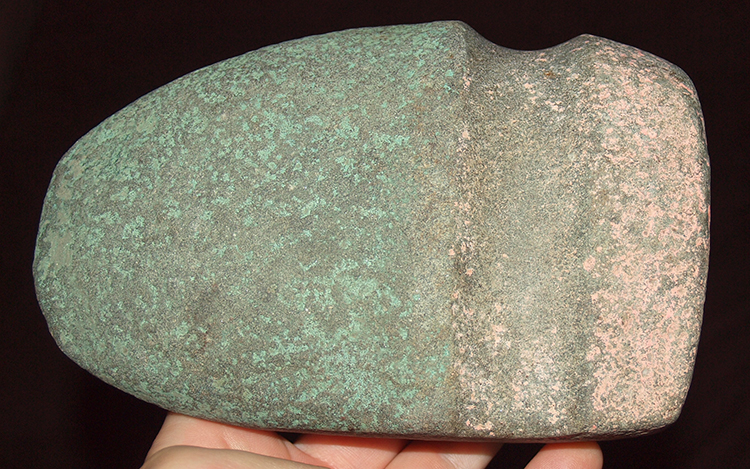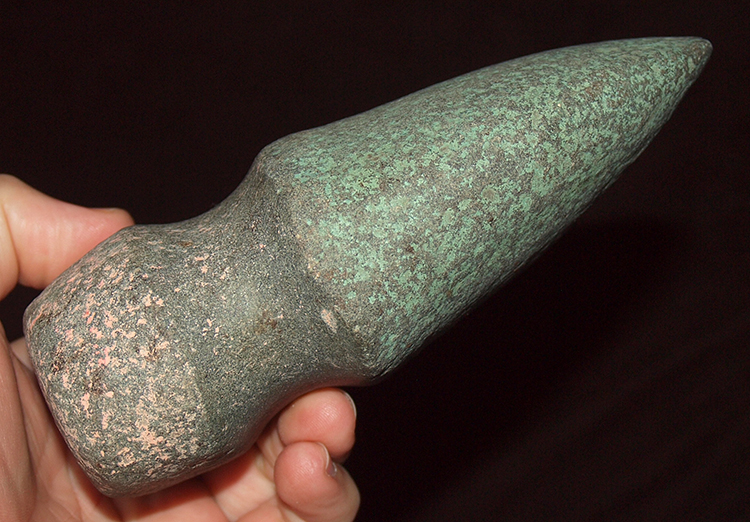 Full Groove Axe - #9-11
Size: 4 1/8" L x 3 3/8" W
Provenance: Indiana.
Condition: Super. Old timers called these "pebble" axes, b/c much of the shape was determined by the natural stone it was made from. No damage to speak of, well polished, and sturdy at the bit for cutting and hammering.
Price: $SOLD> THANK YOU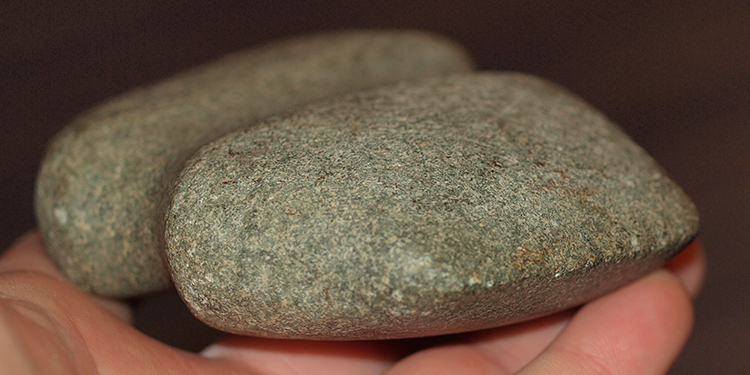 NOT FOR SALE SECTION:
I like artistry in slate.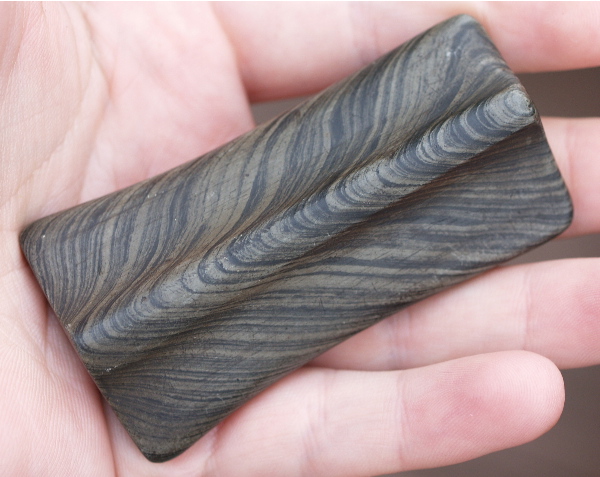 I like Porphyry.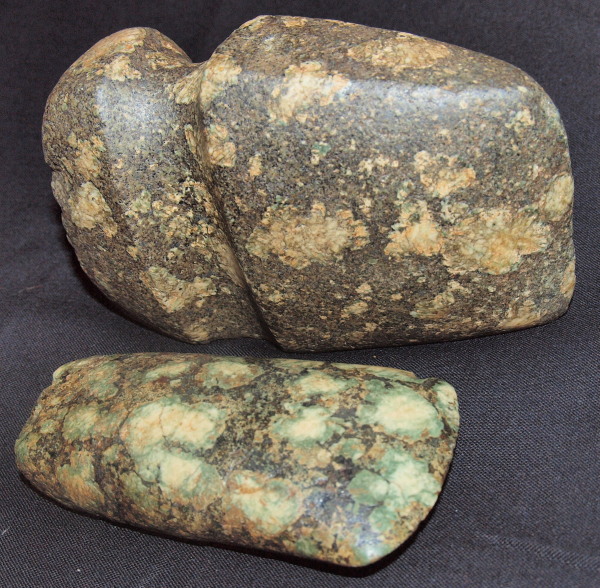 I like bullseye banding on slate: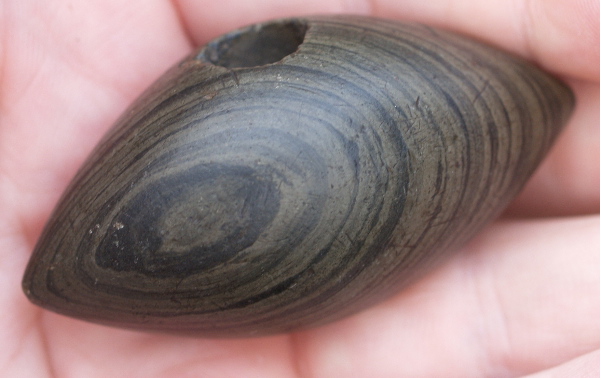 I like things I can't have: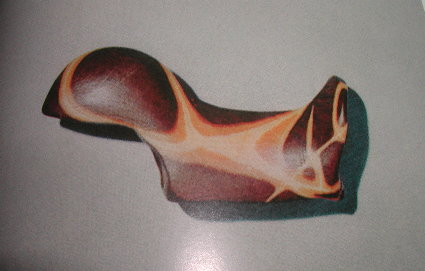 I like Flint Ridge Flint:
I like Bullseye patterns on flint pieces:
I like Hematite Axes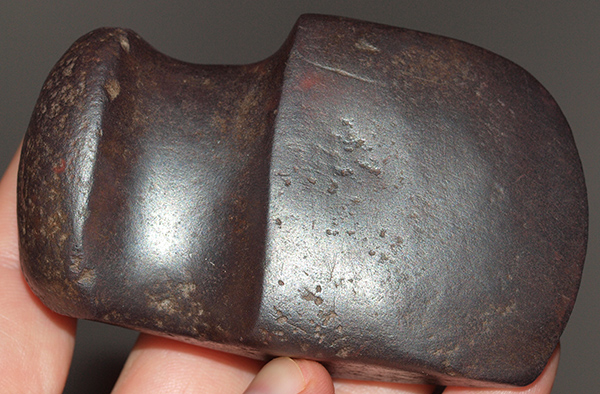 I like Translucent Flint: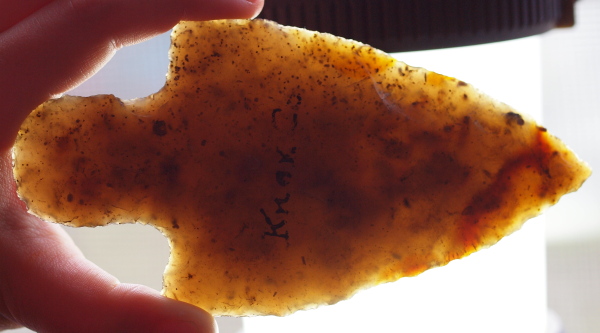 Jon Dickinson
Copyright 2004 (Dickinson Contract Marketing). All Rights Reserved.