Stone Tool Page
3/4 Grooved Axe - #9-1
Size: 3 3/4" long x 2" tall.
Provenance: Found in Pickaway County, Ohio on the Hudson Farm 7-4-1953 by Dr. Stan Copeland. The farm location is also written on the piece. The ink is old, but I believe it says "15 Miles S of Columbus Route 104". Labeled as such by Dr. Copeland. Dr. Copeland later excavated a mound on this property, and there is a site report in the Ohio Archaeologist 1960 #4. Hard to find better history than this. Anyone notice it was found on July 4th!
Condition: Excellent. Borderline mini-axe at 3 3/4". Nice material, with good polish. Not perfect by any means, but here is a chance to own a bona-fide personal find of one of the greatest collectors of all time.
Price: $200
3/4 Groove Mini-Axe - #9-2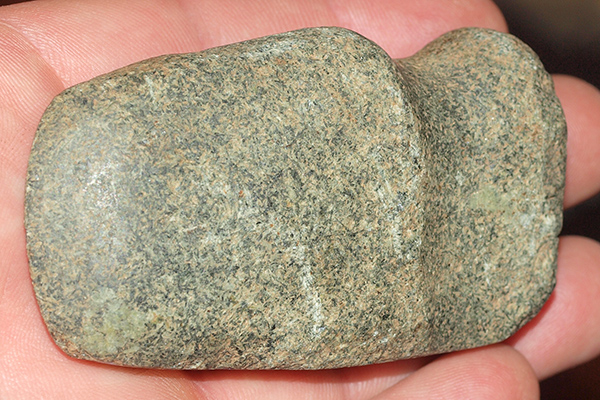 Size: 3" long x 1 3/4" wide.
Provenance: Found in Franklin Township, Franklin County, Ohio on 1/1/1956 by Dr. Stanley Copeland. Labeled as such by Dr. Copeland in his signature "blue" ink.
Condition: Excellent. Not perfect, but very nice for a personal find. Bit is superior with great polish and a very nice quartz inclusion thrown in. A few plow scrapes that could be easily worked out with hand oils.
Price: $150
Celt - #9-3
Size: 4 5/8" tall x 2 1/8" wide.
Provenance: Belmont County, Ohio. Mcqueen collection.
Condition: Excellent. Material is a very dense black hardstone with 100% polish. Bit is very close to perfect. Anything that could be classed as damage happened during usage, and shows use polish over it.
Price: $50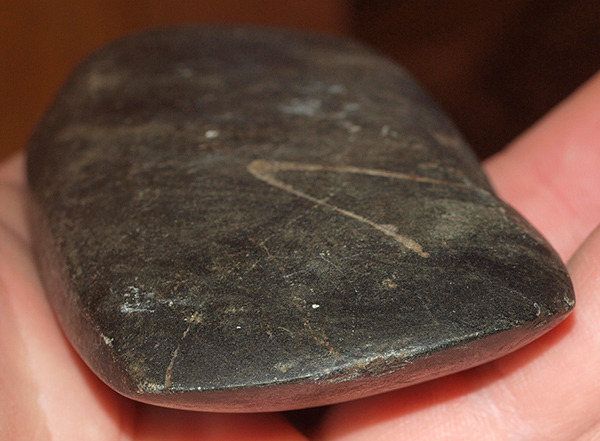 Hematite Group - #9-4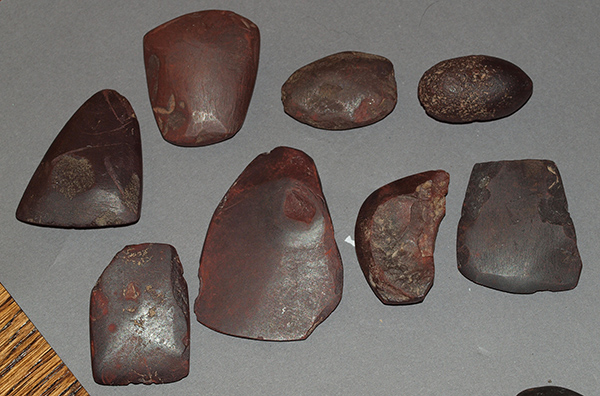 Size: 2 1/4" long x 1 3/16" wide.
Provenance: This group of hematite artifacts was found a fruit farm 3 miles South of Barnesville in the town of Doudna, Belmont County, Ohio by Bill Mcqueen. I have a note that details this provenance for the buyer.
Condition: Varies. 6 celts (one broken), 1 hematite plummet, and one mystery object second from left on bottom row. I can't figure out what it was or what it was going to be. Sure to start a conversation. This is a very good deal, and I don't expect the group to last long. Ask me for more pics or individual piece reports.
Price: $175
Pair of mini-celts - #9-5
Size: They both have the same dimensions, but are different in form. 2 1/16" long x 1 7/16" wide.
Provenance: Ohio. Mcqueen collection.
Condition: Super. Probably should be classed as perfect. Both are fine little tools that the buyer will be extremely happy with.
Price: $75 for the pair.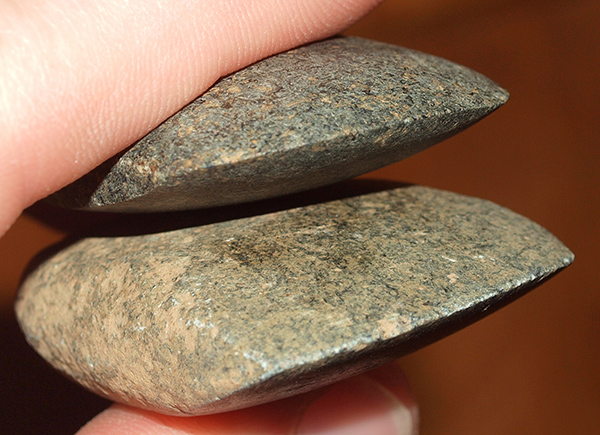 Pestle - #9-6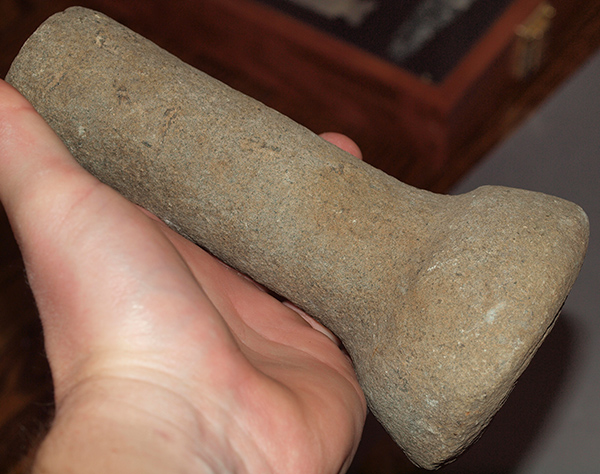 Size: 7" tall x 3 1/2" across the "bell". This is extremely tall for a pestle of this type.
Provenance: Ohio. Mcqueen collection.
Condition: Super. Polish isn't great at all, but it has very little, if any, damage. One side of bell is slightly flatter than other side. This is extremely common with pestles, and most show it much more. Every collector should own a pestle, and this is a very good one. Priced at a sell in an hour level.
Price: $150.
Roller Pestle - #9-7
Size: 9 1/2" long x 1 7/8 wide.
Provenance: This piece was found around Dayton, Ohio in 1917 or earlier by a member of the Wilkin family. I purchased this piece from a Wilkin wrapped up in a 1917 Dayton Daily Newspaper.
Condition: Excellent. A few more dings than normally get the Excellent rating, but this is one of the most highly developed roller pestles I have run across. Extremely round, with flattened ends. All the damage is confined to the ends, and should say something about how the piece was used. High polish for limestone. Buyer will be pleasantly surprised with this example. Much better than pics.
Price: $100
Meuser Celt - #9-8
Size: 5" long x 2 1/4" wide.
Provenance: Found in Richland County, Ohio. #213C/2 in the Dr. Gordon Meuser Collection. Meuser purchased this piece from JT Craig in 1917. Labeled by Doc Meuser.
Condition: Super. There a few spots, but the bit is perfect, and there is tremendous polish over 80% or more of the piece. Material is a huge plus. It is a speckled olive green hardstone. I consider this a high quality Ohio stone tool.
Price: $150
Grooved Adze with Chisel like body, and a boatstone like scooped bottom #9-9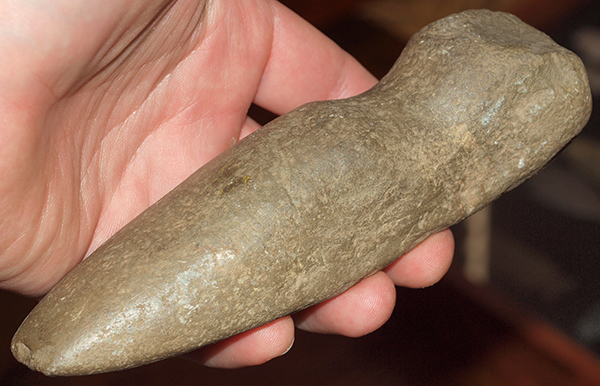 Size: 6" long x 1 5/8" wide.
Provenance: Found in Williams County, Ohio. From the collection of Dr. Gordon Meuser, and labeled by Dr. Meuser.
Condition: Good. Did you like my name for this tool? I haven't ever seen anything quite like it. Extremely unique. The body is rather thin barreled, like a chisel. It has a flat bottom, and upturned bit like an adze. Adze's are grooved on occassion. The bottom has an extremely unique pecked out dish. I can't explain why it is there, but it is. Bit is chewed up. Start collecting these unique hardstone pieces, and you will never go wrong.
Price: $150
Grooved Adze - #9-10
Size: 4 7/8" L x 2 1/4" W
Provenance: Found in Madison County, Illinois by Don Moga 5/11/1996 on his farm. Purchased by Brad Mullen of Nitro, Illinois from Mr. Moga. I purchased from Brad several years ago, and have had the piece in my personal collection ever since. My personal catalog records included with the piece.
Condition: Super. Some battering marks on the poll that have been polished over from further use. A few surface plow nicks. This is an incredibly rare stone tool form. Being made of salt-n-pepper granite makes it even rarer and more visibly pleasing. High polish.
Price: $250
NOT FOR SALE SECTION:
This large stemmed Adena blade is one of my all time favorite pieces. Purchased by Cliff Bauer from Doctor Gordon Meuser in October of 1951 for $7. Knox County, Ohio labeled by Dr. Meuser. When backlit, or even held up on a cloudy day, this piece lights up like nothing I have handled before.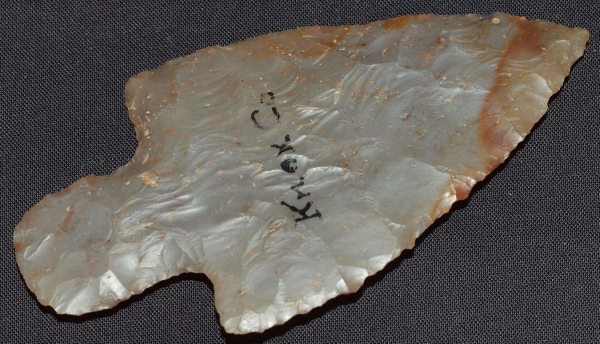 Jon Dickinson
Copyright 2004 (Dickinson Contract Marketing). All Rights Reserved.