Slate, Stone, Bone Page

3/14/19
Dr. Meuser Tube Pipe - Restored - #3-1
Size: 4 7/8" long x 1 9/16" max diameter.
Provenance: Found 4 Miles South East of Wilmington, Clinton County, Ohio. #1526/5 Dr. Gordon Meuser Collection.
Condition: Restored. See third picture down for the restored area on one side of the mouth piece. This is a type and class of artifact rarely seen for public sale. Dripping with age, rare, collectible, and from Ohio's greatest collection.
Price: $1200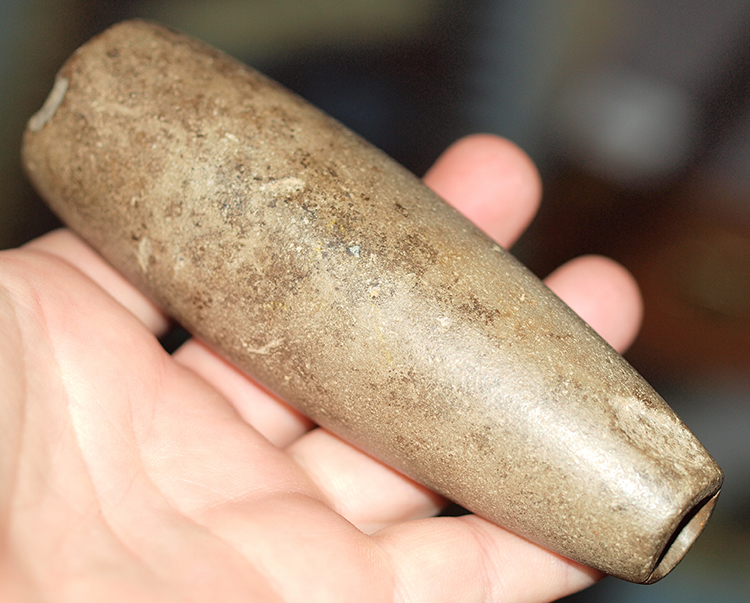 Dr. Meuser Catalog pages: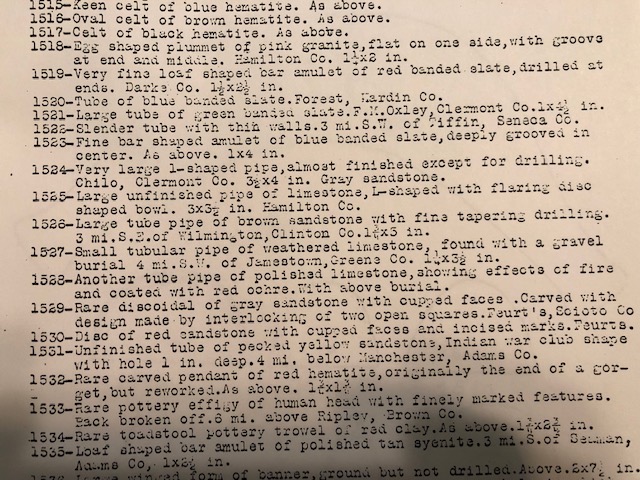 Large Un-Notched Wing Bannerstone Pre-form - #3-2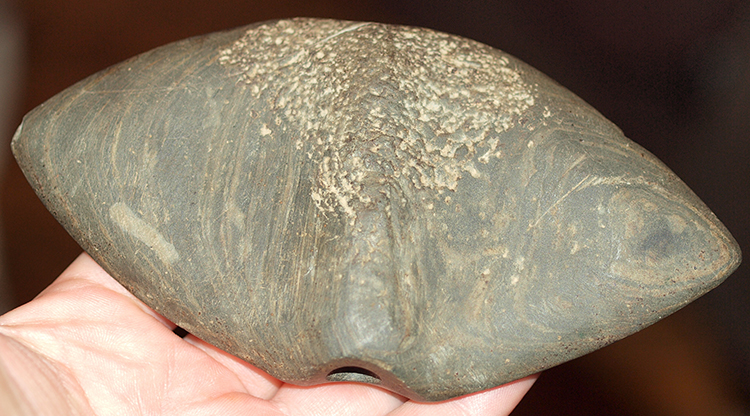 Size: 6 1/4" diameter x 3 1/8" wide.
Provenance: Found in Ohio, but ended up in Alabama with a friend of mine.
Condition: Super. Get your popcorn ready, here comes a long description. Piece deserves the attention. Note the length. 6 1/4" is very long for this type. This would be the finished length also, b/c the piece is complete right down to polishing and thinning of the wings. There are only two places that are not complete. First, there is an area that still shows shape pecking that was started to be polished out, but not completed. The second area is the hole. This one is crazy b/c I measure one hole at 3/4" and the other hole at 1 3/8" into the piece. This leaves only an inch of slate (soft material) to complete the drilling. This form is highly developed, which you will note from the barrell design and fluting. Lutz called this the highest phase of development for the type, and the start of the notched wing types. I threw in some pics of the mineralization patterns. Even if you don't buy the piece, remember that this is what good mineralization looks like on slate. Will save you more than a pretty penny.
Price: $400 - RESERVED FOR A BUYER>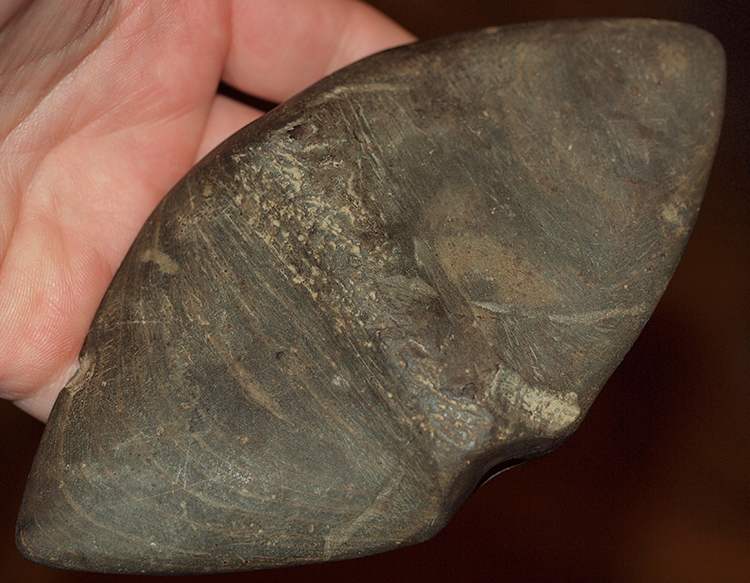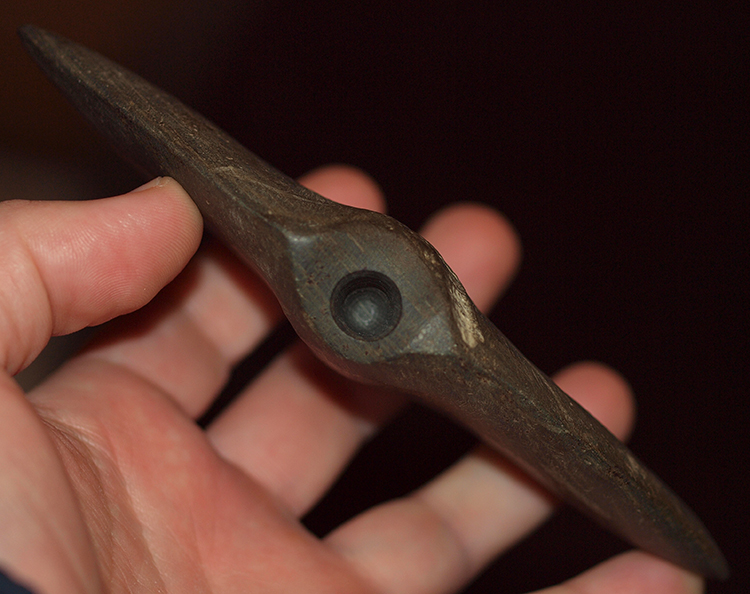 17th-18th Century Steatite Pipe - #3-3
Size:
Provenance:
Condition:
Price: $SOLD> THANK YOU>
Acorn Pipe - #3-4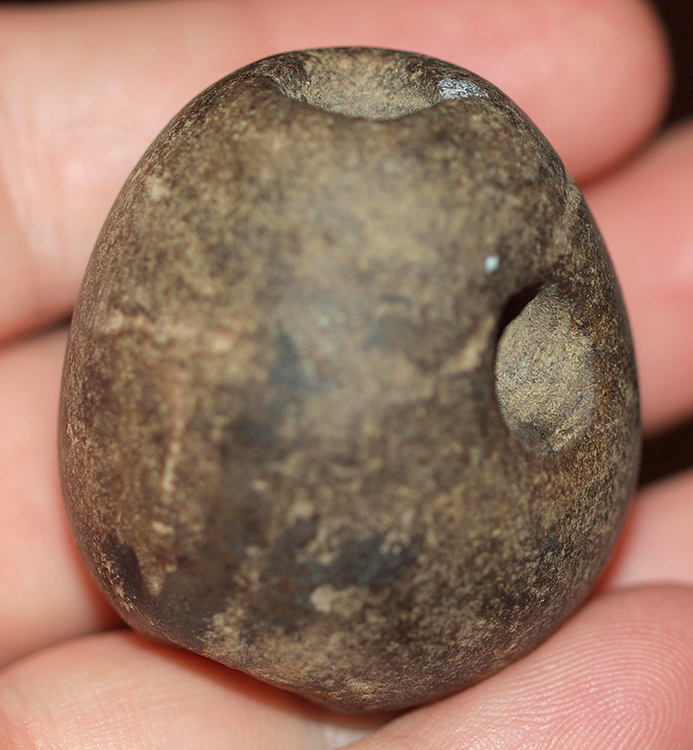 Size: 1 1/2" W x 1 3/4" W.
Provenance: I purchased this pipe many years in an Ohio River drainage collection centered on Lawrenceburg, Indiana.
Condition: One small area of old and polished over damage on the bottom. It should be noted that this small flaw allows the piece to stand upright on a shelf. This type of pipe has always confused me. The holes are so much smaller than most pipes. It is also interesting that whenever you see the small holes, the pipe is almost always this same shape. Maybe a prehistoric "one-hitter". Piece is dripping with age.
Price: $100
Memo to Fakers: These eyes have been around a long time, but still can see.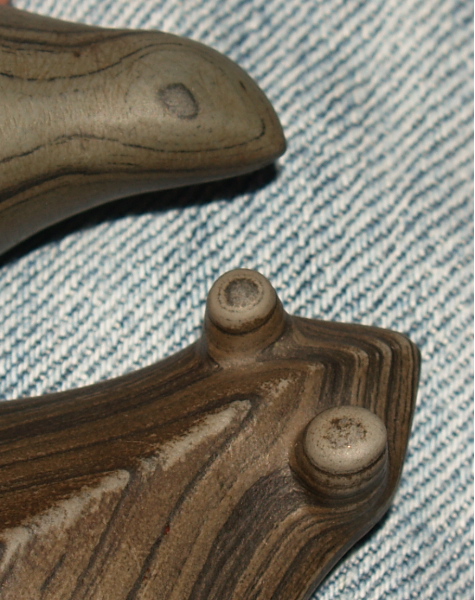 Strap Handle Pottery pieces - #3-5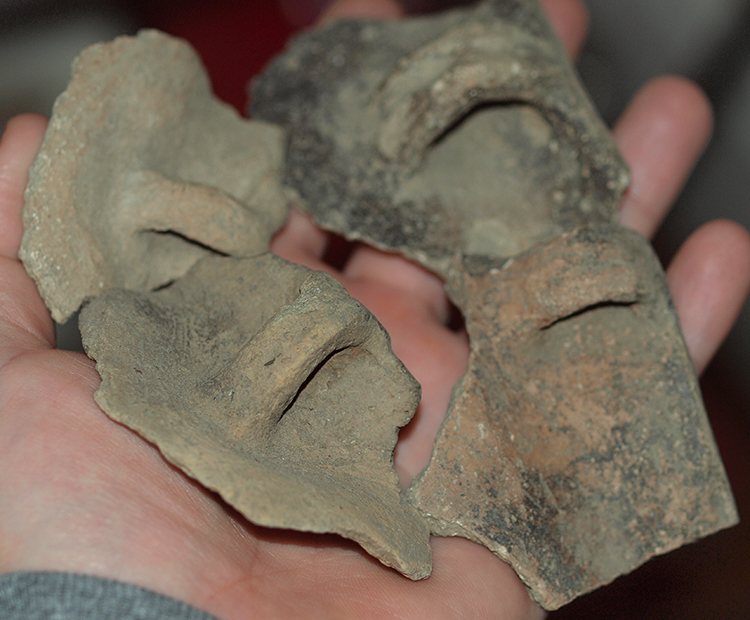 Size: Average about 3" Long each.
Provenance: Found by Lyman Hussey pre 1957 at the famous Twin Mound Site in Ballard County, Kentucky. At the time of Hussey's discovery, the site was privately owned by Dick Norment, and Hussey paid $0.25 per day to surface hunt the site. See home page for journal article about the Hussey collection.
Condition: Super. Obviously not complete pots, but these handles are intact shards, and very difficult to find. From a known and documented site and collection.
Price: $25
Highly Stylized Galena Cone - #3-6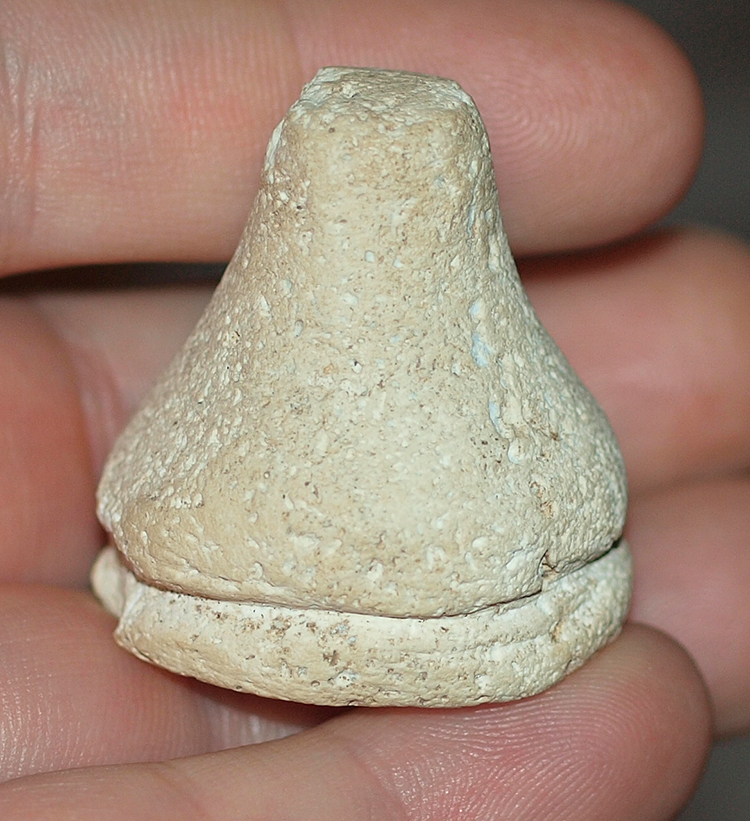 Size: 1 1/2" tall x 1 3/8" diameter at base.
Provenance: Found in Scott County, Kentucky in 1967 by R.T.
Condition: Excellent. A few plow implement dings. This is a rare duck. Galena (lead ore) is rare and collectible. Cones are rare and collectible. I have only seen one other grooved cone like this one.
Price: $SOLD> THANK YOU>
Atl-Atl Weight Cache - #3-7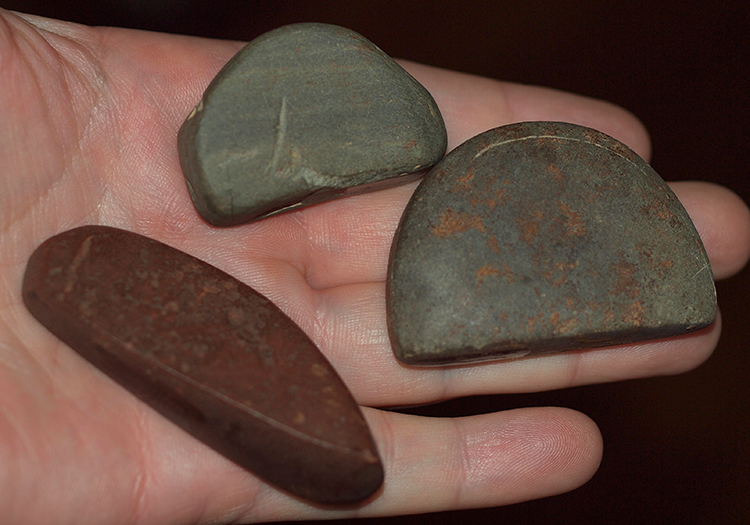 Size: The high dome style piece on right is 2 1/4" long x 1 1/2" tall.
Provenance: Found stacked together in a washout near town of Grafton, Jersey County, Illinois. I purchased this group years ago from Don and Mitch Lewis. My personal collection card comes with the set.
Condition: Super. Atlatl weight (loafstone) cache. Not sure if I need to ramble on about rarity collectibility. The lower red piece is made from hematite, which throws another interesting wrinkle to the cache.
Price: $300
Fox Field Shell Gorget - #3-8
Size: 3" diameter.
Provenance: Surface found at the famous Fox Field site in the 1950's by Sonny Atkinson of Maysville Kentucky. Fox Field is located in Mason County, Kentucky. This piece sold at the Atkinson estate auction held on 6/27/1992 at Old Barn for $145. It was purchased at the auction by former Ohio Arch president Jim Hovan.
Condition: Super. Other than having surface patina that cannot be argued, this piece shows an interesting salvage. The two original holes were broken out, and the prehistoric owner put two new holes in the piece to continue using it. Doesn't get much better for documentation of a rare object.
Price: $SOLD> THANK YOU>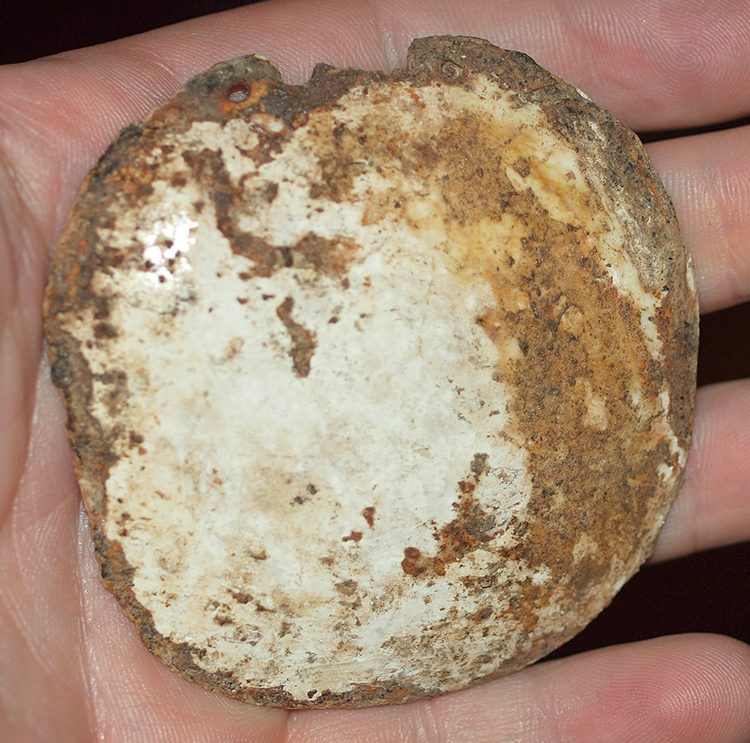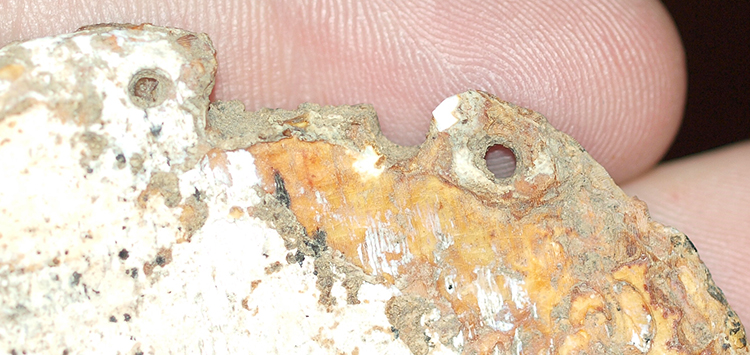 Elongated Ball Bannerstone - #3-9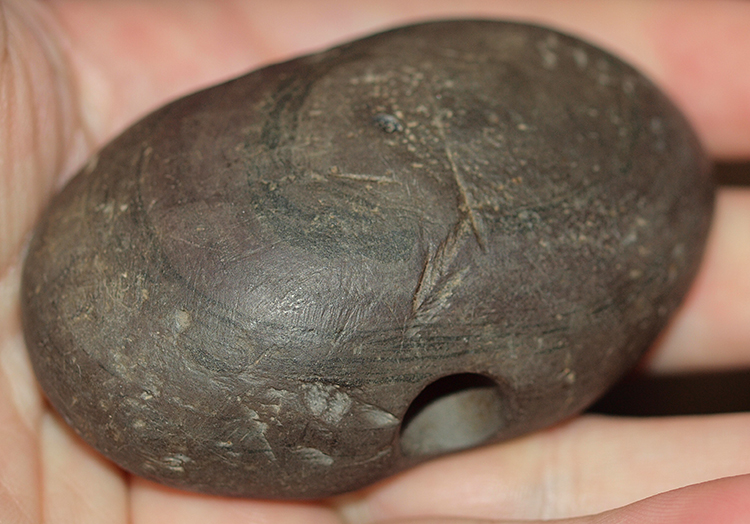 Size: 3 1/16" long x 1 7/8" wide.
Provenance: Found in La Grange County, Indiana. Purchased in the 1980's from an Amish man named Yodder whose father-in-law found the piece.
Condition: Excellent. This piece probably represents the transitioning form of a ball banner into the wing banner classification. It falls in-between on the spectrum, so I am calling it an Elongated Ball. Overall shape is more oval. This one is from an old Michigan/Indiana collection I recently purchased. The pieces were stored in a bank vault for many years, and the slate items need to be handled to bring out the polish and color. This one is an eye catching purple and gray banded slate. A few battles with the plow that the banner thankfully won. Think it might be real from the pics?
Price: $350 - RESERVED FOR A BUYER>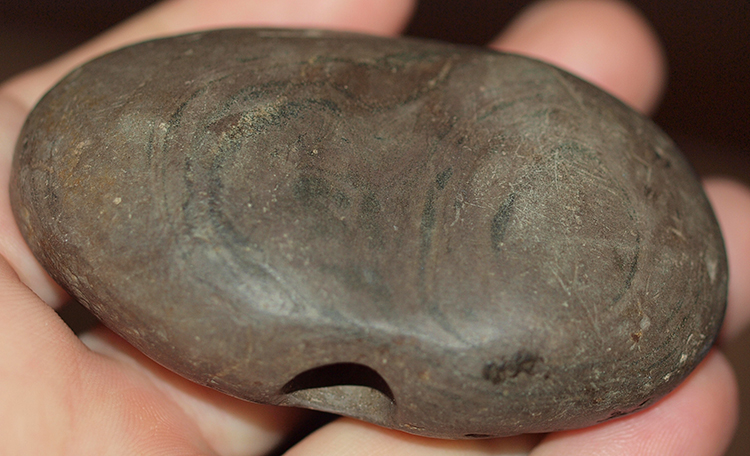 Rectangular Gorget - #3-10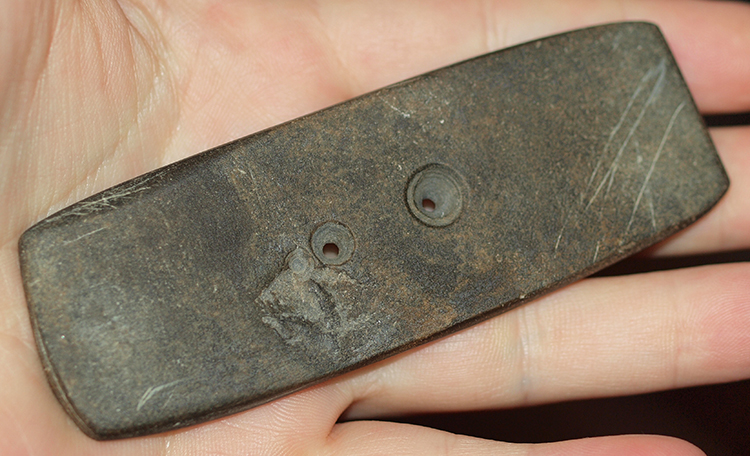 Size: 4 1/4" long x 1 1/2" wide.
Provenance: Found by Randy Parker in Constantine, Michigan on the McGee Farm.
Condition: Excellent. First piece out of an old Michigan/Indiana collection I recently purchased. Piece needs to be handled, b/c it is dried out. Good old hand oil is all you need. Thin gorget, well formed. Thinking this could be Intrusive Mound Culture. Several tap holes that were not used. This is another case that bolsters my theory that the tap holes were put on the piece early in the manufacturing process as guides for getting the symmetry correct. Many times they would end up off a bit, and so the actual hole ended up in a slightly different place. Feel free to give me credit when you pass this theory along.....
Price: $250 - RESERVED FOR A BUYER.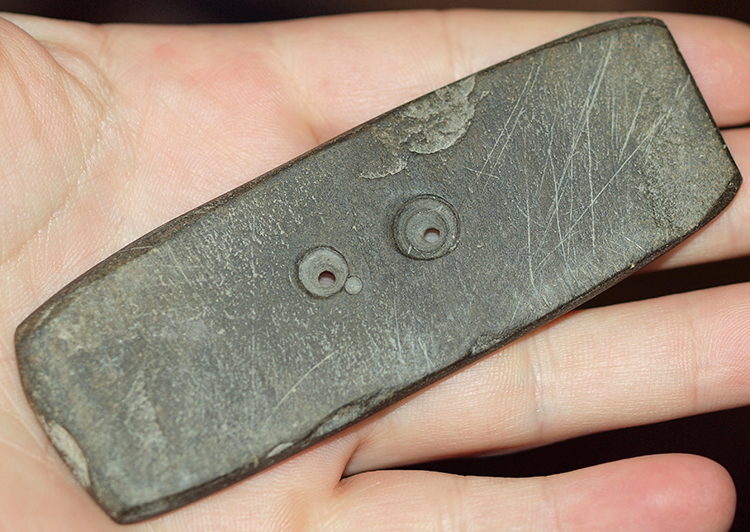 Jon Dickinson
Copyright 2004 (Dickinson Contract Marketing). All Rights Reserved.