Slate, Stone, Bone Page

11/29/19
Werhle Table Gorget - #3-1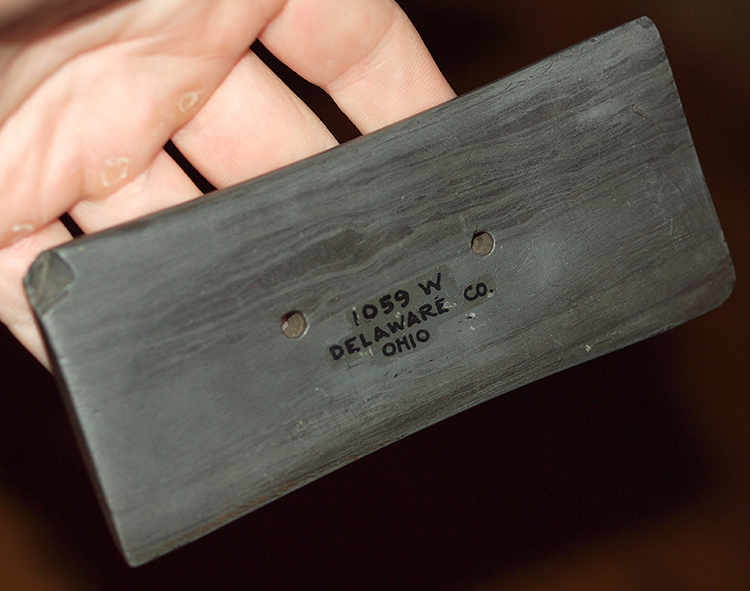 Size: 5 3/8" long x 2 3/8" width.
Provenance: Found in Delaware County, Ohio. Originally collected by early industrialist AT Wehrle. Bears his catalog number #1059W, and is listed in his catalog.
Condition: Super. Some corner nicks that are very common on authentic examples of this type. Adena Tablet Gorgets are rare and popular amongst collectors. This one has two slightly concave sides. Great subtle banding running horizontal across the piece. Old collector pieces are the way to go.
Price: $400
Hardstone Pendant - #3-2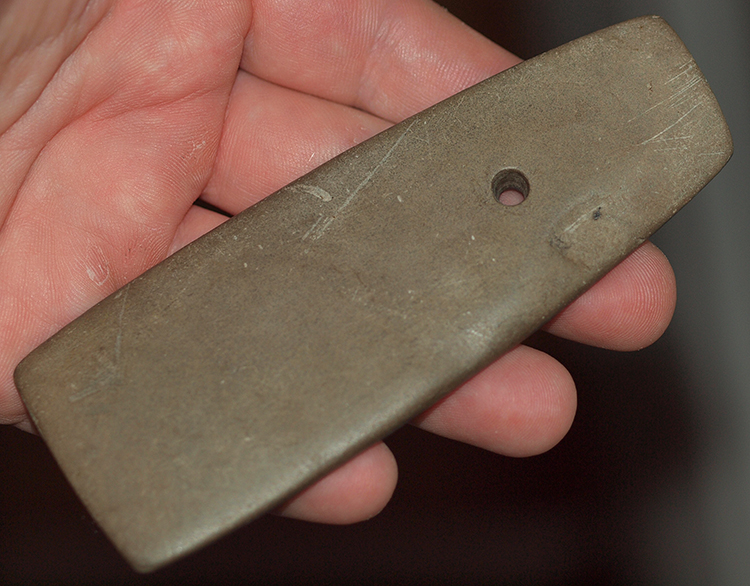 Size: 4 3/4" Long x 1 3/4" wide.
Provenance: Found in Cass County, Ontwa Township Michigan near Edwardsburg. First collected by Larry Fisher.
Condition: Super. A couple of surface scratches from the plow. No damage. Long and thin. Take special note of the two pictures. The top side of this piece is a light brown/tan, and the bottom side is very dark brown to black. Very seldom do we see two sided patination in hardstone objects, let alone a great pendant.
Price: $250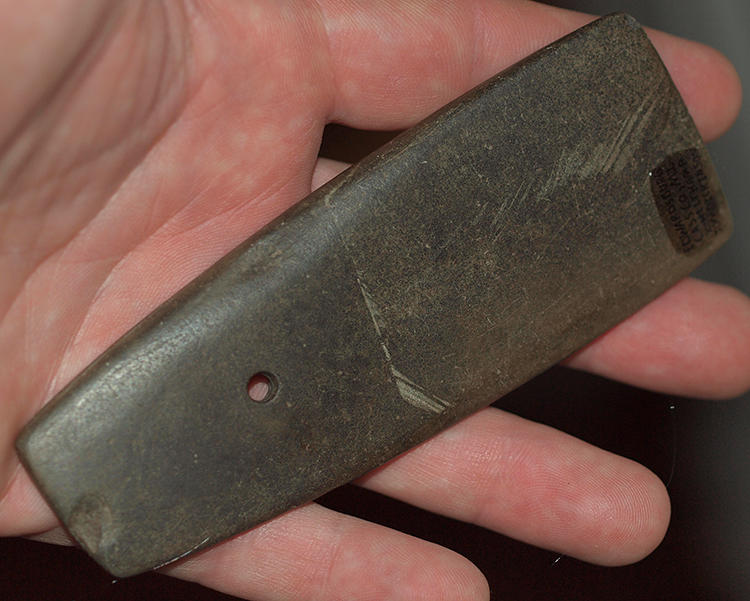 Double Notch Wing Bannerstone - #3-3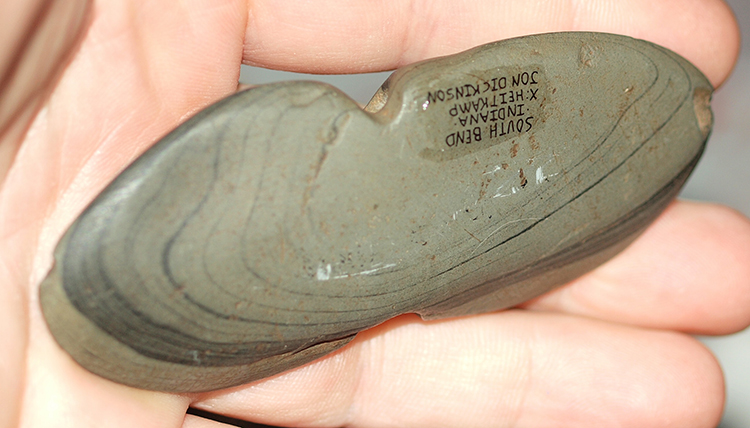 Size: 3 7/8" Long x 1 5/8" Wide
Provenance: Found around South Bend, Indiana. X: Heitkamp.
Condition: Super. Not the highest development of this form, but still a nice, no brainer example. Superior banding in the slate.
Price: $300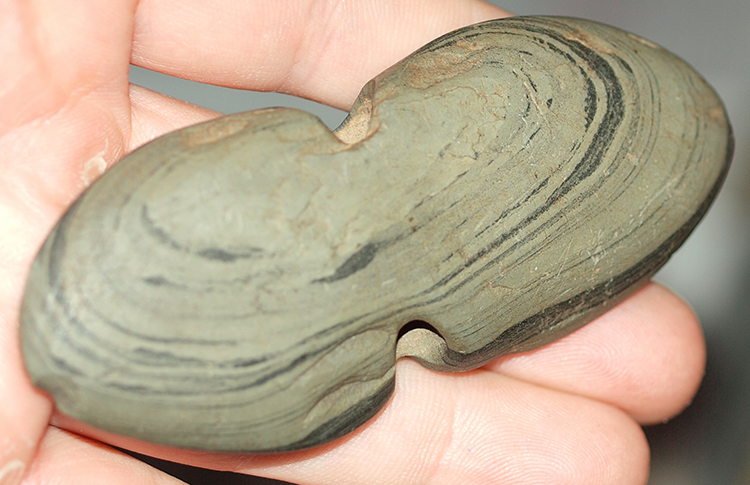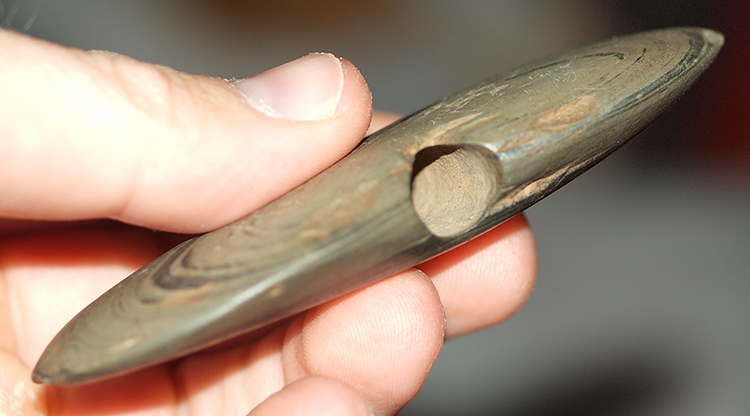 Bar Amulet - #3-4
Size: 3 9/16" W x 1 1/16" W.
Provenance: Found in Hardin County, Ohio. Listed as X: Hubert Wachtel, but I don't have a publication reference to Wachtel. Someone should check WW#1 and #2.
Condition: Super. The slate is well banded with several great wormtracks. Color has a tinge of purple, which I see often in Glacial Kame birds and bars. This bar has a nice center knob, rather than the straight across style. Do you see the "arrowhead effigy" that the black banding produces from the top view?
Price: $800
Memo to Fakers: These eyes have been around a long time, but still can see.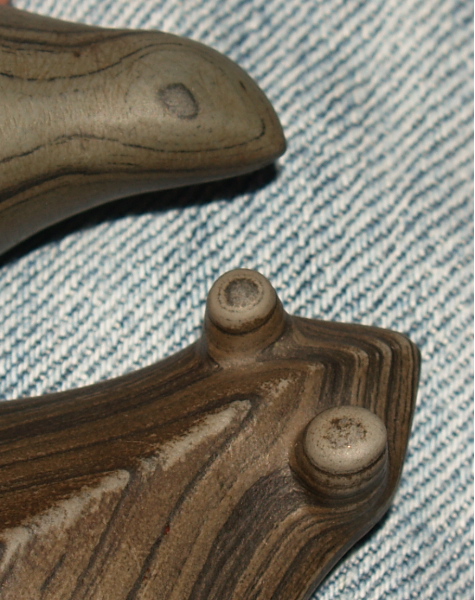 Bell Pendant - Boudeman Collection - #3-5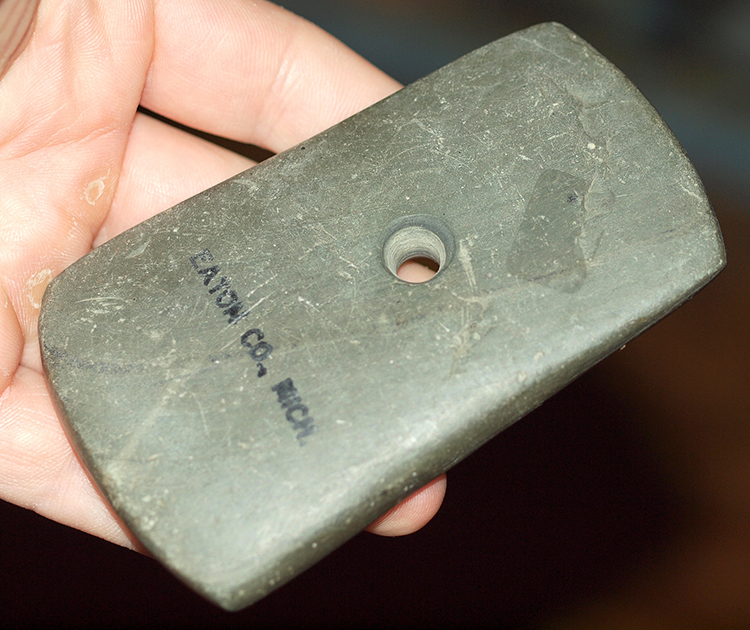 Size: 4 1/4" Long x 2 1/2" Wide.
Provenance: Found in Eaton County, Michigan. Stamped by the early and extremely well known Donald Boudeman. Paper tag on back I think is from Wilbur Cunningham, who was another very early Michigan collector, and wrote the 1940's book The Glacial Kame Indians. Yes, there was a study done before Bob Converse.
Condition: Super. Very nice pendant that will benefit from being handled. It is a bit dry now from being put away for at least the last 25 years. Hand oils will color it right up, and not harm the piece. Just don't "oil" it. Pendant is sturdy and thick how this type is supposed to be. Very early recovery date when you consider the old timers who owned it.
Price: $200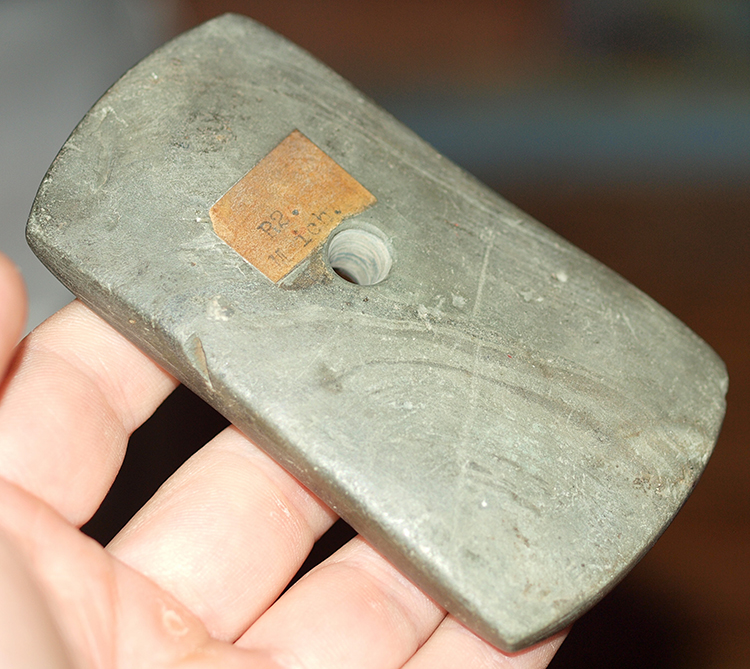 Engraved Pendant - #3-6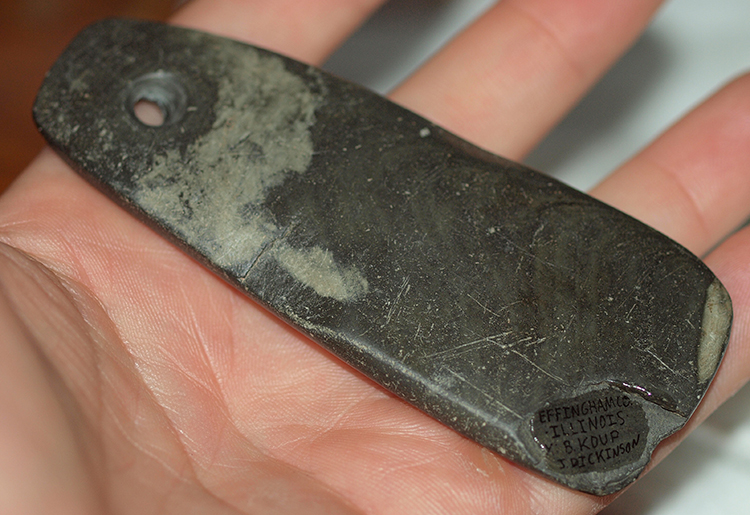 Size: 4 1/8" Long x 1 5/8" Wide.
Provenance: Found in Effingham County, Illinois. X: B. Koup.
Condition: Good. One ding where I labeled the piece. Huge wormtracks. Highly engraved with the iconic "ladder" pattern that creates possibly a larger pattern of a bird in flight. The lines certainly flow in a way that reminds me of a flying bird. Inexpensive b/c of the ding.
Price: $125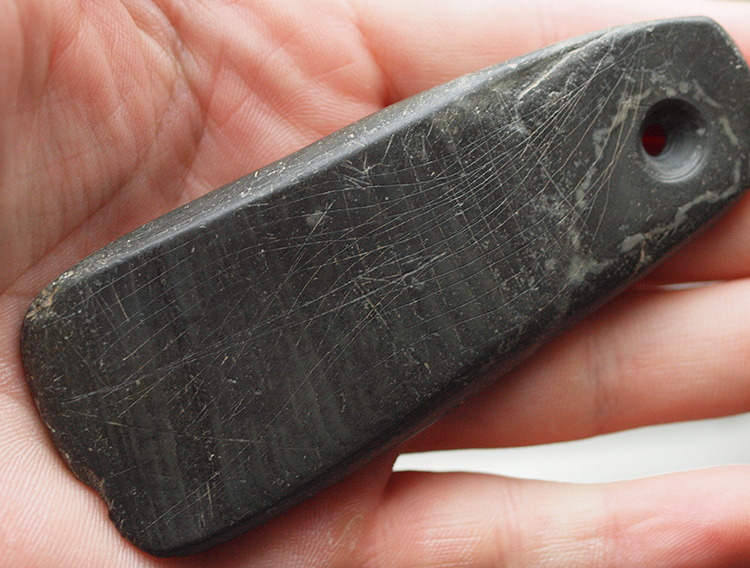 Ohio Shield Bannerstone - #3-7
Size: 3 11/16" long x 2 3/4" W
Provenance: Found in Columbiana County, Ohio. Find location is on the Pennsylvania border, which fits perfectly into the distribution of this type. The "Shield" type is considered Eastern with a heart area centered on PA.
Condition: Excellent. When you see a real one, it is pretty obvious. The flaw is a blowout that is in complete character with the use of a bannerstone. When these pieces were used on an atl-atl, the ends would wiggle a bit when throwing. Many times, if not most of the time on used banners, the end would crack into a blowout. This was not the end of the usefullness of the bannerstone. The preshistoric owner smoothed out and salvaged the area. He also added tallies, which seems to correspond more to a piece being repaired rather than old notions of counting kills/hunts. There is also some engraving on the piece. And... the material is beautiful and extremely well patinated.
Price: $1200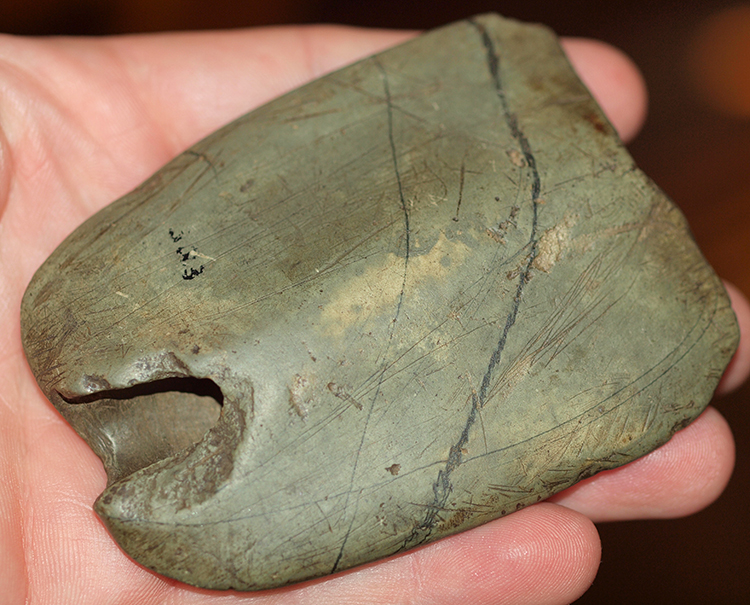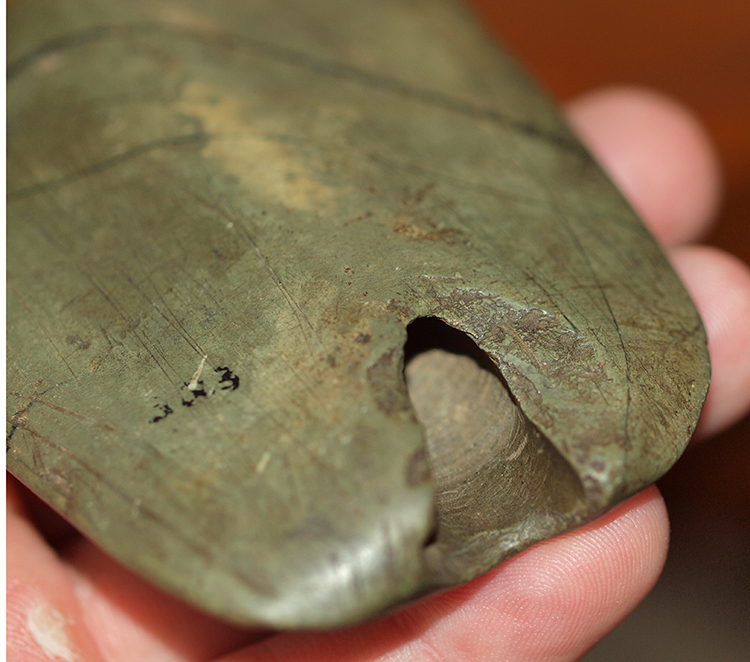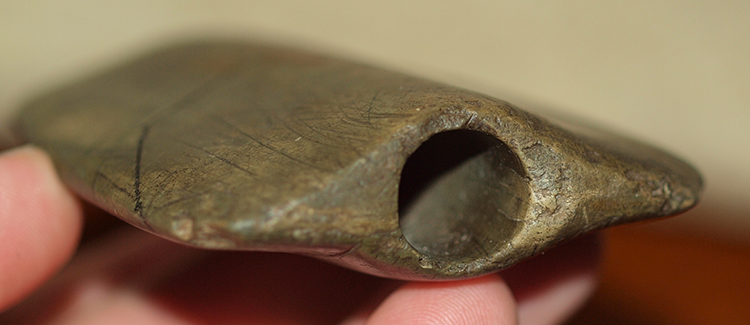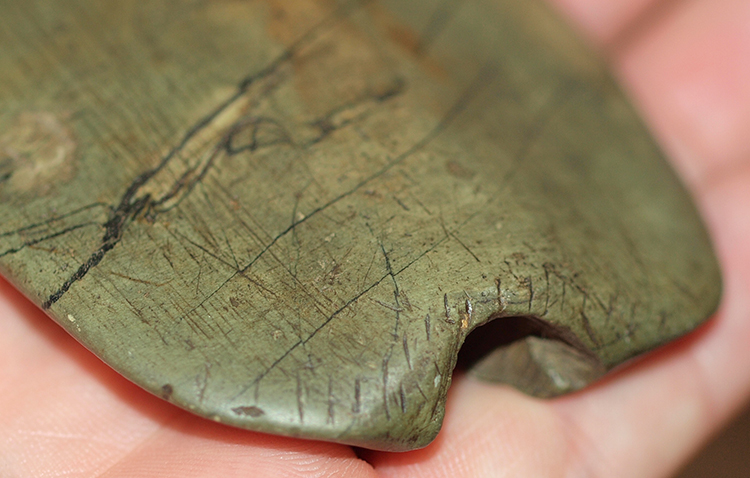 Two Hole Gorget - #3-8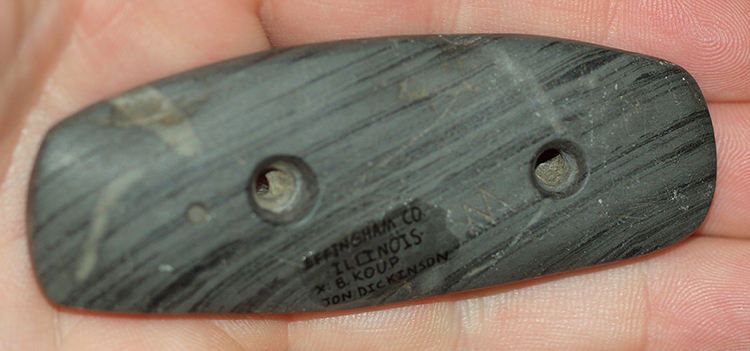 Size: 3 3/8" L x 1 1/4" W.
Provenance: Found in Effingham County, Illinois. X: B. Koup.
Condition: Super. Form is not particularly sharp, but no damage to speak of. Just some swoops and sways created in manufacture. An extra tap hole is present, and a strange piece of engraving that looks like an M or W depending on which way you view it. This might be from the finder, or it could be prehistoric engraving.
Price: $150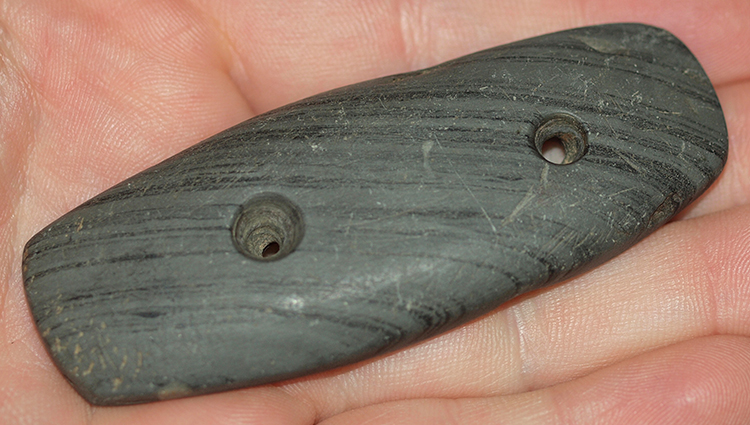 Red Cone - #3-9
Size: 1 9/16" Diameter x 1 1/8" Tall
Provenance: Found in Southern Illinois. I have owned this piece for at least a decade.
Condition: Super. Small bit of old damage along edge. I have kept this piece for so long b/c it is such an interesting material. I have no idea. It could be catlinite, could be quartz, could be pipestone. I do have a theory about the material. It was made to mimic hematite, which most cones are made from. With no hematite available, this exotic material was used. Cool piece.
Price: $75
Hardstone Bar Weight - #3-10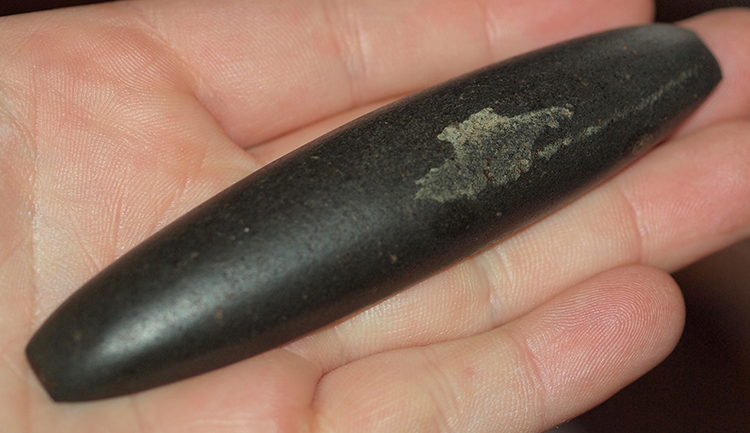 Size: 4 3/8" long x 1" wide.
Provenance: Found in Ohio.
Condition: Super. Small patch of exfoliation on top that really only adds credibility to this finely made piece. Crisp lines, and made by a true craftsman. These pieces are considered the earliest atlatl weights, and may go back 8-9 thousand years. Hardstone examples are rarer and more coveted.
Price: $150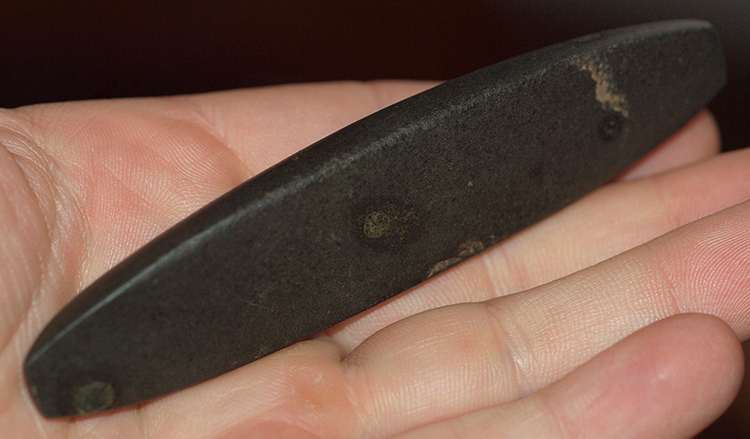 Quartzite Banner Preform - #3-11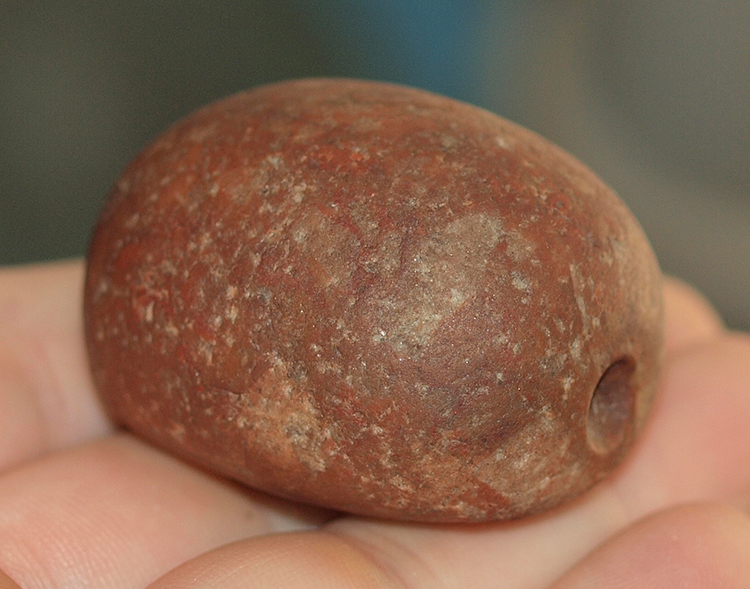 Size: 1 7/8" L x 1 9/16" W x 1 5/16" Tall
Provenance: Found in Lucas County, Ohio.
Condition: Super. Great piece of red quartzite. Drilling just started. Another very nice pre-form.
Price: $125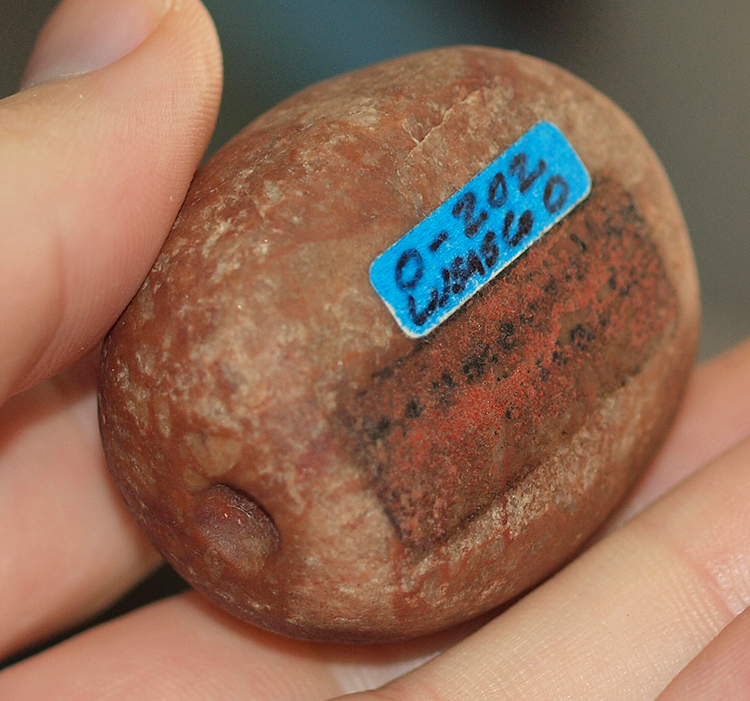 Humped Gorget - #3-12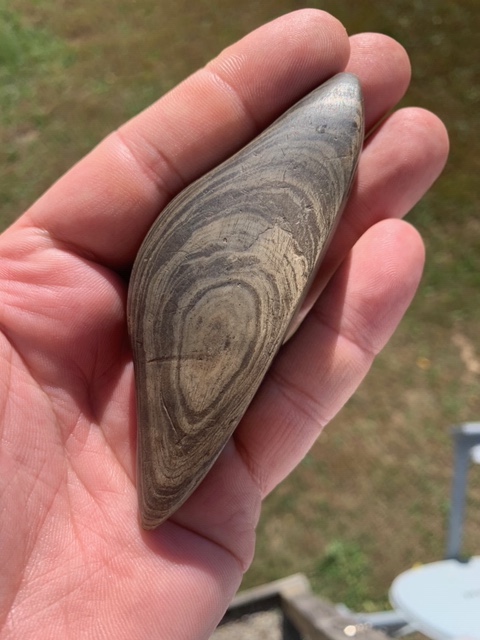 Size: 4 1/4" L x 1 1/2" W.
Provenance: Found in Hancock County, Amanda Township, along the Blanchard River in Ohio. x: Weidner.
Condition:Super. Fantastic high hump gorget. Tremendous banding. I might be crazy, but do you see a duck head created by shape of piece and the banding on each side? Extremely rare form, and a great example.
Price: $750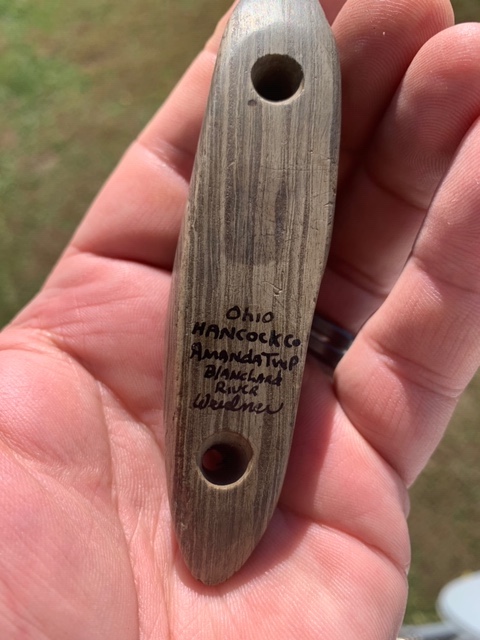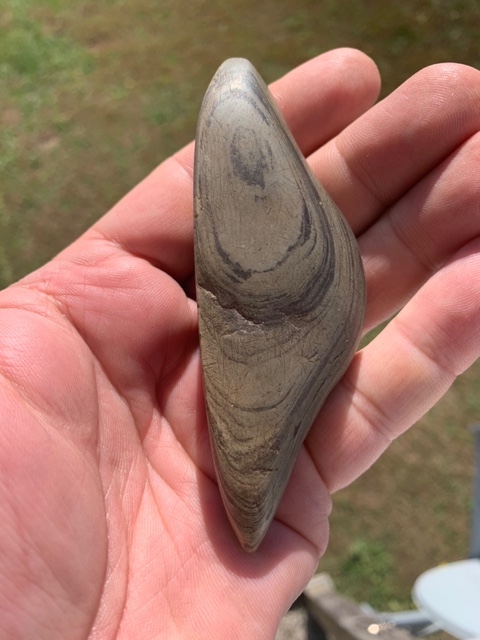 Jon Dickinson
Copyright 2004 (Dickinson Contract Marketing). All Rights Reserved.