Slate, Stone, Bone Page

10/6/21
Trapezoidal Pendant - #3-1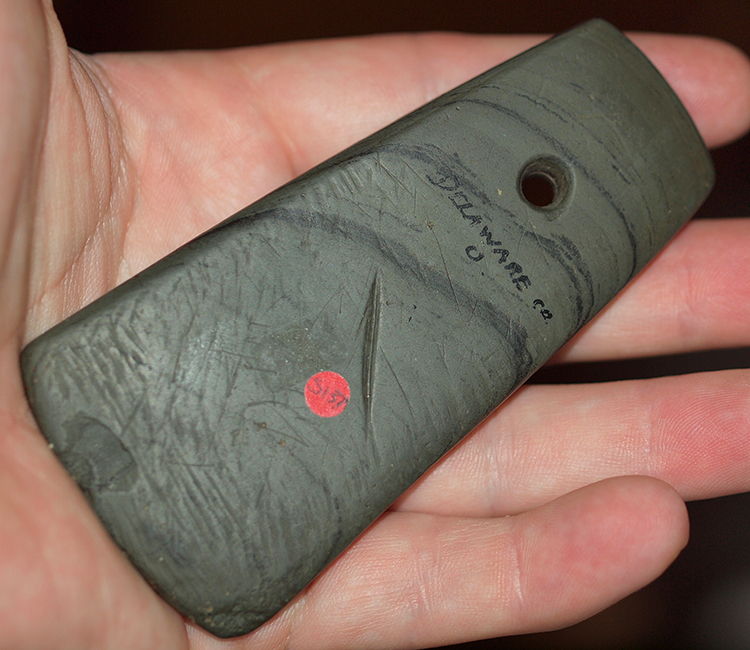 Size: 4 3/16" long x 2" W
Provenance: Found in Delaware County, Ohio. Owned and labeled by Dr. Stanley Copeland. Not much Copeland labeled slate floating around.
Condition: Super. A couple of small horizontal old chips near the bottom of the piece. Extremely deep and polished over engraving. Note the "awl sharpener" area just above the red sticker. This is a rare feature, maybe seen on 1 of a 100 pendants/gorgets. Great contrasting banding with a smooth to the touch finish. From the best Ohio dealer of all time.
Price: $500 - RESERVED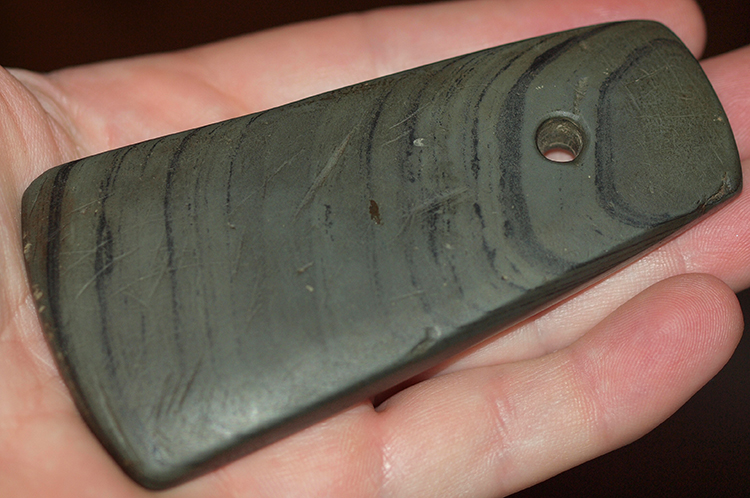 Bannerstone - #3-2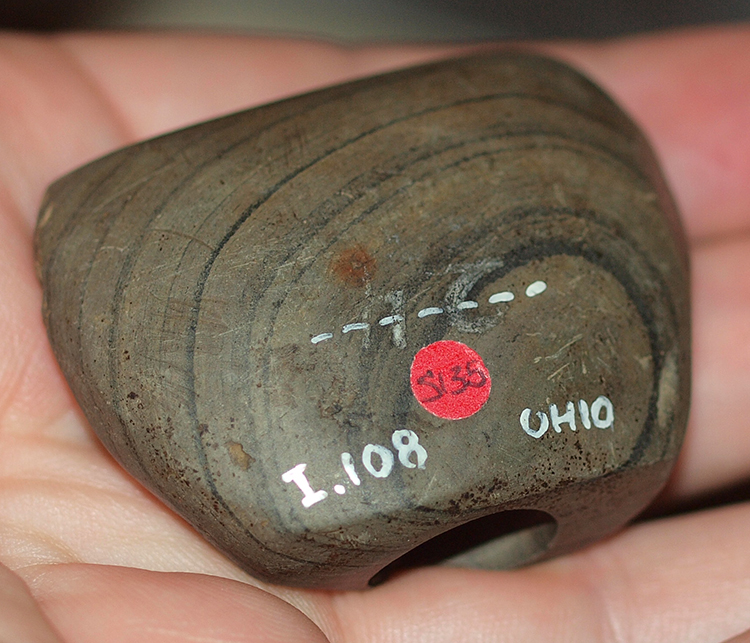 Size: 2 1/8" Long x 1 5/8" wide.
Provenance: North East Ohio. The piece was deaccessioned from the Western Reserve Historical Museum in Cleveland, Ohio.
Condition: Excellent. Condition isn't perfect, but it does have a perfect patina/mineralization pattern. You want to know what holds and increases in value in this hobby? #1 is perfect patina. A blind person can tell this is old. The type is one of the primary forms that I have heard termed differently over the years. Heart Shaped, D-Banner, Expanded Ball, and this one even reminds me of a Panel with a round hole.
Price: $500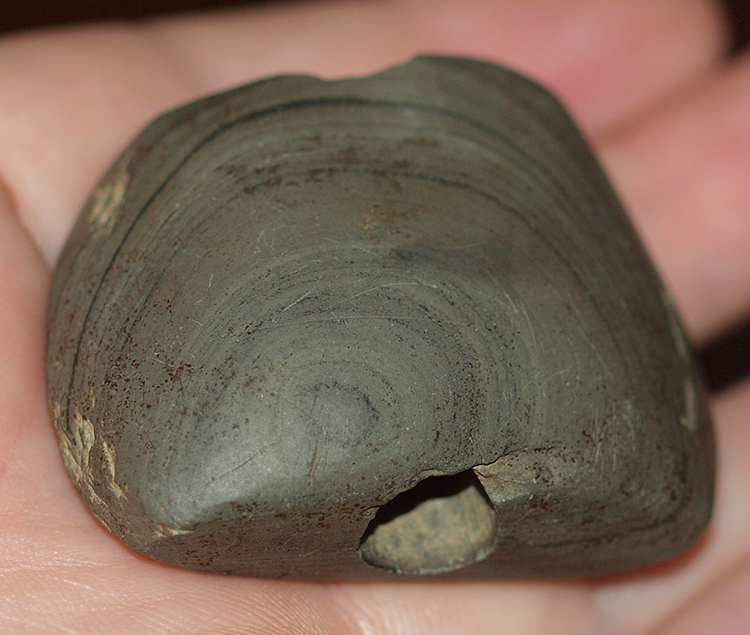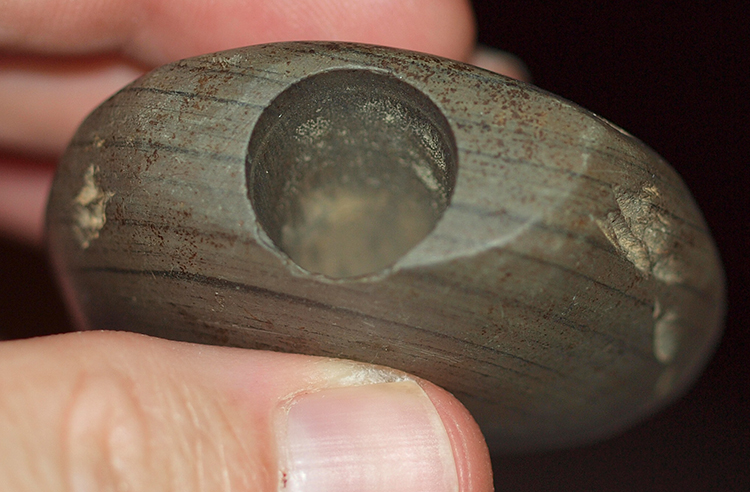 Restored Geniculate Bannerstone - #3-3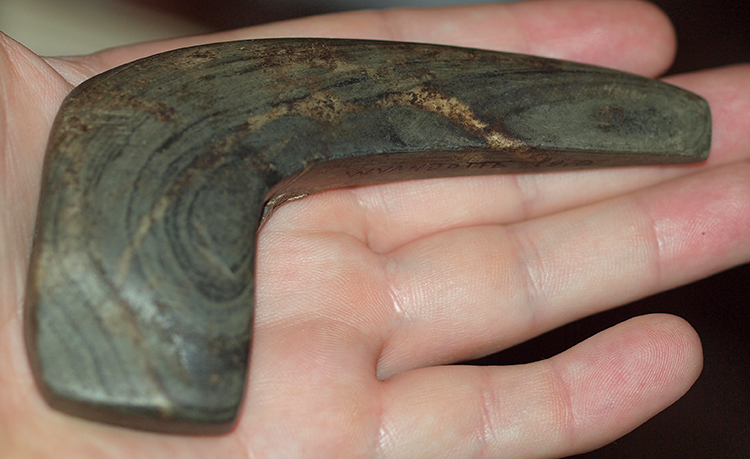 Size: 5" Long x 2 5/8" Wide
Provenance: Found in Wyandotte County, Ohio. X: Doctor M. Hawes (Ha-289). Pictured in David Lutz Bannerstone Book P. 337 #7, Who's Who #9 Page 81 in Larry Dyer's collection. These documents will be copied for the buyer.
Condition: Restored. The area around the "Ha 289" is restored about the surface area of a silver dollar. I tried to show the area is only the top slice, and the bottom part of the is original. The entire "Stick" is original. This is a rare and highly desirable banner type that is undeniably old, and the restoration is good enough to show the piece complete, but also crude enough so you can see exactly what is restored. Wormtracks all over the backside.
Price: $500 - RESERVED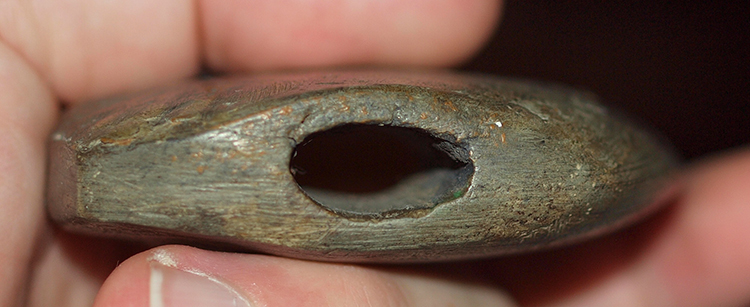 Birdstone Gorget - For lack of a better term - #3-4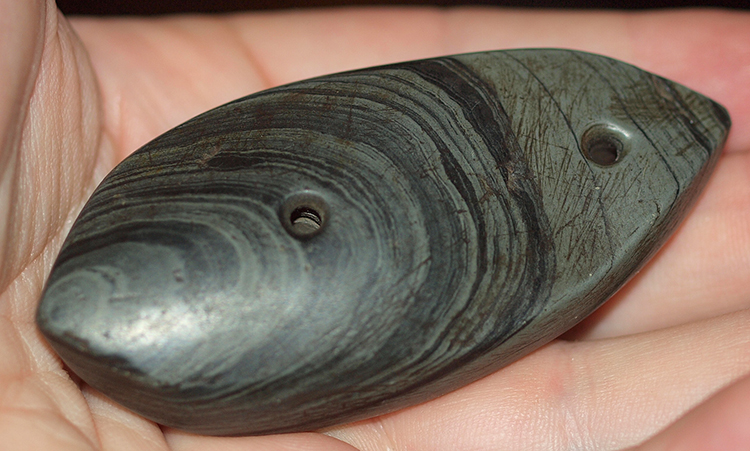 Size: 3 3/8" L x 1 5/8" W
Provenance: Ohio. Red writing is from Roland Bunch, Muncie, Indiana. My old friend Jerreme Gearhart was the immediate past owner.
Condition: Perfect. No damage. It is very clearly a Glacial Kame Culture artifact. Big and deep holes with a circular engraving pattern around one hole. Very interesting wear patterns at the holes. A unique shape that is a true Shaman's blending of multiple Glacial Kame forms. I see bird, coffin gorget, spineback, humped gorget.... all in this piece. Jerreme called it a Birdstone Gorget, so that is my title. The contrasting banding, and wonderful patina round out the piece. It sure looks like a bird head.
Price: $850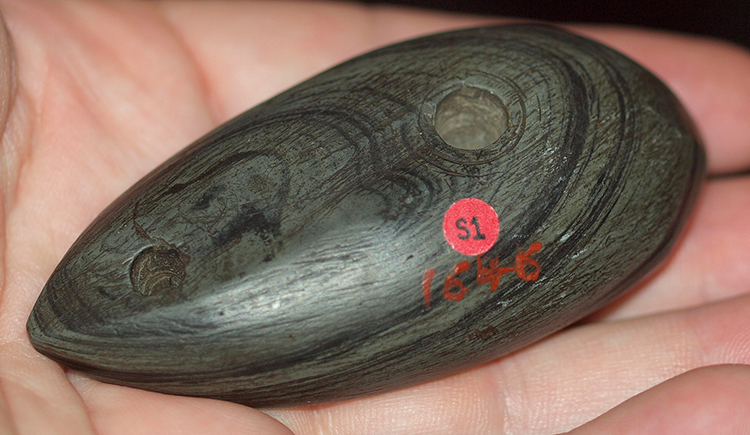 Memo to Fakers: These eyes have been around a long time, but still can see.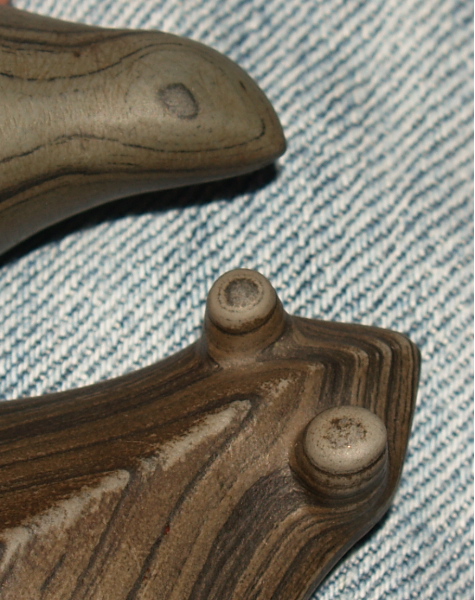 Thin Pendant - #3-5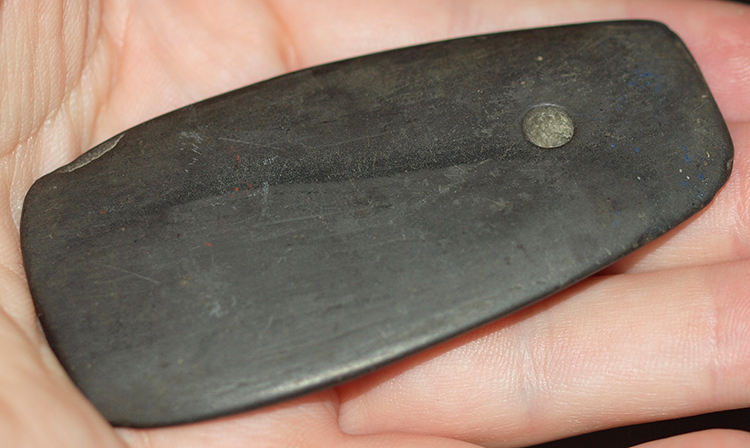 Size: 3 3/8" Long x 1 11/16" Wide.
Provenance: Found in Crawford County, Ohio. X: Col. Raymond Vietzen.
Condition: Super. A couple of extremely minor imperfections. Still a 9.5 out of 10. Extremely thin, and should be classed as Intrusive Mound b/c of the thin profile. Two white worm track blobs. Great two sided patina. I didn't look it up, but should be in Vietzen's auction books.
Price: $500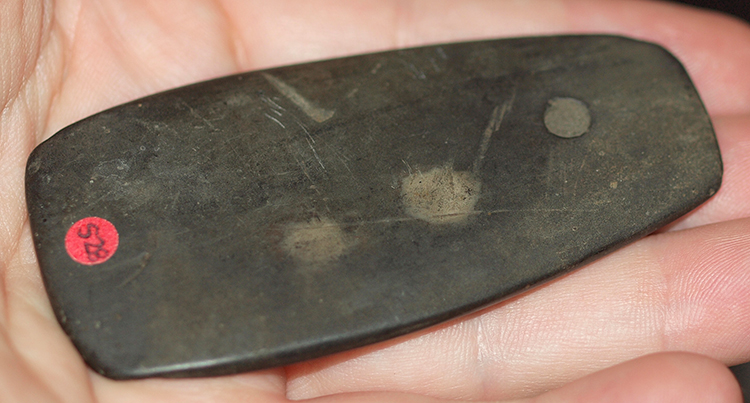 Bi-Concave Gorget - #3-6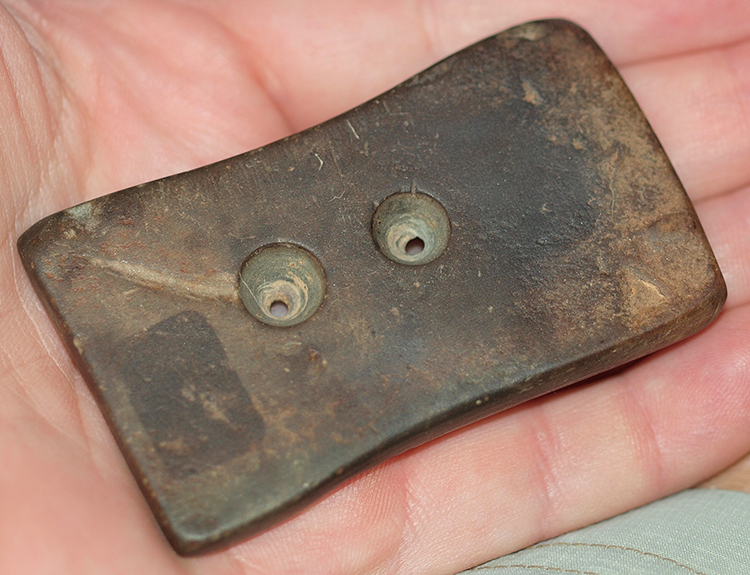 Size: 3" L x 1 7/8" T.
Provenance: Montgomery County, Ohio. Sold at Converse Auctions 9/24/1995. Jim Bennett COA #02J4AP39
Condition: Super. It doesn't have perfect symmetry, but real damage. Top side has almost patinated brown, and underside is a deep red/orange. The coolest feature of this piece is the drilling. Hard to even figure out what is going on in the pictures. Basically, there are multiple tap holes, with the one large hole just barely all the way through. This is very unique, and I find it to make a stunning example of prehistoric art. Get this one quick b/c I just might pull it back for myself.
Price: $650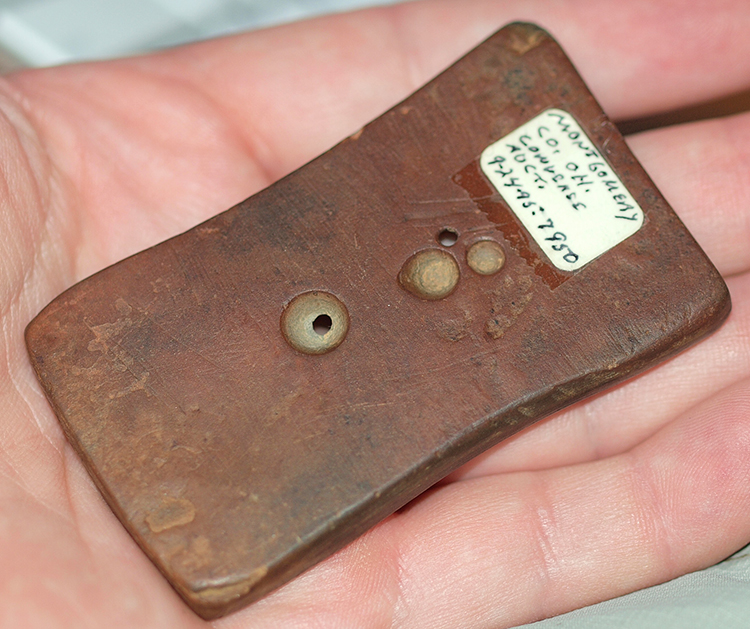 Tallied Pendant - #3-7
Size: 3 3/8" long x 2" W
Provenance: Mercer County, Ohio. Jim Bennett COA #09G5AP48.
Condition: Good. Decent amount of damage, but it was all prehistorically salvaged. This accounts for the tallies. Contrary to urban legends that tallies were used to county kills, tallies had something to do with repairing damaged items. Not all tallied pieces are damaged, but the percentage of tallied pieces that were also damaged, is too high to ignore. These tallies also illustrate my mirror image theory of engraving. Each side has spaced out sections of tallies that perfectly oppose each other.
Price: $150 - RESERVED
Speckled Granite Loafstone - #3-8
Size: 1 1/4" L x 1 3/16" T.
Provenance: Ohio.
Condition: Super. Granite with plenty of visible mineralization. These are the earliest atlatl weights, and something that all collectors should have an example or three. Still affordable b/c most don't even know what they are.
Price: $125 - RESERVED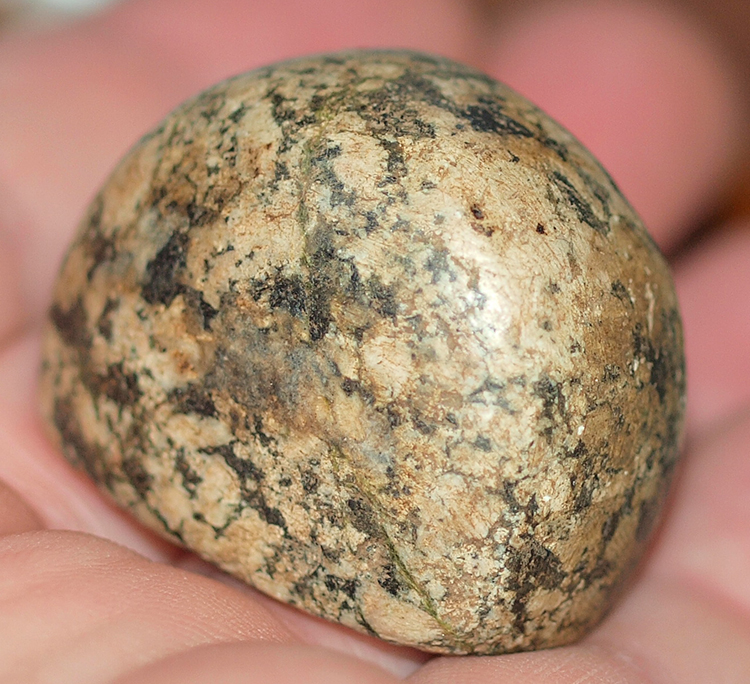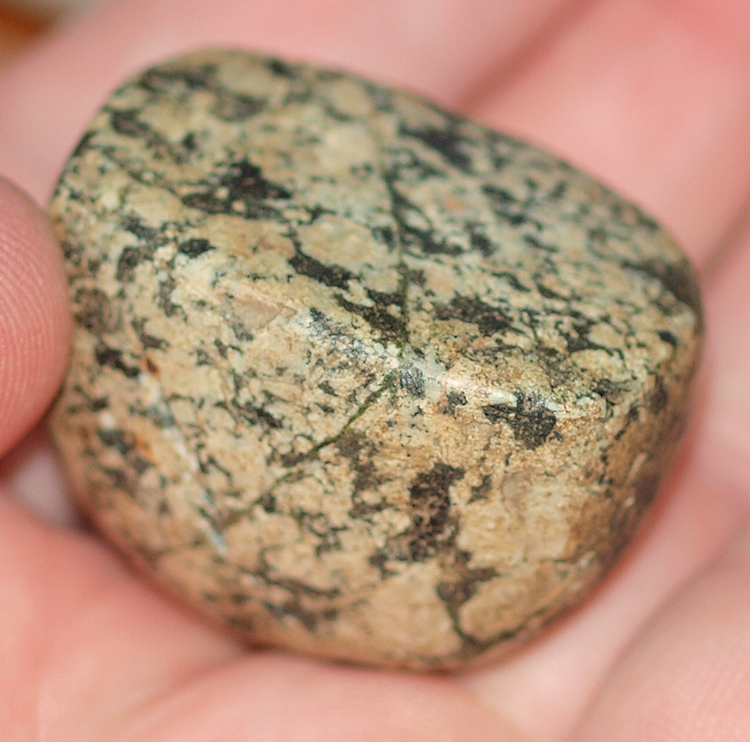 Keyhole Pendant - #3-9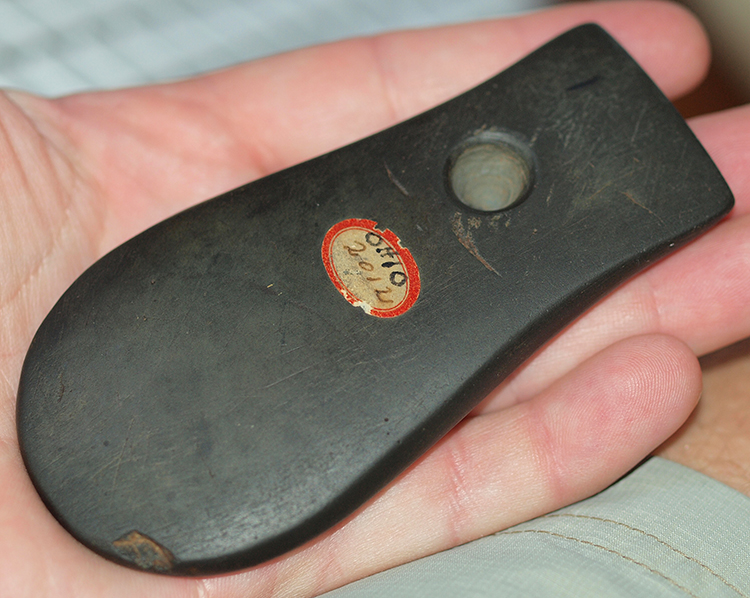 Size: 4 3/8" L x 1 3/16" W
Provenance: Ohio. Jim Hawks Collection. Jim Bennett COA #00A0Y75
Condition: Super. Dark colored slate. Large Hole. Absolutely classic piece of Ohio slate. You can pay $1500 at the next Root sale, but why? Dave would have bought this one in a flash.
Price: $800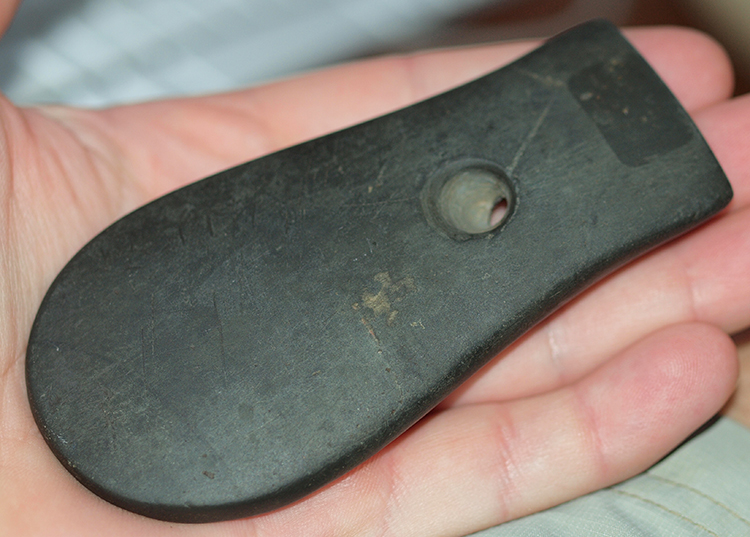 Oval Hopewell Gorget - #3-10
Size: 5 1/2" L x 1 3/4" W.
Provenance: Logan County, Ohio. X: Hovan #H2523. Jim Bennett COA #04C0AP66.
Condition: Super. The ends taper down almost to a bit. Bi-conical Hopewell drilling. Excellent size. A classy gorget that is priced well below market.
Price: $350 - RESERVED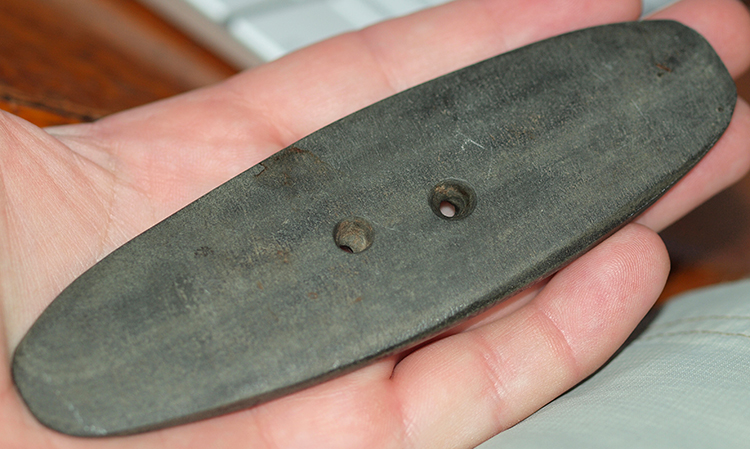 Jon Dickinson
Copyright 2004 (Dickinson Contract Marketing). All Rights Reserved.