Slate, Stone, Bone Page

11/25/16
Panel Banner - #3-1
Size: 2 1/4" long x 2 1/8" wide.
Provenance: Ohio.
Condition: Super. Several very cool things happening with this piece. First, it has a round hole. Not unheard of, but I would estimate 90% of the type have an oblong gouged out hole. Secondly, the piece is heavily engraved on all four "panels". This reminds me, my pictures don't do any justice to the engraving, and I removed the very old price tag ($500). Ask me for more pics. The theme of the engraving is the ladder motif, that some have likened to a stairway to heaven. The sticker side engraving is somewhat "mirrored", with the ladders curved in opposite directions on the two panels. Front side has some exfoliation from thousands of years in the ground. Collectors know this is a very desired form.
Price: $SOLD> THANK YOU>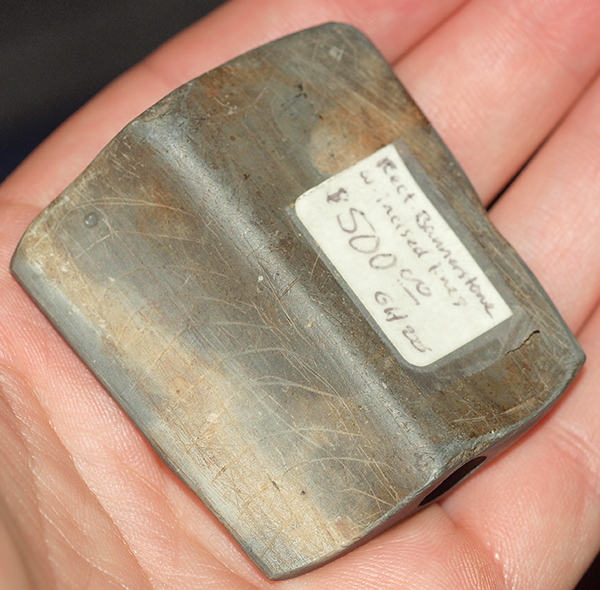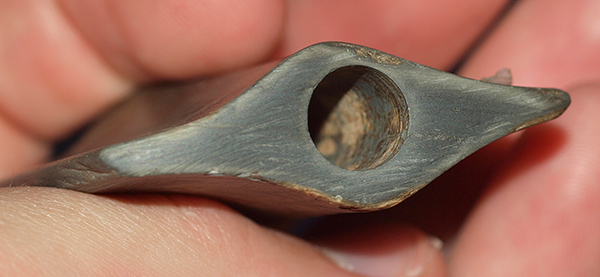 Mini Gorget - #3-2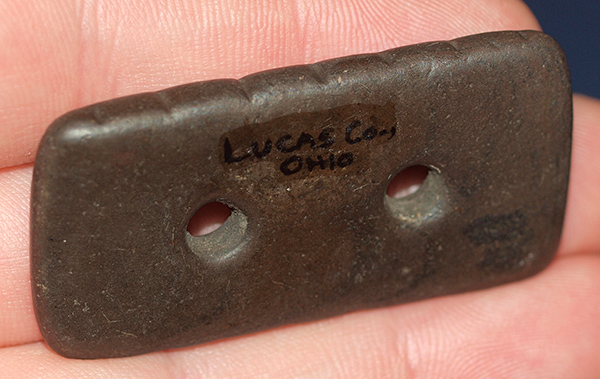 Size: 2 3/16" long x 1 1/18" wide.
Provenance: Lucas County, Ohio.
Condition: Excellent. Brown slate with many tallies. I would think this is late prehistoric Fort Ancient gorget. Brown slate.
Price: $SOLD> THANK YOU>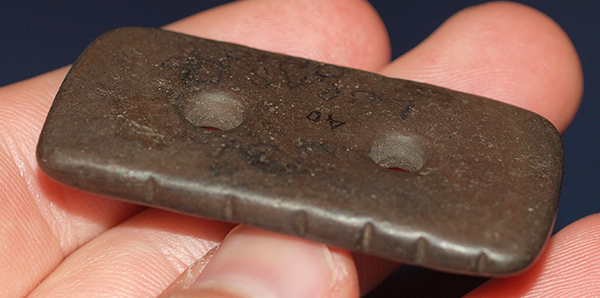 Hardstone Butterfly Bannerstone Preform - #3-3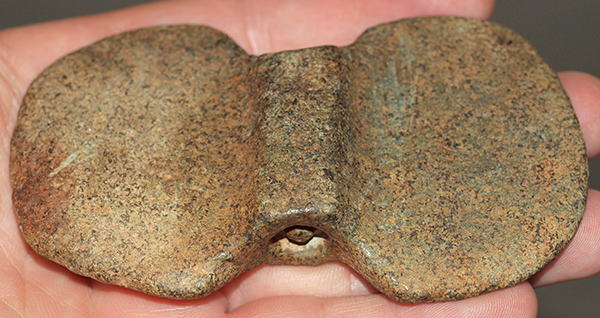 Size: 4 1/4" long x 2 1/2" wide.
Provenance: Western Arkansas.
Condition: Good. Reed drilling started on one end. This piece is still a bit dirty from the field, and heavily patinated. Underneath the age, is a fantastic light lime green with black specks in a granite matrix. Extremely rare, and 1/100 the price of the completed example.
Price: $SOLD> THANK YOU>
Documented Site Shell Gorget - #3-4
Size: Circular with a max width of 3 3/4" and min width of 3 1/4".
Provenance: This piece was found at the famous Chilhowie School Site in the 1950's by a pair of brothers known to collect the site. Site located in Smyth County, Virginia, and designated as "VH-BO-54". This collection was purchased by known collector Phil Foley many moons ago.
Condition: Super. Piece is completely intact, and the edges are still crisp. Only minor drawback of some of the organic deposits chipped off the backside. The finder's then fixed the piece with a glue or lacquer solution to stop any future detoriation. Obviously, this is a no brainer, and extremely well documented to one of the premier shell sites in the USA.
Price: $700. Slightly reduced.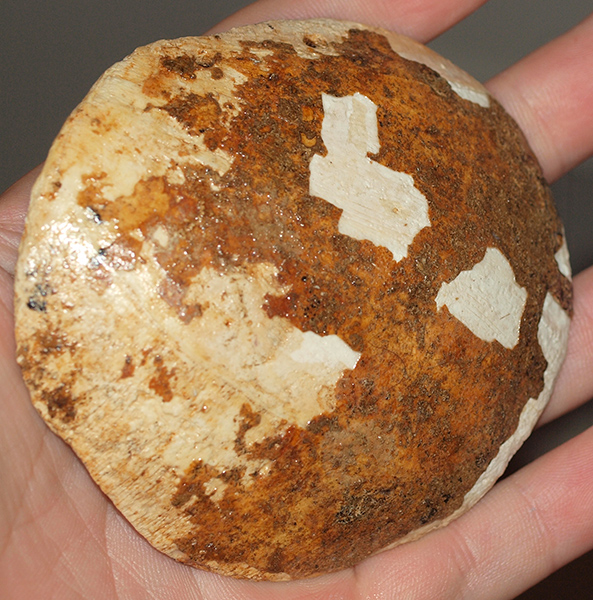 Memo to Fakers: These eyes have been around a long time, but still can see.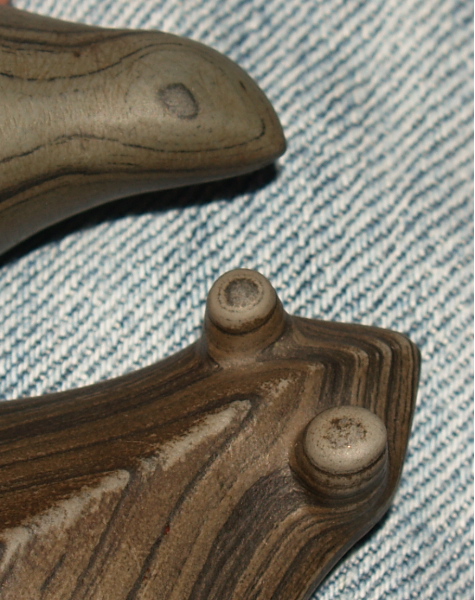 Trapezoidal Pendant - #3-5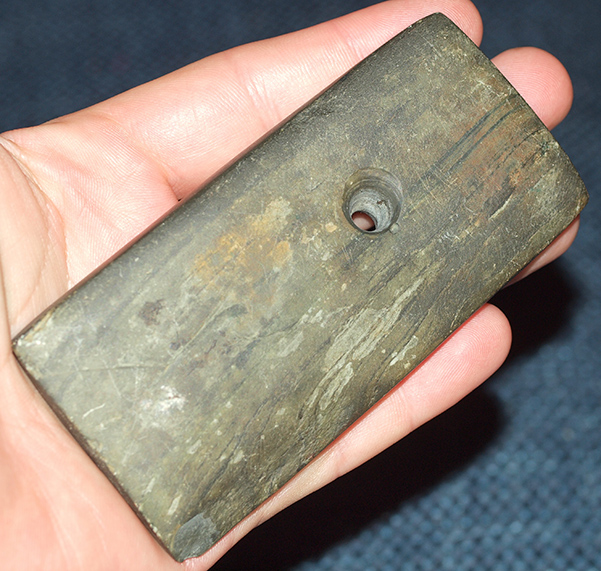 Size: 4 7/16" long x 2 3/16" wide.
Provenance: Indiana. I believe the V number is from Von Hilliard, who was/is a colorful collector in the Cincinnati area.
Condition: Excellent. Some exfoliation to the slate, but you won't have to worry about authenticity. This is a big and heavy pendant with well formed thick sides, and a giant hole. I also find it interesting that there is a small tap hole just off center of where the main hole is. I have heard the theory that the tap holes were put on early in the manufacture process to create a "center" for the maker to get the symmetry correct. Maybe evidence of this theory? There is also a depression on one side that appears to be used as an awl/knife sharpener. These are seen infrequently on this type.
Price: $SOLD>< THANK YOU>
Cannal Coal Reel Gorget - #3-6
Size: 3" L x 1 15/16" wide.
Provenance: Western Kentucky. Has the appearance of an old shelter find, but I cannot verify this.
Condition: Excellent. It isn't perfect, but it is staying together without any adhesive fixing. This material does very poorly in the ground, and many times these relics are found almost completely eroded. This one is stable, but delicate. One advantage of this material is that it shows age very well, and you won't have to think about authenticity for more than a second. Reel gorgets are rare, and rarer still from cannal coal. Probably giving it away, but I don't have much experience with the type.
Price: $SOLD> THANK YOU>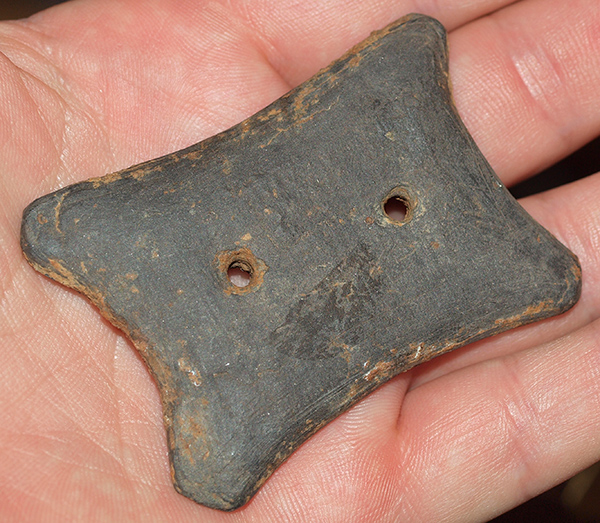 Vivid Red Slate Pendant with Tallies - #3-7
Size: 2 7/8" long x 2" wide.
Provenance: Found by Bennie Powell in Russell County, Kentucky.
Condition: Super. No damage. Great deep red color that is shown truest in the bottom picture. Top two pics washed some of the color out with the flash. 12 deep parallel tallies on one side. Classy little piece guaranteed to stand out in a slate frame.
Price: $SOLD> THANK YOU>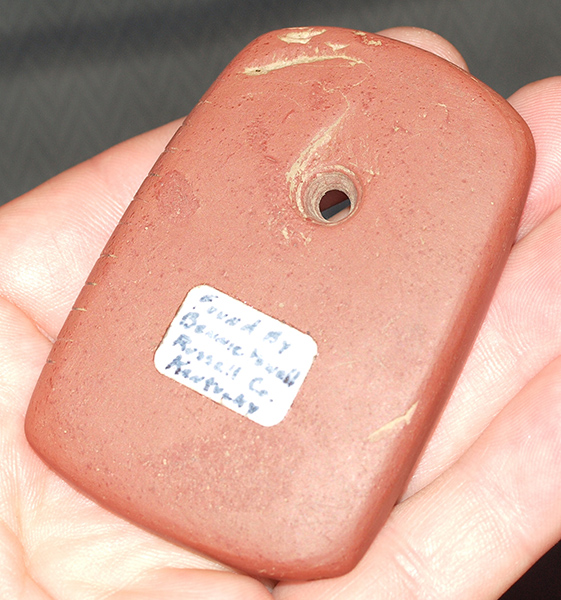 Hematite Atl-Atl Weight - #3-8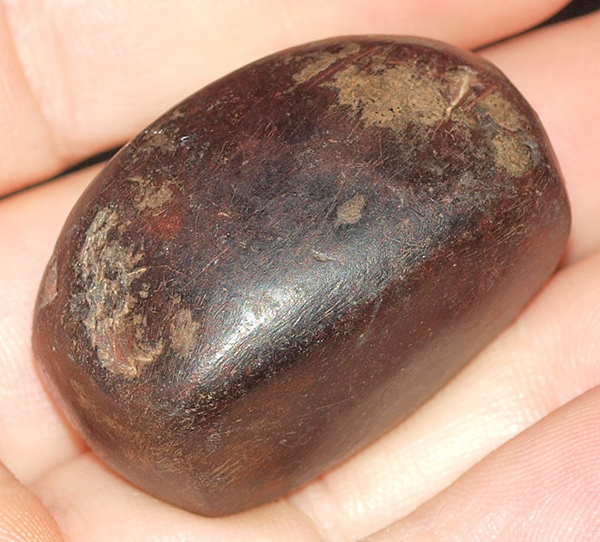 Size: 1 5/8" long x 1 1/8" wide.
Provenance: Unknown, but there is a cool bit of history to the piece. This piece is M1 in the Phil Foley collection. Phil is a dean of Kentucky collecting, and this was his first in the category. I have owned piece for 10 years. Personal collection catalog card with the piece.
Condition: Super. Some prehistorically salvaged damage, but nearly nearly perfect. Well formed, and heavy. Probably adds a good 20% power and distance to the atl-atl throw.
Price: $SOLD> THANK YOU>
Double Notch Butterfly Bannerstone - #3-9
Size: 4 1/2" Long x 2 7/8" wide.
Provenance: Ohio. X: Gene Hirzel - Noted Ohio old timer. John Berner COA 2/9/02 noting "slight modern cleaning". I mention the COA b/c Berner and slate is about as good a bet as there ever was in the authentication game. I guess slight modern cleaning means "washed the dirt off".
Condition: Excellent. This form is considered a King of the Hill type, and a feather in the cap of all who own one. This one has some wing damage, but not bad considering it is 7000 years old. One extremely deep sawed out notch, couple worm tracks, and a silky feel to the finish. I took some $ off for the cleaning, but still papered by the best in the field.
Price: $SOLD> THANK YOU>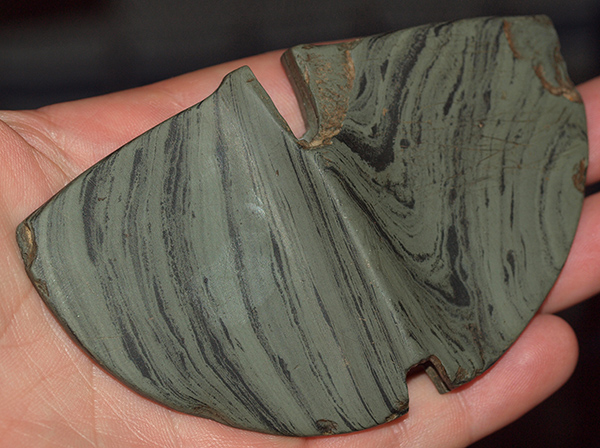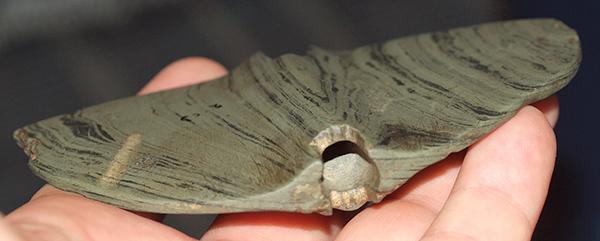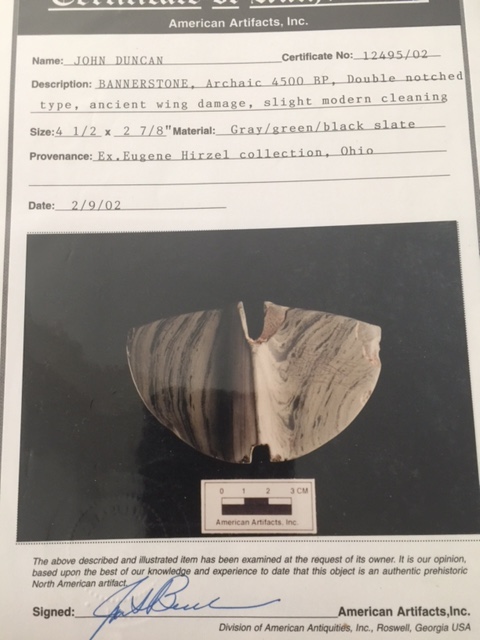 Tube Banner - #3-10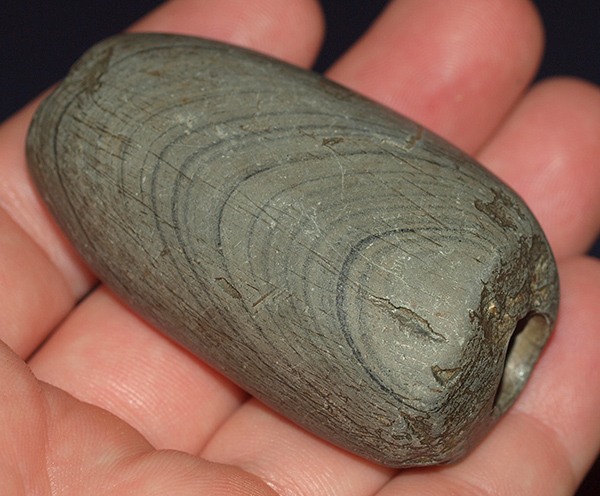 Size: 2 7/16" L x 1 1/2" W.
Provenance: Found in Darke County, Ohio. X: R. Baker.
Condition: Excellent. I feel there is a good chance that this piece was longer, and then became damaged. The wide end looks prehistorically salvaged to me. Great banding in slate, superior surface and patina.
Price: $SOLD> THANK YOU>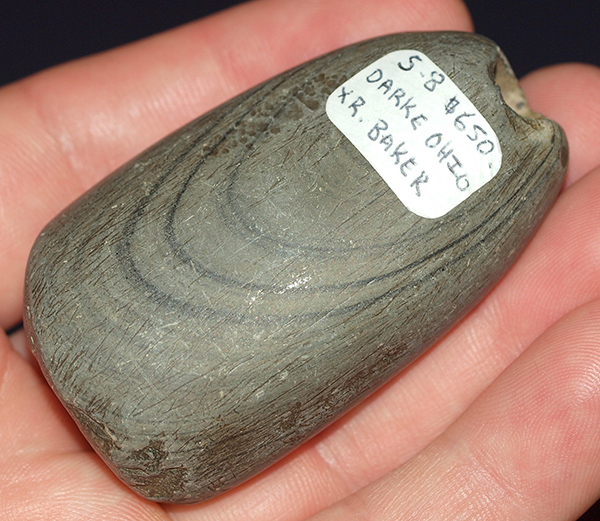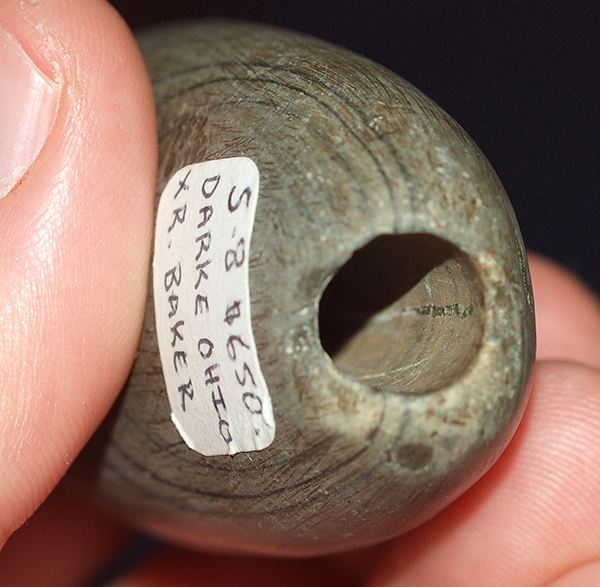 Hematite Plummet - #3-11
Size: 3 1/8" L x 1 1/4 at widest. Very heavy.
Provenance: Found in Vincennes, Indiana. X: Leo Kimpling collection.
Condition: Super. No damage, but symmetry is a bit off due to a change in the material purity that the maker worked around. This is a big, heavy, and classicly shaped plummet. Unlike most of these, this one shows age.
Price: $SOLD> THANK YOU>
Very Fine Sandstone Plummet - #3-12
Size: 3 7/16" L x 1 5/16" W
Provenance: Found by Mac Gross in Scott County, Illinois. Tag is from Bruce Filbrandt collection. "C285" is from the Jerald Crickman collection. Both well known and respected collectors. John Berner COA dated 8/23/99.
Condition: Perfect. This is a fine relic. Everything about it puts it in the top of it's category and material. I agree with Berner that it is sandstone, but it is so fine grained that it borders on hardstone. Symmetry is flawless, and groove is fine and deep.
Price: $SOLD> THANK YOU>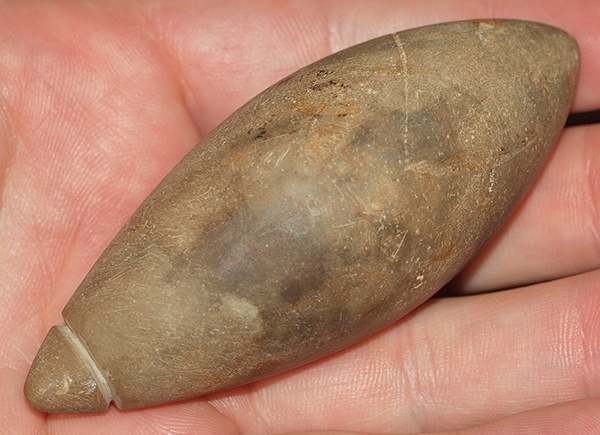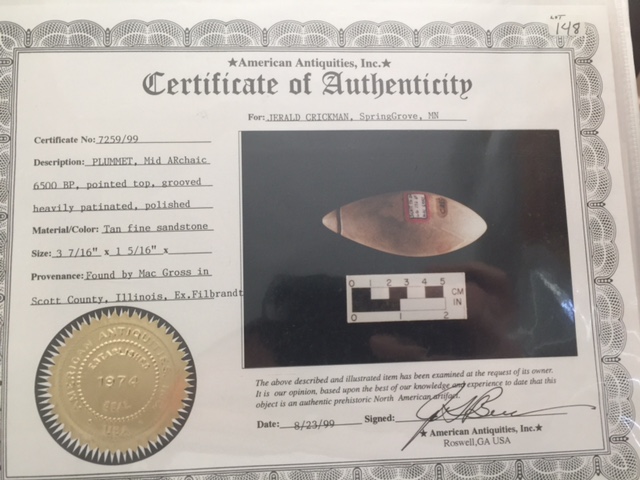 Jon Dickinson
Copyright 2004 (Dickinson Contract Marketing). All Rights Reserved.