Slate, Stone, Bone Page

11/29/21
Expanded Center Gorget - #3-1
Size: 4 1/2" long x 1 7/8" W x 1 3/16" Tall. This is very tall for this type.
Provenance: Found in Darke County Ohio. There is some very old faded India Ink on this piece that I cannot decipher completely. There is some information I can pull from it that I am not 100% sure about. I see a date of 1920. The bottom reads Buck Twp, which I looked up. There is a Buck Corners in Darke County, but no township. Maybe it was a township, and not any more?, but this seems to validate what I see with "Buck". The top line I can't figure out, but the letters "ndson" appear to end the word. The second line I believe is a name. The last name starts with "Calla". Someone could really sleuth this, and get some really great information. A black light would really help, and mine is broken...
Condition: Super. As a seasoned collector who has handled many of these objects, the trait that stands out first with this example is that it is taller than most every other example. It also has not been handled much over the years, and would color up even more with some hand oils. In terms of expanded centers, this is a top quality example, and within the upper percentages of all examples. Any imperfections are extremely minor. Publication in the 1960's adds huge credibility.
Price: $2250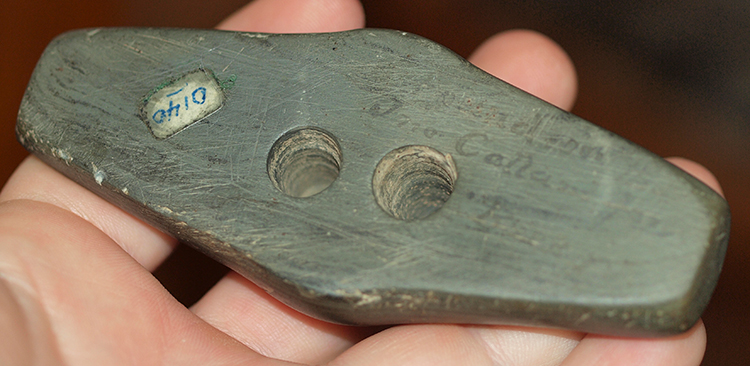 Early Publication in Prehistoric American Redskin 1969.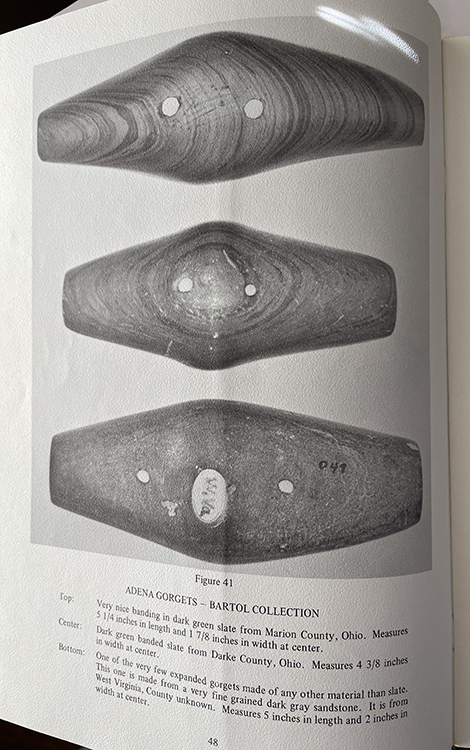 Bannerstone - #3-2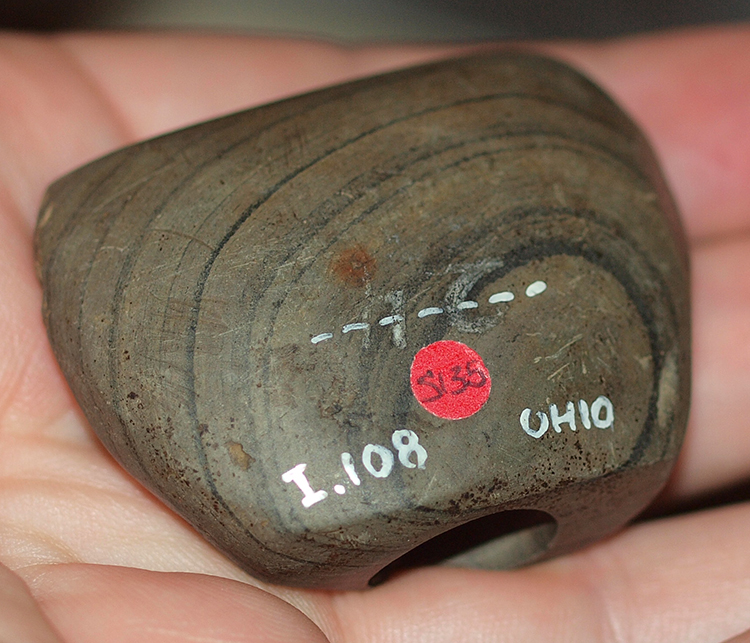 Size: 2 1/8" Long x 1 5/8" wide.
Provenance: North East Ohio. The piece was deaccessioned from the Western Reserve Historical Museum in Cleveland, Ohio.
Condition: Excellent. Condition isn't perfect, but it does have a perfect patina/mineralization pattern. You want to know what holds and increases in value in this hobby? #1 is perfect patina. A blind person can tell this is old. The type is one of the primary forms that I have heard termed differently over the years. Heart Shaped, D-Banner, Expanded Ball, and this one even reminds me of a Panel with a round hole.
Price: $450. Reduced. Shocked that a piece with literally perfect age/authenticity doesn't sell before the literal multitudes of cleaned up ageless examples I see in the auctions.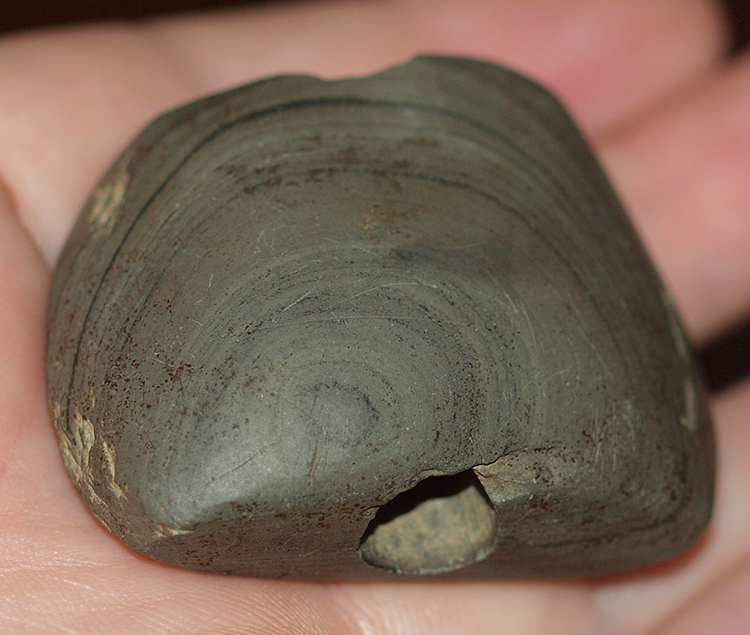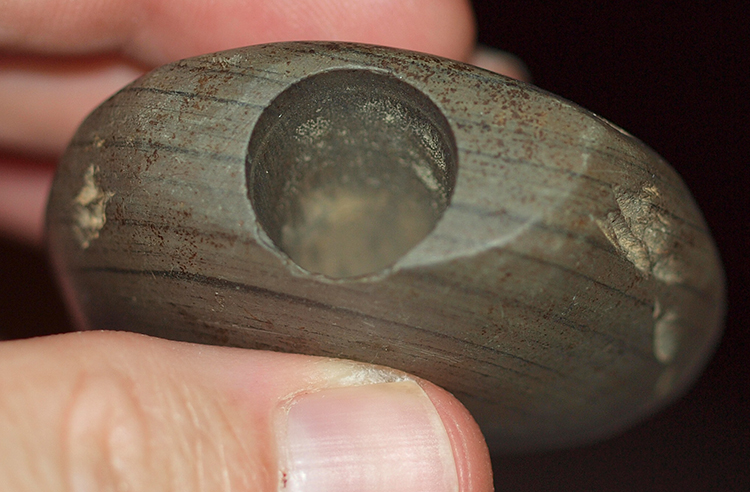 Keyhole Pendant - #3-3
Size: 4 1/4" Long x 1 7/8" Wide
Provenance: Found in Hancock County, Ohio on the Blanchard Farm.
Condition: Excellent. Red, grey, black slate with a significant patina difference on both sides. This is something that all knowledgable collectors look for. Interesting prehistoric salvage to smooth back out some damage to one corner. Like many salvaged pieces, it is engraved. I see a bird with a crest that didn't show up well in the pics. It is present, and you will get the rare opportunity at true prehistoric art. There are also two "awl sharpening" grooves cut into the face of the piece.
Price: $400 - RESERVED FOR A BUYER
Birdstone Gorget - For lack of a better term - #3-4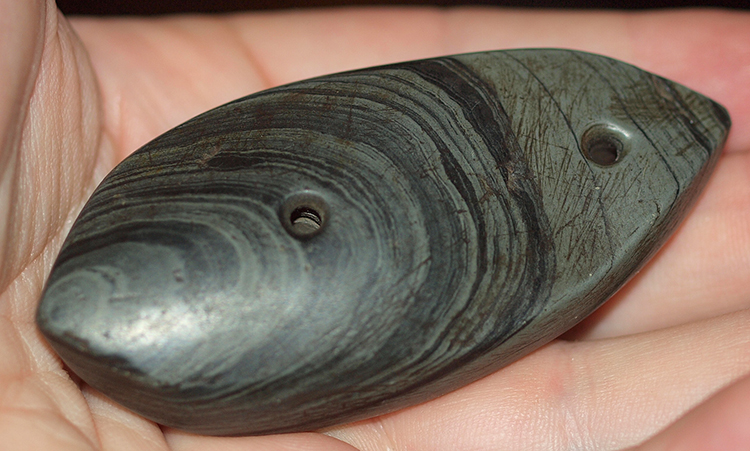 Size: 3 3/8" L x 1 5/8" W
Provenance: Ohio. Red writing is from Roland Bunch, Muncie, Indiana. My old friend Jerreme Gearhart was the immediate past owner.
Condition: Perfect. No damage. It is very clearly a Glacial Kame Culture artifact. Big and deep holes with a circular engraving pattern around one hole. Very interesting wear patterns at the holes. A unique shape that is a true Shaman's blending of multiple Glacial Kame forms. I see bird, coffin gorget, spineback, humped gorget.... all in this piece. Jerreme called it a Birdstone Gorget, so that is my title. The contrasting banding, and wonderful patina round out the piece. It sure looks like a bird head.
Price: $800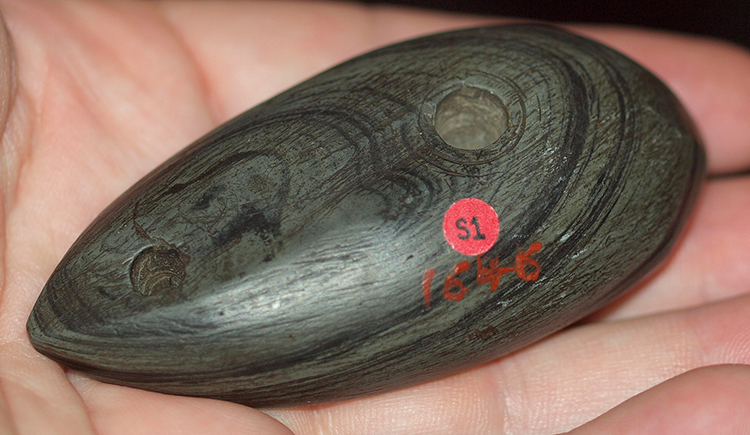 Memo to Fakers: These eyes have been around a long time, but still can see.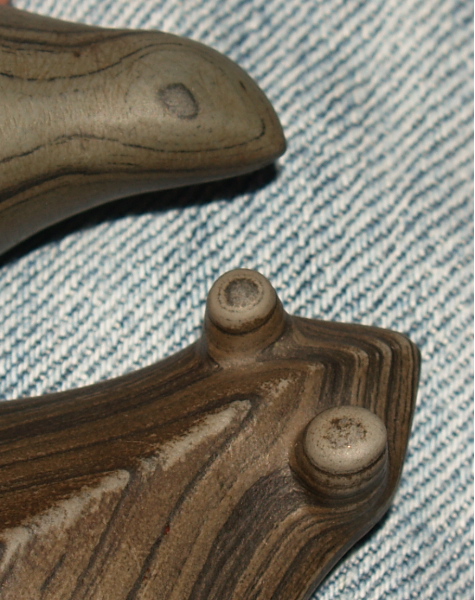 Thin Pendant - #3-5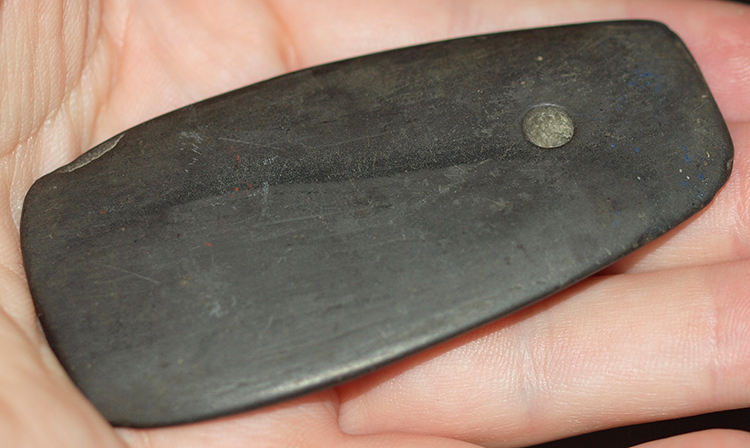 Size: 3 3/8" Long x 1 11/16" Wide.
Provenance: Found in Crawford County, Ohio. X: Col. Raymond Vietzen.
Condition: Super. A couple of extremely minor imperfections. Still a 9.5 out of 10. Extremely thin, and should be classed as Intrusive Mound b/c of the thin profile. Two white worm track blobs. Great two sided patina. I didn't look it up, but should be in Vietzen's auction books.
Price: $500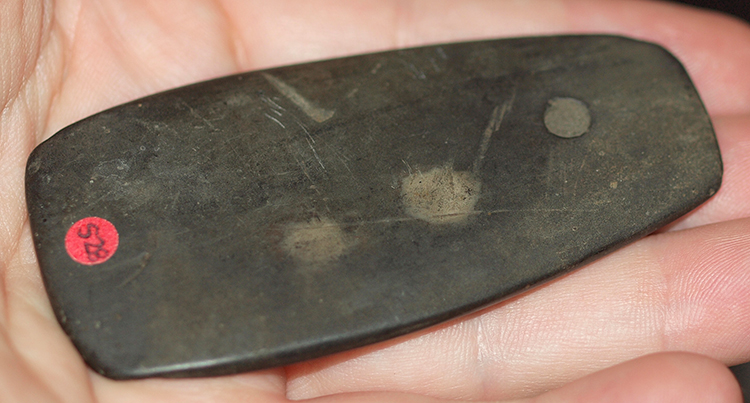 Bi-Concave Gorget - #3-6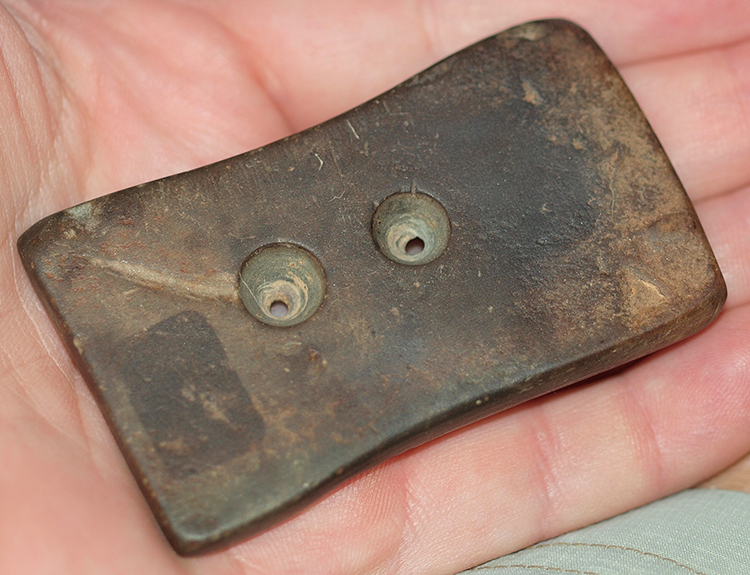 Size: 3" L x 1 7/8" T.
Provenance: Montgomery County, Ohio. Sold at Converse Auctions 9/24/1995. Jim Bennett COA #02J4AP39
Condition: Super. It doesn't have perfect symmetry, but no real damage. Top side has almost patinated brown, and underside is a deep red/orange. The coolest feature of this piece is the drilling. Hard to even figure out what is going on in the pictures. Basically, there are multiple tap holes, with the one large hole just barely all the way through. This is very unique, and I find it to make a stunning example of prehistoric art. Get this one quick b/c I just might pull it back for myself.
Price: $600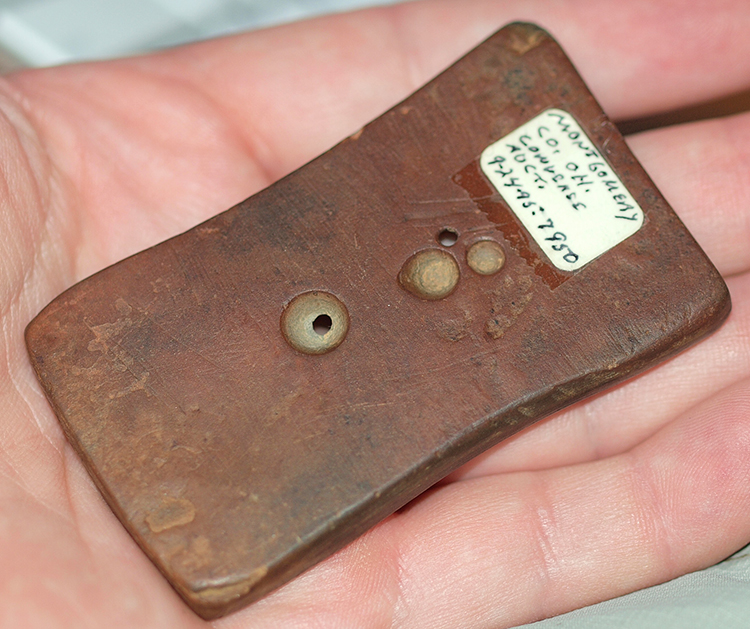 Highly Developed Un-Notched Wing Bannerstone - #3-7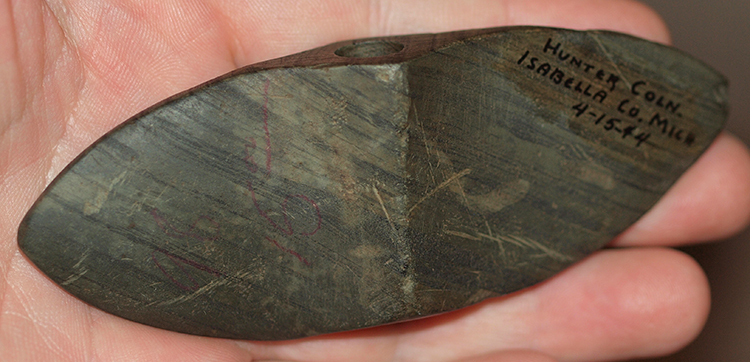 Size: 4 5/8" long x 1 3/4" W
Provenance: Found in Isabella County, Michigan 4/15/1944 by someone named Hunter. Collected by luminary collector Roland Bunch and marked with his red pencil.
Condition: Super. A few extremely minor imperfections. This type of banner represents the highest development of the un-notched wing class. According to Lutz (best research on banner forms to date), the barrel design is key to understanding development. This one shows raised ridges, diamond cross section, and concavity at the holes. It is this concavity that soon after developed in the notched wing (butterfly) class. Superior 45 degree angled banding across the entire piece, tons of worm tracks. This is a class relic, and one that could grace any collection.
Price: $2750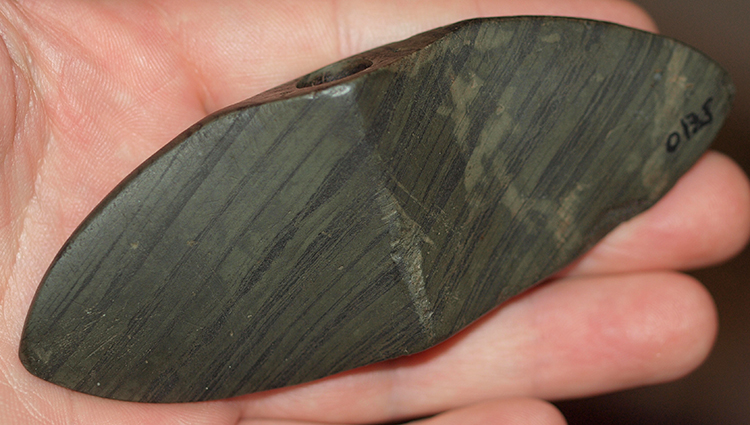 Reel Type Bannerstone - #3-8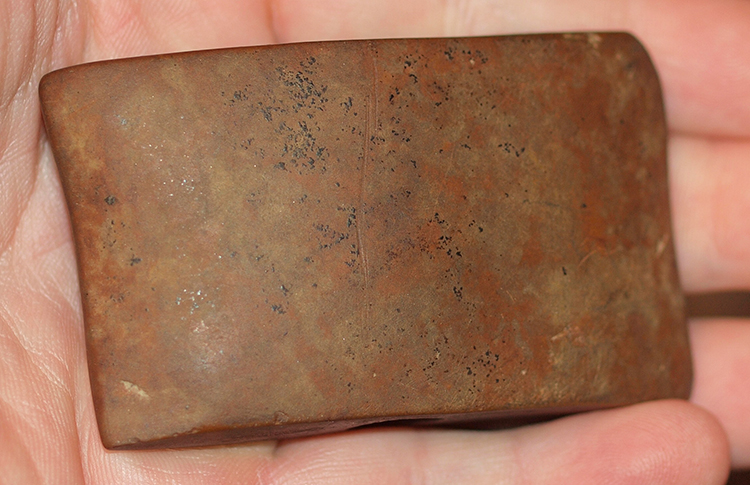 Size: 3" L x 1 3/4" T.
Provenance: Found in Shelby County, Indiana. Irv Daughtery collection. Daughtery collection widely known early Indiana collection.
Condition: Super. Reel Types are one of the rarer of all banner forms. I am not sure what the material is. I want to call it claystone, but it could be a fine grained, almost feruginous slate. Colors are a rich blend of orange/brown, with an absolutely perfect mineralization pattern. I can preach this til the cows come home, but you are literally wasting your investment funds unless you are investing in items that can stand the test of time. A piece like this will never be questioned by anyone, and it's value will only go up. Safety and comfort are still the top reasons to buy an artifact.
Price: $1100 - RESERVED FOR A BUYER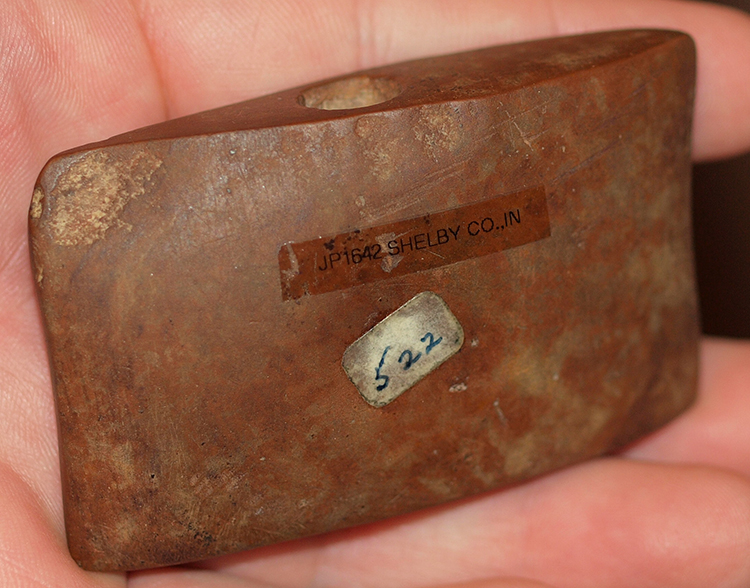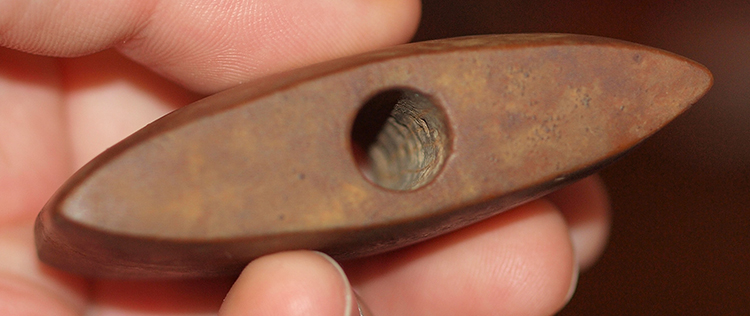 Keyhole Pendant - #3-9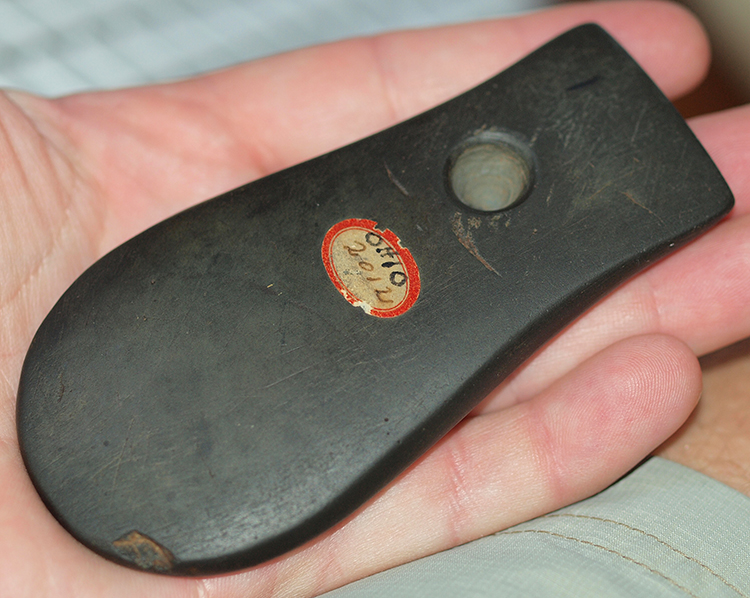 Size: 4 3/8" L x 1 3/16" W
Provenance: Ohio. Jim Hawks Collection. Jim Bennett COA #00A0Y75
Condition: Super. Dark colored slate. Large Hole. Absolutely classic piece of Ohio slate. You can pay $1500 at the next Root sale, but why? Dave would have bought this one in a flash.
Price: $800 - RESERVED FOR A BUYER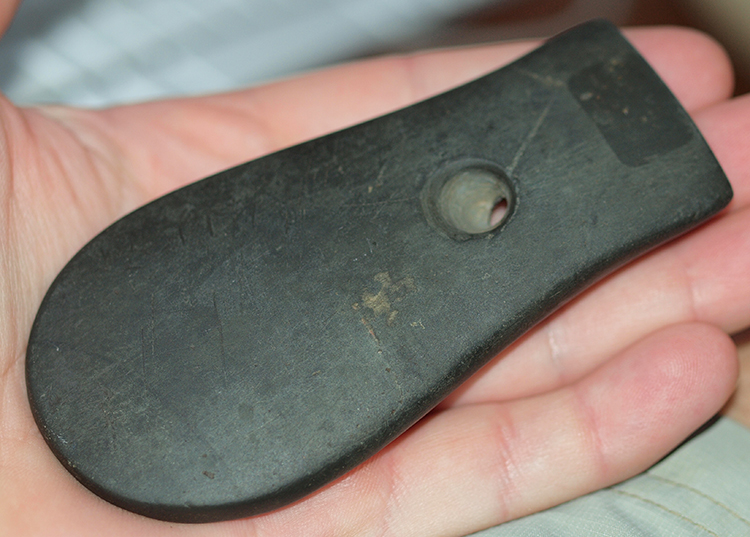 Reel Type Gorget - #3-10
Size: 3 9/16" L x 2 7/16" W.
Provenance: Found by Jeff Alsept 6/28/1988 on the Walcher Farm, Fairfield Township, Huron County, Ohio. Jim Bennett COA #04C0AP66.
Condition: Excellent. A few battles with the plow that this piece somehow won. Reel types are extremely rare, and kissing cousin's to the quadraconcave. Difference being the depth of the concavity, and these are Hopewell v. Adena. Deep red slate with black banding. I hope the finder had a good reason to sell it, b/c this is a lifetime find.
Price: $500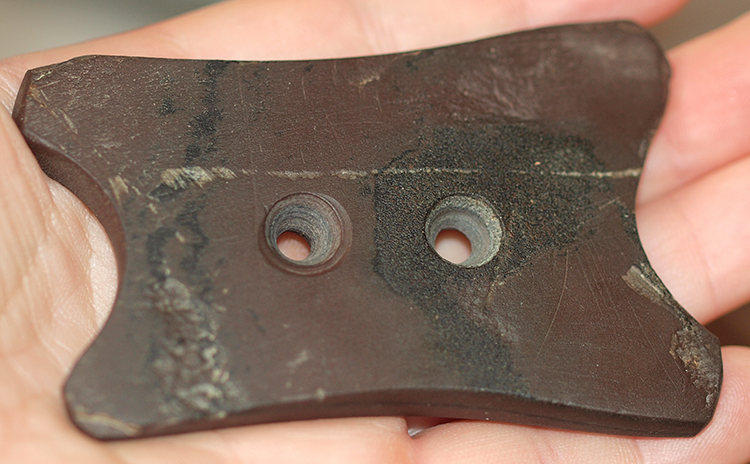 Jon Dickinson
Copyright 2004 (Dickinson Contract Marketing). All Rights Reserved.