5/27/19
Crib Mound Late Archaic Stemmed - #1-1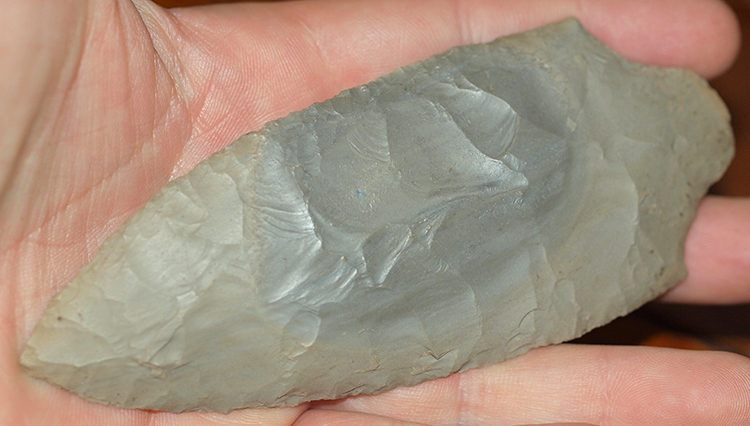 Size: 5 1/8" L x 2 1/8" W.
Provenance: Found at the Crib Mound, Spencer County, Indiana by Buddy Sheidegger with land owner permission in the early 1970's.
Condition: Perfect. One side completely covered in deposits. This is a large carving knife that is made with great skill. The entire piece has a unique twist to it that was built into the design utility. Fabulous Hornstone with a bullseye. Can't ask for much more in a piece.
Price: $300 - Reserved for a buyer.
Huge Hopewell - #1-2
Size: 6 1/4" long x 2 3/8" wide.
Provenance: Old pencil states "Thorpe Michigan". I also have documentation from previous owner that he purchased it in June 1985 for $120. I cannot find a town of Thorpe in Michigan. Possibly something un-incorporated, or maybe a farm name. Maybe a collector name. I just don't know, and the previous owner is no longer with us.
Condition: Excellent. A massive flint. The small side ding near the right ear had crude restoration over it that I removed. I am not sure of the material, but was tempted to call it Flint Ridge. If any of you Michigan guys recognize it, let me know.
Price: $250 - Reserved for a buyer.
Clovis - #1-3
Size: 1 13/16" L x 7/8" wide
Provenance: Found in/near town of Constantine, Michigan. St. Joseph County. Traded hands last in the early 1980's.
Condition: Perfect. Small, but extremely nice. Flint is un-identifiable due to extreme patination. I have heard the term "muck" flint, b/c of pieces found in bogs and water environments in that area turn colors like this piece. I have people always asking if I have Clovis material for sale, and I rarely find one that meets my standards. This one exceeds, and I will kick myself for selling it.
Price: $500 - Reserved for a buyer
Flint Ridge Decatur - #1-4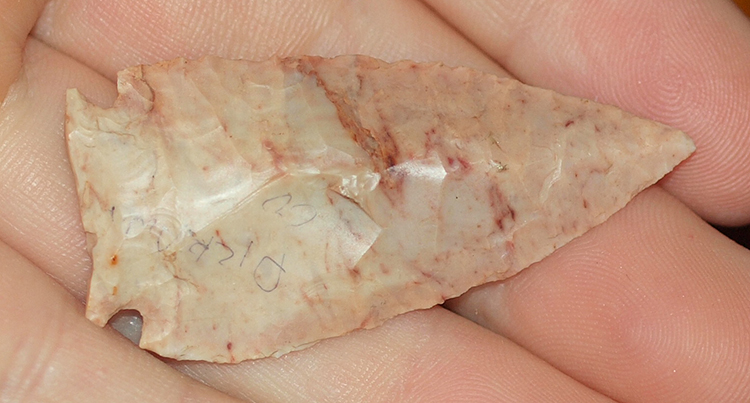 Size: 2 1/8" long x 1" wide.
Provenance: Found in Pickaway County, Ohio.
Condition: Super. Very close to perfect. My favorite example in a large collection of decatur's put together in the 1970's. Flint is a variety of Flint Ridge that old timer's called "core" material b/c it was used often in Hopewell times to create bladelet cores. I would venture they knew it was the highest quality material on the Ridge. Piece is made flat on the bottom with a prominent medial ridge on the top side. Great basal fractures in the classic one flake from each side and then ground smooth configuration. Pointy, sharp, and "it will kill"

Price: $200 - Reserved for a buyer
Large Flint Ridge Decatur - #1-5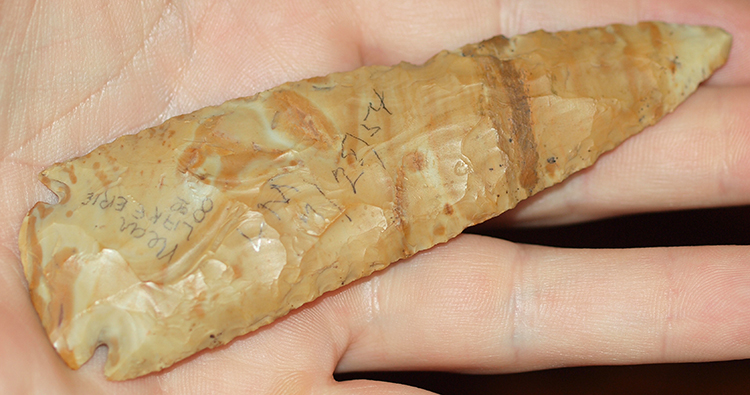 Size: 4 11/16" long x 1 7/16" wide.
Provenance: Found near Lake Erie in Ohio. Lynn Munger sold to David Warner on 7/28/1954. Piece was purchased by owner before Me at the famous David Warner auction held on 7/23/1984. This would be the 3rd time this piece has changed hands in 65 years.
Condition: Super. At first glance, many will think this is a dovetail. It is not until you dissect the base that you realize it is a Decatur. Great fracture with grinding. This form of Flint Ridge is one of the rarest. I have heard it called "Leopard Spot" Ridge before. You won't need to study it long to know it's age is correct. Huge for type.
Price: $500 - Reserved for a buyer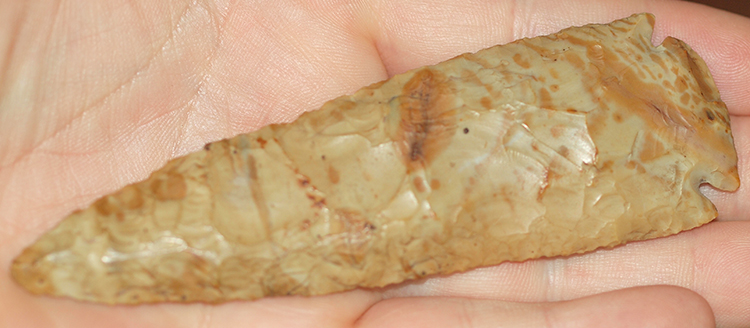 Illinois Snyder - #1-6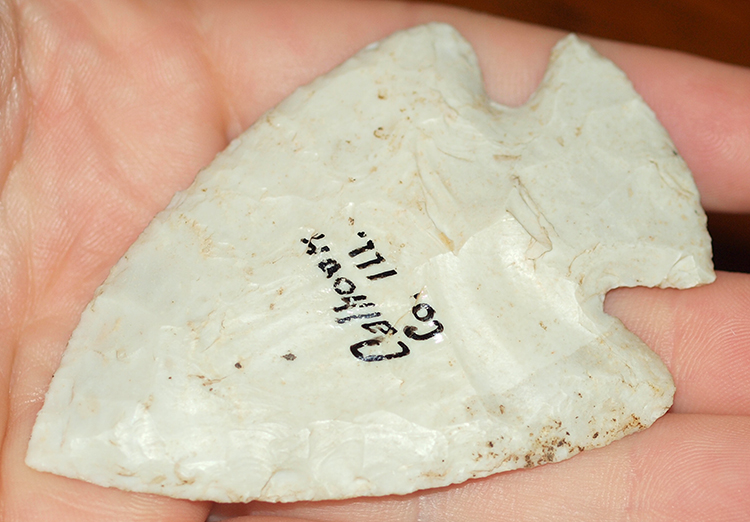 Size: 3 5/16" L x 2 1/4" W. Ever notice that Snyder's almost always feel bigger than they measure?
Provenance: Found in Calhoun County, Illinois.
Condition: Perfect. Finely flaked edges that taper into a perfect tip. This piece will still do work after 2000 years. Glossy white Burlington.
Price: $250 - Reserved for a buyer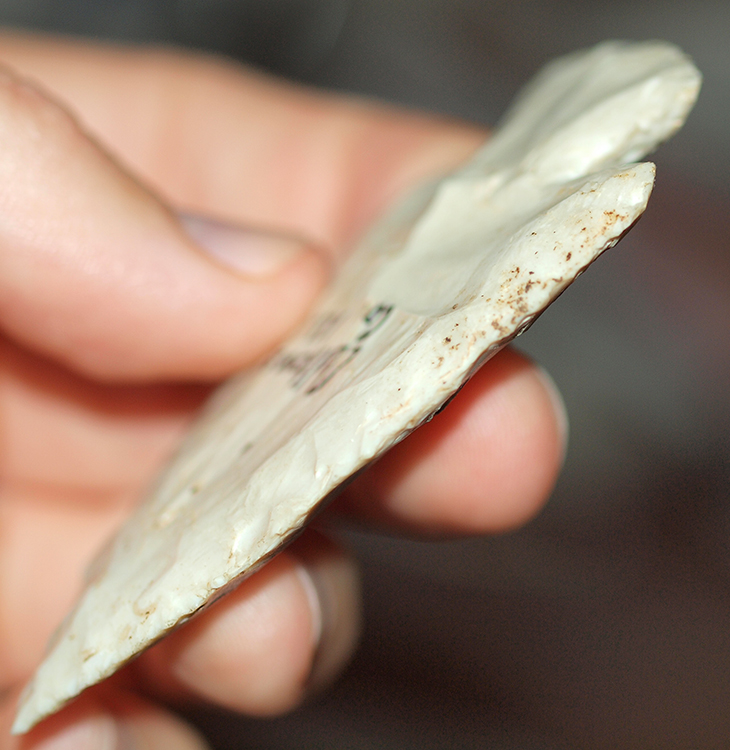 Heavy Duty - #1-7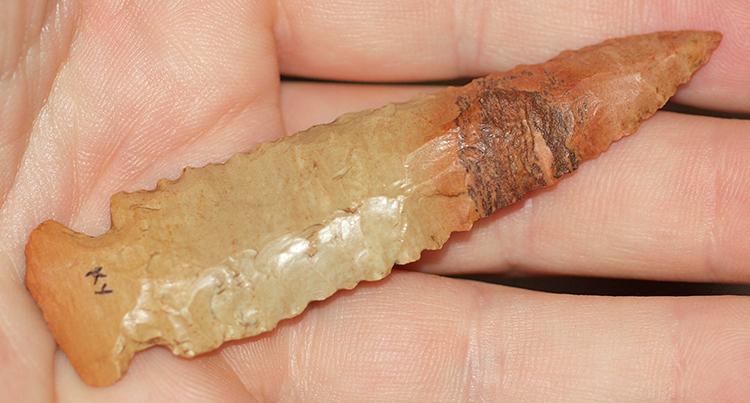 Size: 3 3/8" long x 7/8" wide.
Provenance: Found in Kentucky. I purchased from Chris Keller.
Condition: Super. Great serrations, beautiful glossy colored material. This piece has a very unusual feature that may relate to it's age being much older than one would guess from a first glance. It has highly developed basal thinning flutes on both faces. Typically, this feature is only seen on Heavy Duties of the very Early Archaic, which accounts for most of my typology call. HD's also are serrated often, and have a diamond cross section. Where this piece deviates considerably from the type is in the notches. HD's are stemmed, but maybe this is a transitional form. I don't know, but I like the piece.
Price: $150 - Reserved for a buyer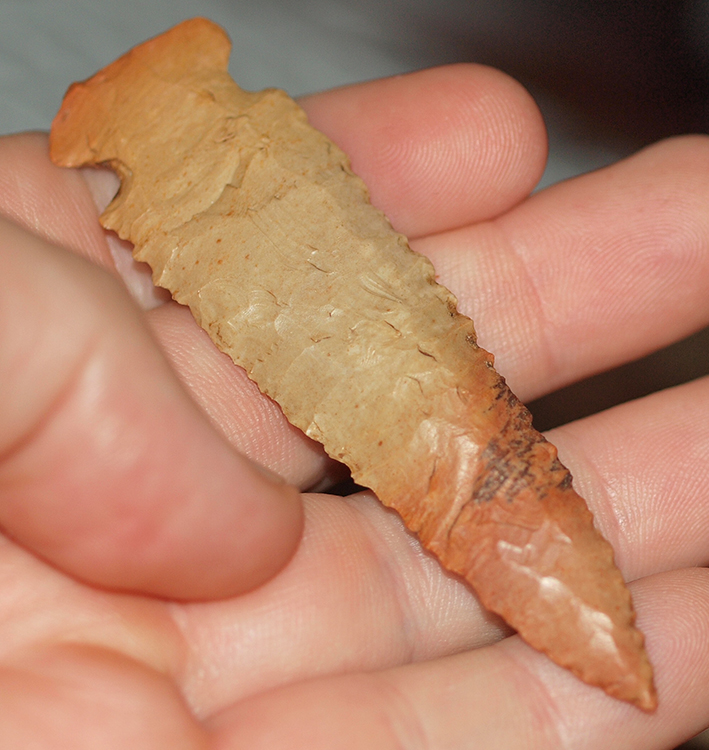 Large Hopewell - #1-8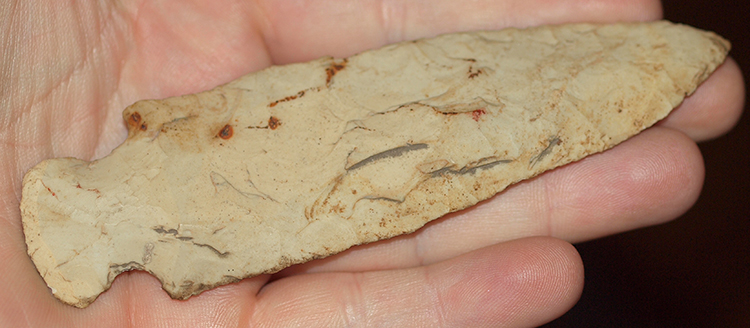 Size: 5 1/16" Long x 1 7/16" Wide.
Provenance: Comes from a very old Ohio collection. Labeled Ohio in India ink.
Condition: Excellent. A large well made Hopewell piece. Thinner than most. Would have like it to be Ridge, but it is a local chert that I can't identify as to the source. Big flints are tough to collect.
Price: $200 - Reserved for a buyer
Decatur - #1-9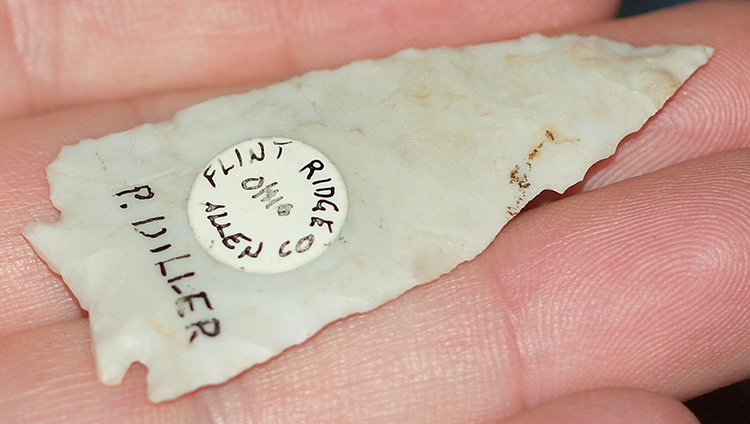 Size: 2 1/8" L x 1" W
Provenance: Found in Allen County, Ohio. Originally collected by well known and respected collected Pete Diller.
Condition: Excellent. I hear the term "potato chip" from time to time to describe a thin and undulating. This piece was made for the term. B/c of the color of the piece (highly translucent white Flint Ridge), the flaking is tough to pick up in pictures. The sticker side is the bottom of the piece, and it has great flaking over what I believe is the original flake off the core. The top side is extremely thin on the "ding" (looks to be from a plow) side. Then the flint builds up to the right edge, which has wonderful flaking. It should be noted that this configuration is evidence of a left handed owner. A little glue from an old sticker on the top that could be easily removed.
Price: $60 - Reserved for a buyer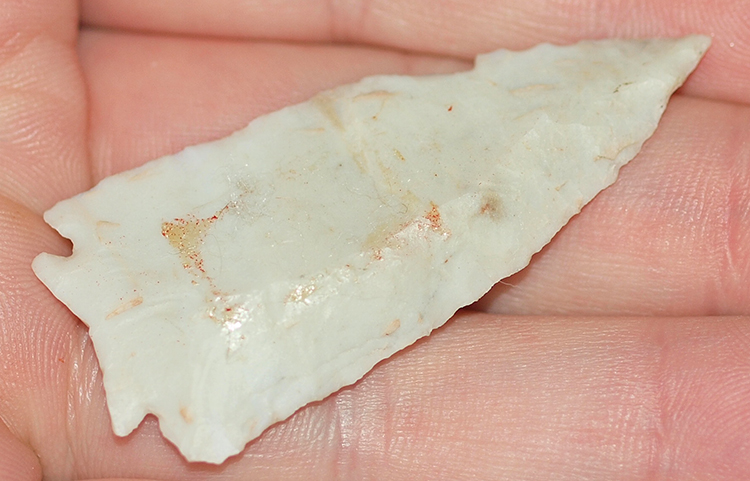 Flint Ridge Side Notch - #1-10
Size: 2 3/16" long x 1 1/8" wide.
Provenance: Found in Licking County, Ohio on 12/28/1938 by Ohio's most famous flint collector/dealer, Dr. Stanley Copeland. Copeland's writing is the black with the county/date, and the famous blue ink "FL390". I don't know why the others labeled it, but I recognize Don Potter's 2544 mark.
Condition: Super. Very rare colors of Flint Ridge with Green and Blue. Translucent, but not heavily. A rare Archaic type related to Big Sandy, but I feel the Ohio form has it's twist on the type. Priced way right.
Price: $50 - Reserved for a buyer
Diamond based Knife - #1-11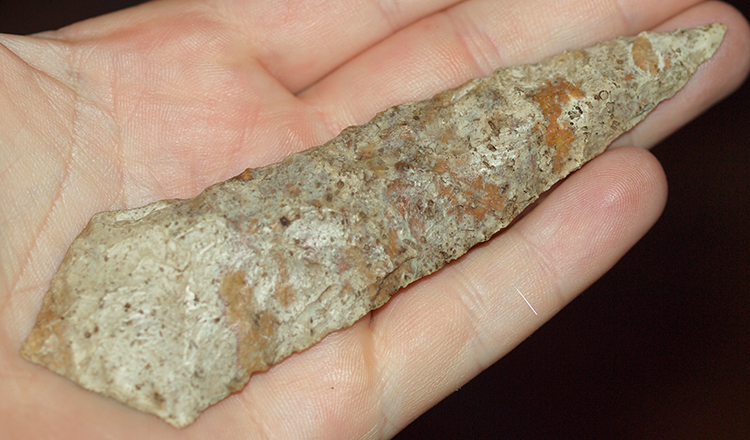 Size: 5 1/8" L x 1 1/2" at Widest
Provenance: Found 4 miles South of the Allegan River near Allegan, Michigan. Purchased 6/1961 from L. Brainard by Jacob Waterlander (WW#5). Bears Waterlander's mark K-2, and I have his personal collection note card with this information on it.
Condition: Super. I can't think of another knife with this basal configuration. It wouldn't surprise me if the base was used for specialized tasks and not related to hafting at all. I love the material, but have no clue what it is. Reminds me of what Bob Converse calls Glacial Drift. Heavily patinated with nice colors popping through. A very nice, large knife that I would date as Terminal Archaic, maybe Red Ochre Culture.
Price: $150 - Reserved for a buyer
Stone Eyes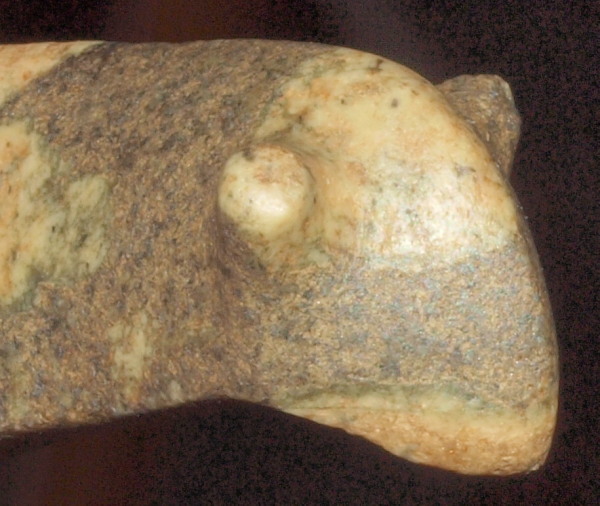 Sometimes we have stone eyes, and mouths, but we still know what you fakers are doing.
Jon Dickinson
Copyright 2004 (Dickinson Contract Marketing). All Rights Reserved.