12/26/17
Huge Early Stemmed Point - Table Rock? - #1-1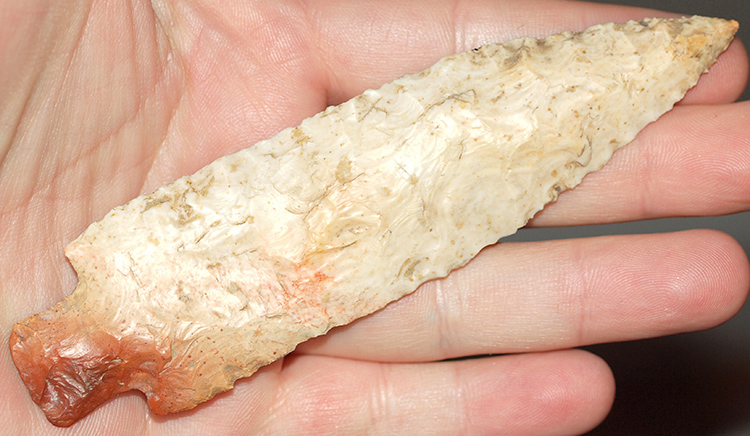 Size: 5 1/4" L x 1 3/8" W.
Provenance: Found by Brent Lawson in Adair County, Missouri in 1995. Perino Certificate dated 6/28/1997. COA states that type is a Table Rock, and notes one resharpening.
Condition: Killer. Made from heat treated Burlington chert. Perino calls this a Table Rock, and I don't know if this is correct. Base shows grinding. Flaking seems earlier than Table Rock. Also, if this is a Table Rock, it is one of the largest in existence.
Price: $800. Reserved.
Little Bear Creek or Buzzards Roost Creek - #1-2
Size: 5 5/16" long x 1 7/16" wide.
Provenance: From a TN Valley frame.
Condition: Super. Obviously, a huge stemmed blade. I am going to show my ignorance of TN Valley typology, b/c I am not sure how to type it. I am sure the collectors from the area will know. Take note of extra fine edge chipping that tells me the piece is early, and more towards the Buzzard's Roost Creek typology.
Price: $350. Reserved.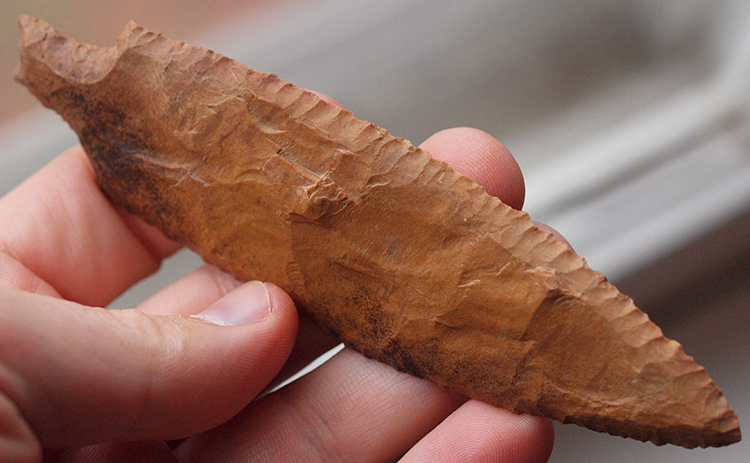 Ashtabula - #1-3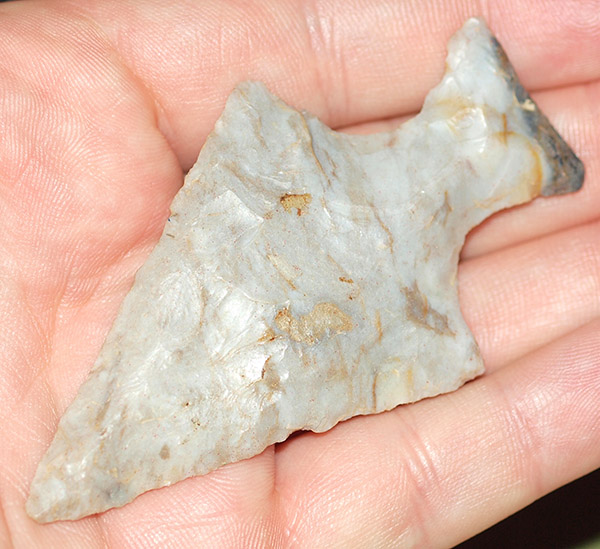 Size: 3 3/8" x 1 7/8" wide
Provenance: Ohio. Mark Bach collection.
Condition: Excellent. High grade Coshocton in a very light color pallet. One of those great uniquely Ohio point types. A favorite in many flint collections.
Price: $225. Reserved.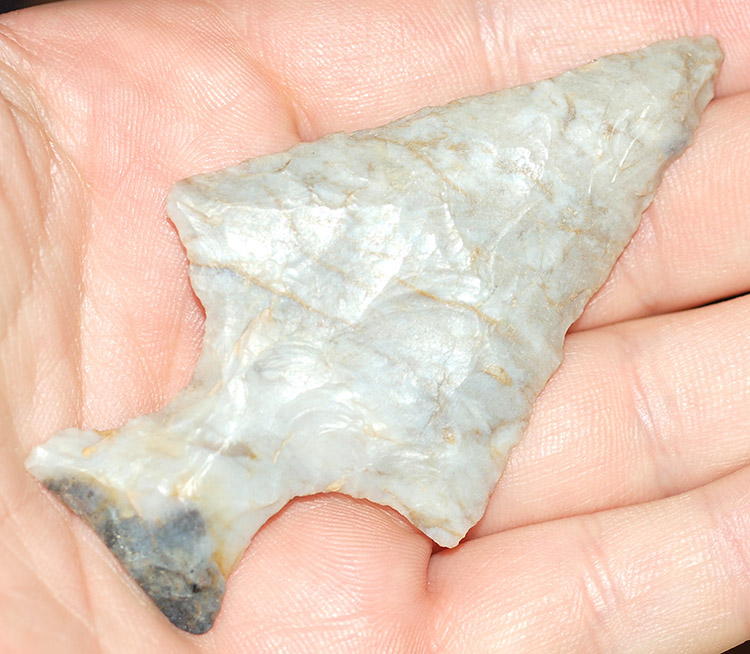 Payne Collection Hopewell - #1-4
Size: 5" long x 1 7/16" wide.
Provenance: Found in Illinois. Labeled Payne Collection 1935. The black horse writing reminds me of Earl Townsend's ink, but I can't confirm this. Tom Davis COA dated 5/30/2001 Grade 7, which I think is way too low.
Condition: Super. I would grade 8.5-9. No real damage, with huge size. Davis calls this material Hornstone, and I would be less than 50% it is Hornstone. Whatever the material is, it is patinated to the point where the color has changed significantly. Even though it is mostly brown, I do not think it is Dover at all. Your guess is as good as mine. A giant Hopewell from the largest collection ever assembled.

Price: $500
Flint Ridge Decatur - #1-5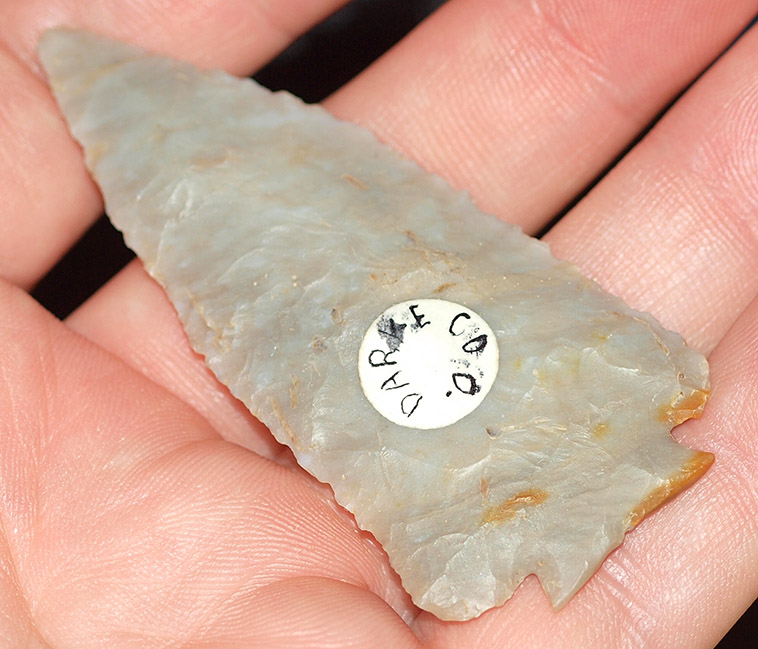 Size: 2 15/16" long x 1 5/16" wide.
Provenance: Darke County, Ohio. Mark Bach collection.
Condition: Killer. This piece is the definition of fine Early Archaic craftmanship. Superior workmanship. Not only great basal fractures, but even rarer fractures to each side of the base. Flint Ridge translucent material. One of the most collectible types...
Price: $325. Reserved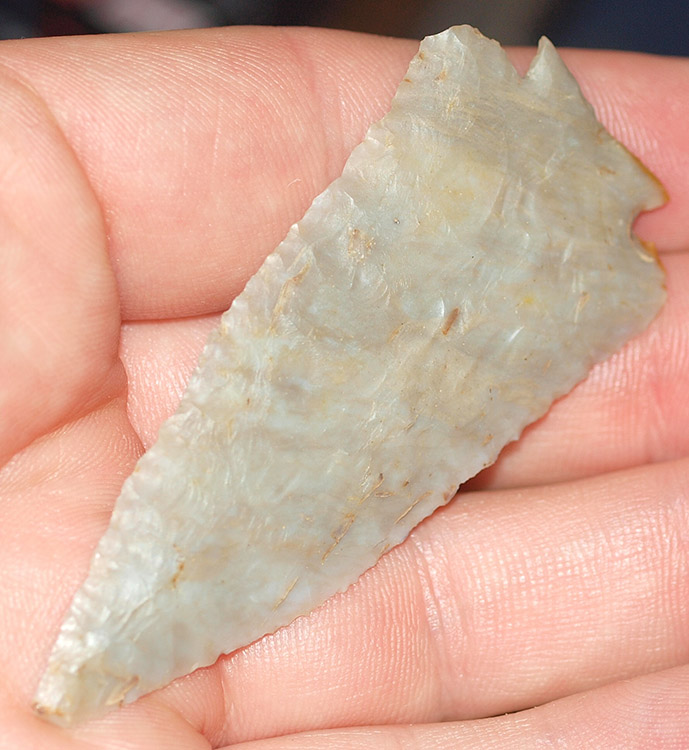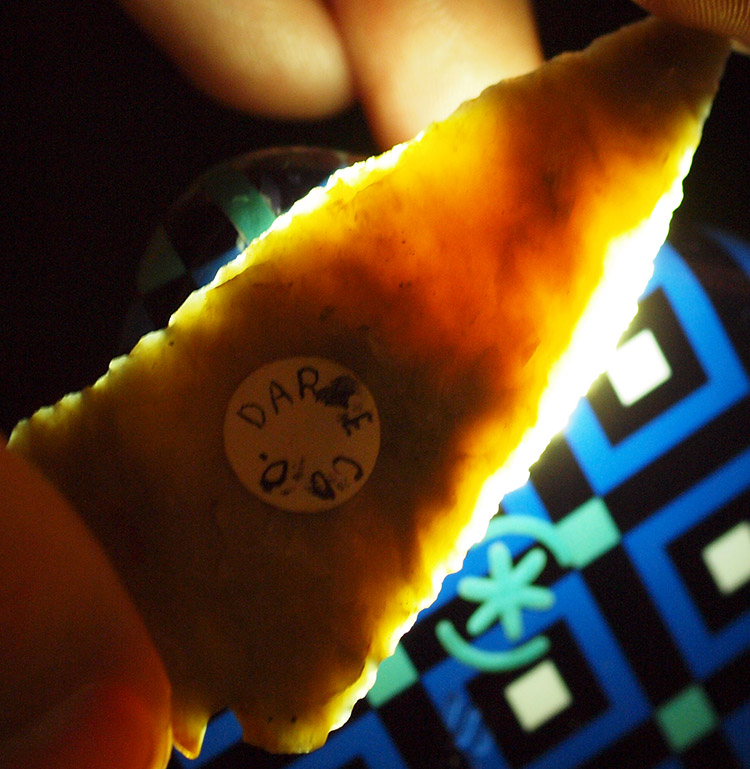 Hopewelll (Snyder's?) - #1-6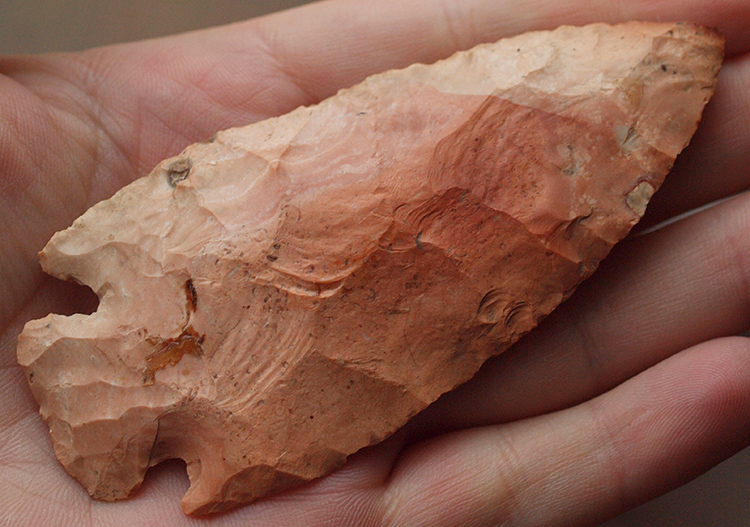 Size: 4 1/4" L x 1 7/8" W.
Provenance: Found in Howard County, Missouri. Dwain Rogers COA dated 2/1/2002.
Condition: Super. This one is a real no brainer. Tons of everything you look for. Hand filler size, and a very nice colored Burlington example with several great inclusions. Does this qualify as a Snyder's Hopewell? Probably not, but it is very close.
Price: $SOLD> THANK YOU>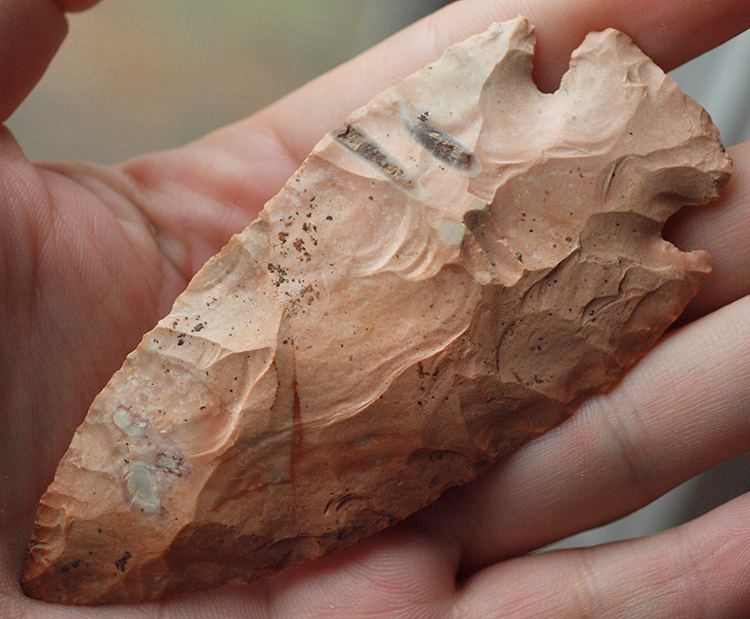 Killer Nuckolls Dalton - #1-7
Size: 2 7/8" long x 1 1/16" wide.
Provenance: Found in Southern Illinois by Roy Bridges.
Condition: Killer. I would call the material Carter Cave, but I think it is called Paoli when found in Southern Illinois. The names mean the same flint, but there seems to be a regional difference in popular terms. This flint has a nice two sided patina, and shows killer flaking and form. A great piece, and one of my personal favorites.
Price: $300. Reserved.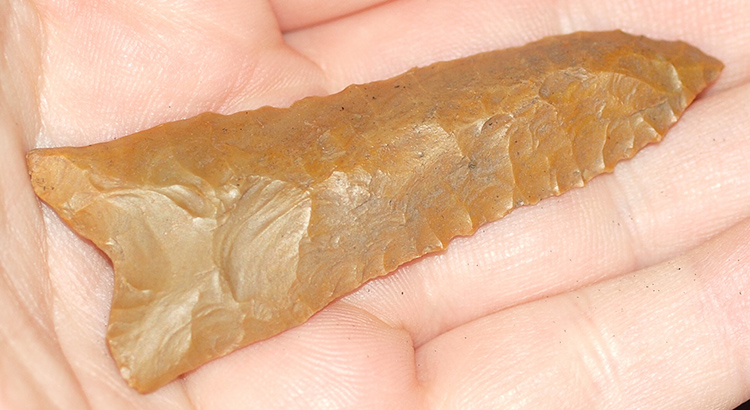 Benton (Lance Style) - #1-8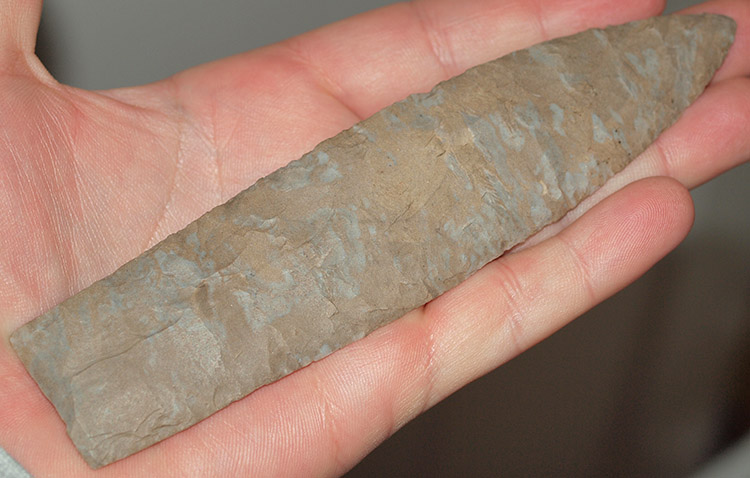 Size: 6" L x 1 5/16" W
Provenance: Clay County, Mississippi. Found on the "Beer Joint Site", which I have learned produced many great flints, and is well known. Tom Davis COA dated 10/2/2000. Strangely, this piece is graded an 8. I can't see how it is not a 10. Misprint?
Condition: Perfect. Huge, thin, classic, well mineralized. This is a flint that has it all. Great color combo on Fort Payne. This style of Benton looks like a coffin shaped Paleo lance, just on steroids. Hardly need to say anything more about it.
Price: $850. Reserved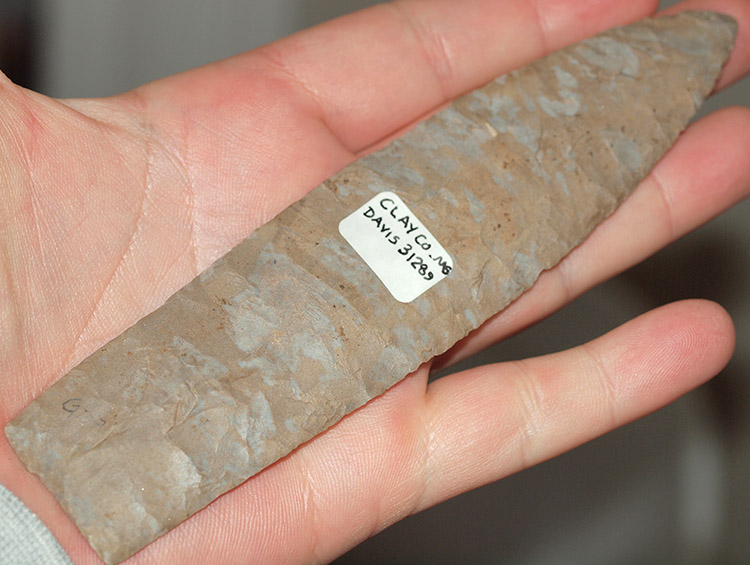 Large Hopewell - #1-9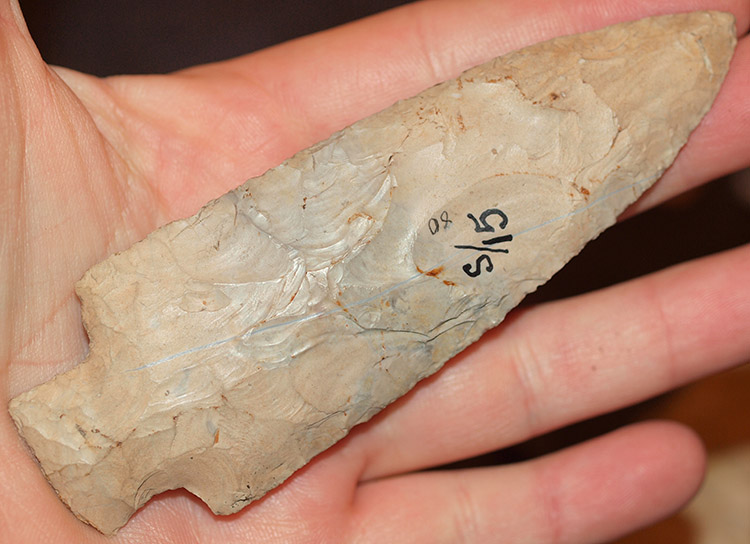 Size: 4 7/8" L x 1 11/16" W
Provenance: Found in Huron County, Ohio. Lima Township. Lennington Collection.
Condition: Super. I had this piece tucked away for quite a while b/c I just couldn't ID the material. Recently, a friend from Northern Ohio stopped by, and we discussed this piece. Although he was unable to name the material, he recognized it from the find area. This excited me into listing the point. It is a large sized Hopewell, that comes out of the old Lennington collection.
Price: $500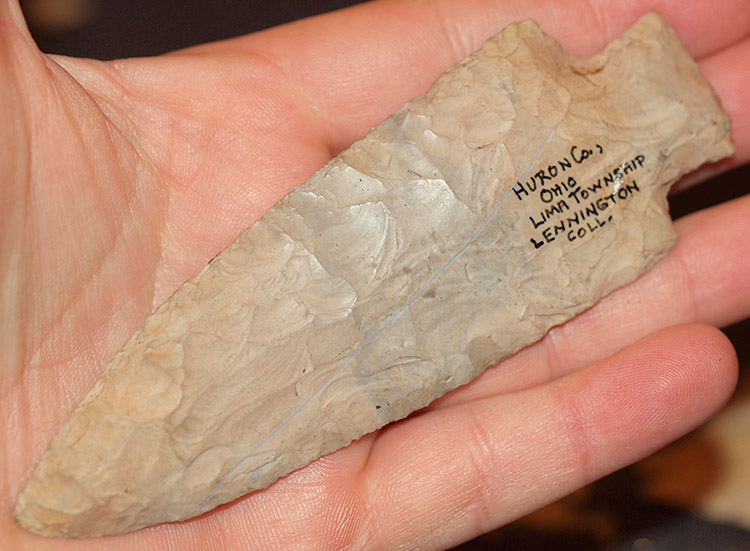 Cache Turkey Tail - #1-10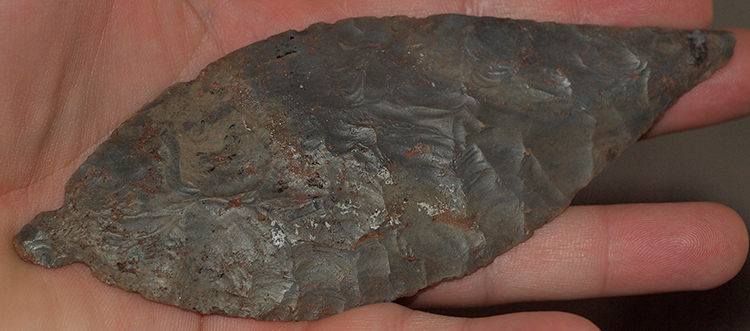 Size: Two eyelashes shy of 6" long x 2 3/8" wide.
Provenance: Found in a mound in Sullivan County, Indiana in the 19th Century. The town of discovery was DeBaun, Indiana, which is now only a cemetary. I would not be surprised if this cemetary was constructed around the mound, like so many other early cemetaries in the Midwest. Additionally, there is a chance that this piece was the result of the famous Harvard Archaeologist Frederick Putnam's explorations of Sullivan County in the 1870's. I do not have direct evidence of this, but I have more than a hunch that further research could produce this answer.
Condition: Museum Quality. The base is the first item to discuss. This basal style in almost unique within known turkey tail caches, except for one very famous find. The Hasler Mound turkey tails (See Townsend Birdstone Book) have identical bases to this example. Where was the Hasler Mound? Greene County, Indiana, which is the adjacent county to Sullivan. From what I can figure, the two sites are less than 30 miles apart. This could be evidence of a single maker, or a highly specific regional variant. There is way more than enough to write a great journal article. I would be willing to help the new owner if they decided to pursue. This piece is obviously part of a larger cache. Where the other examples have gone since discovery is something I would really like to know. There is abundant ochre staining on the piece to further bolster the cache hypothesis. Piece is extremely well made, thin, and skillful straight lined blade edges.
Price: $1200. Surprised I still have this. Reserved.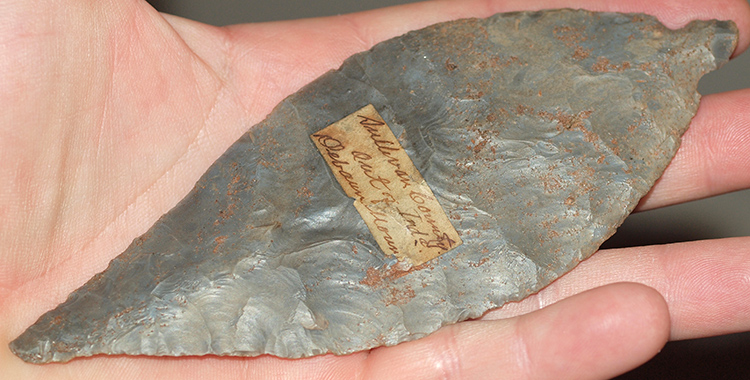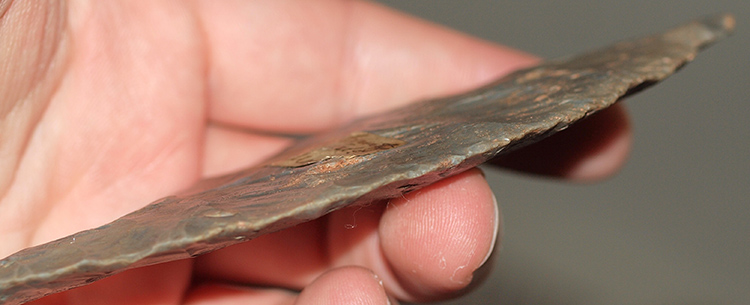 Missouri Scottsbluff - #1-11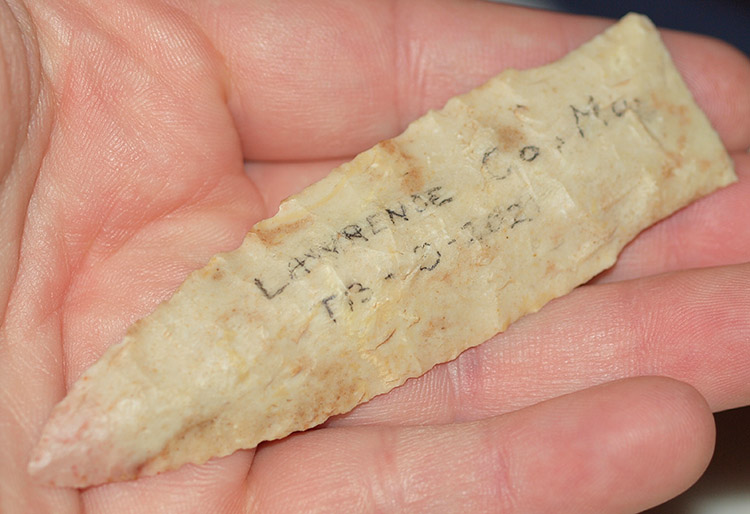 Size: 3 7/8" L x 1 1/8" W.
Provenance: Lawrence County, Missouri. X: Tony Bakutis. X: Tommy Bryden. COA by Greg Perino dated 4/16/1999 stating "A large dart/knife form that is in good conidtion being from an area in which Hardin and Scottsbluff features may intermingle."
Condition: Super. Perino calls the material Reed Springs Chert, and I can't disagree. Bakutis and Bryden are extremely well known collectors from the area. From what I know, Missouri Scottsbluff are rarer than hen's teeth. One of the gold standard types from an area and material that almost make it unique in the record.
Price: I have a receipt where this piece last sold for $3200. -----------$1500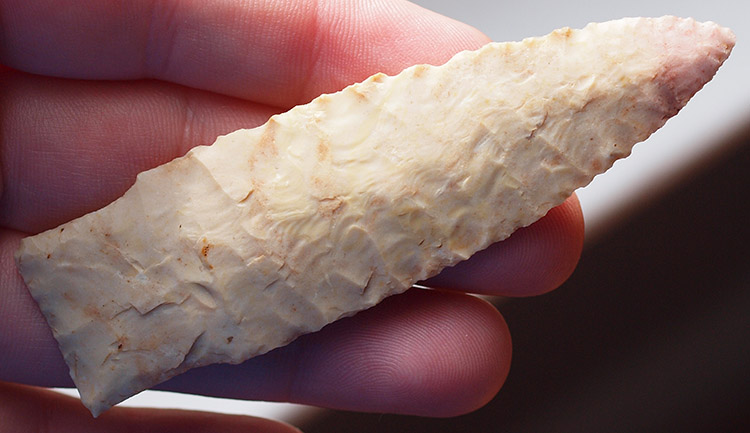 Slate Eyes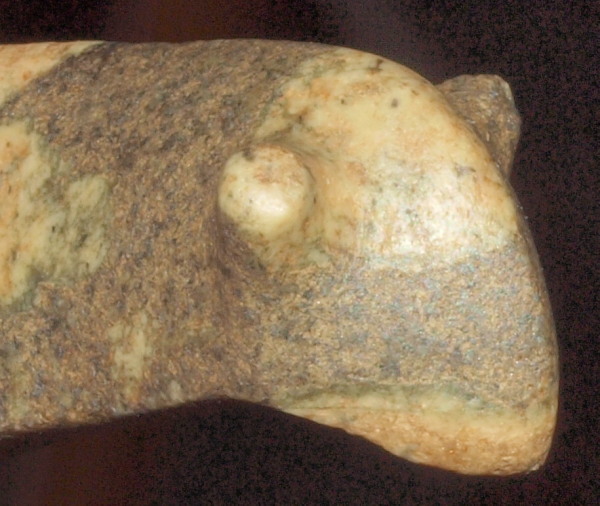 Sometimes we have stone eyes, and mouths, but we still know what you fakers are doing.
Jon Dickinson
Copyright 2004 (Dickinson Contract Marketing). All Rights Reserved.