7/10/18
Sonora Paleo - #1-1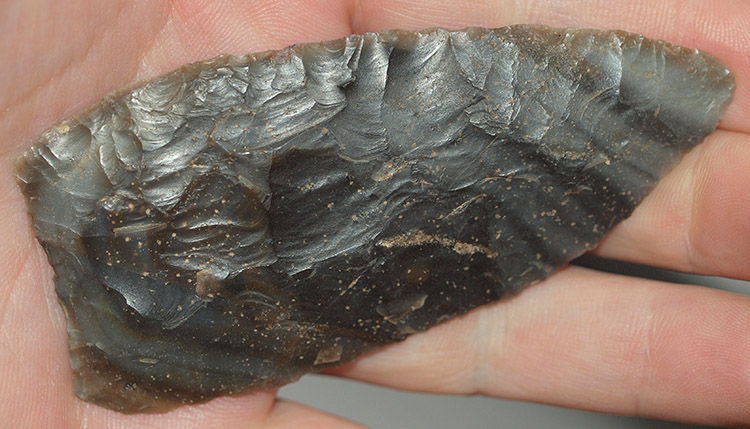 Size: 3 13/16" L x 1 3/4" W.
Provenance: Southern Indiana. X: Dale Roberts.
Condition: Super. What do you get when you mix beautiful Sonora flint with a concave base, large thinning flute, and top quality workmanship?
Price: $SOLD> THANK YOU>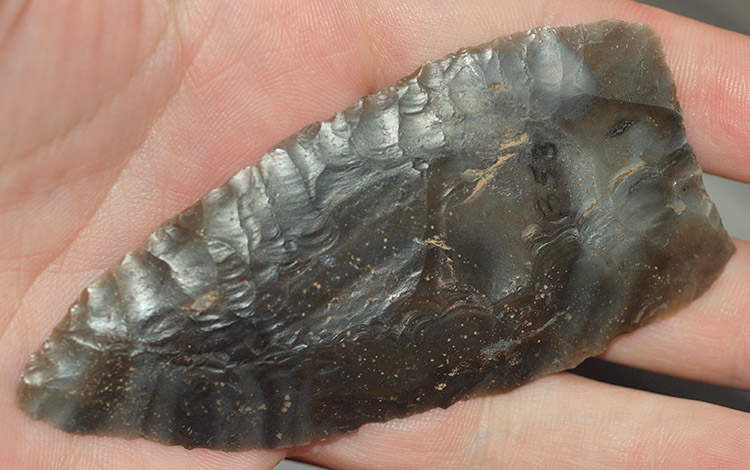 Un-Fractured Decatur - #1-2
Size: 3" long x 1 3/8" wide.
Provenance: Found in Owen County, Indiana. Collected by early great Walter Nelson. I purchased from Nelson estate auction held at Ripley's Auction on 9/19/2007 as lot #130.
Condition: Super. In my personal collection since 2007. Recently moved out to put in a different example. Nelson was an all time great collector featured in Who's Who #1 even though he passed away years before the book was published. The Nelson family had retained his best pieces for 50+ years, and then sold in 2007. Wish I bought everything at that sale, but bidding was furious and serious. I still consider that the best flint auction I have attended.
Price: $SOLD> THANK YOU>
Beaver Lake - #1-3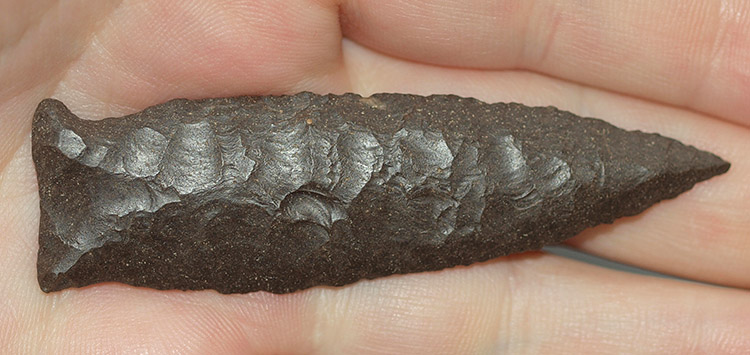 Size: 3 1/4" x 15/16" wide
Provenance: Found in Graves County, Kentucky by Victor O'neil. David Farris purchased piece from Mr. O'neil.
Condition: Perfect. Any flaws are too minor to remove from perfect category. Extremely thin, basally thinned/fluted. Outstanding flaking. Great, great flint.
Price: $600. Reserved.
Top Shelf Adena - #1-4
Size: 4 3/8" long x 1 7/16" wide.
Provenance: Found in the Ohio River drainage near Evansville, Indiana. An old friend of mine, Jerimiah Thorton, purchased this piece from the finder. I purchased from Jerimiah probably 15 years ago. This piece was featured on the AACA National Show 2006 poster.
Condition: Super. Being picky here not calling it perfect. No damage to speak of. Material is obviously incredibly beautiful. I asked a local Evansville area collector back in 2004 what he (Steve Condra) thought of the material. He stated "There is a small outcropping of Holland flint in Perry County, fairly close to the Ohio River, near the little town of Leopold. Locals in teh know call it "Leopold Gold".... that's what it looks like to me." This letter will be provided to the buyer. I do think there is a chance (so did Steve) that material is a wild Hornstone variant. I do believe that all the color is from patination. If you are going to collect 1 Adena, this would be my pick.

Price: $500 - Reserved.
Ben Thompson Notched Hoe - #1-5
Size: 6 1/4" long x 4 3/8" wide.
Provenance: St. Louis County, Missouri. The elaborate drawing was done by Ben Thompson, who just passed away as one of the collecting hobbies greatest ambassadors. The #1278 is from HM Braun, who was Ed Payne's #1 buyer. Call the history: x: Braun, Payne, Thompson. Pretty decent lineage.
Condition: Excellent. Piece shows plenty of use, but nearly 100% of the real ones do. there is a good amount of glossy bit polish that everyone loves to see. I believe the material is Mill Creek with some extra special color (deep red/purple), but it may be Kaolin.
Price: $SOLD> THANK YOU>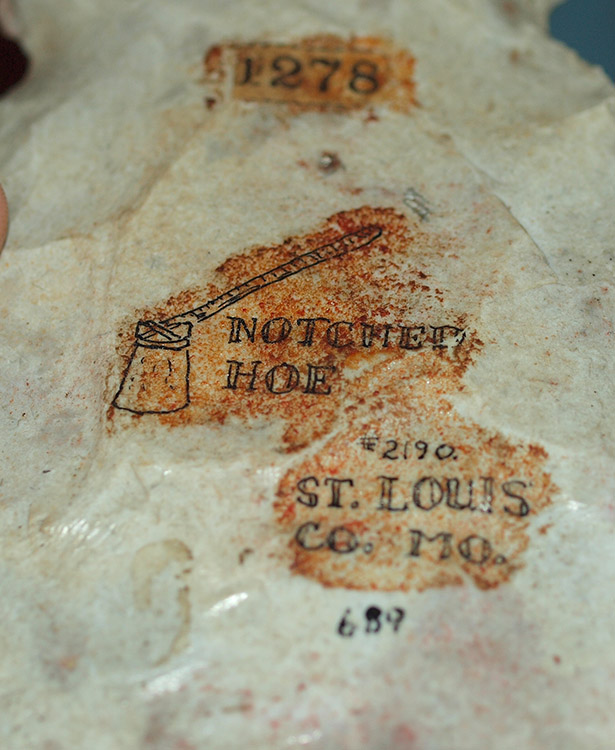 Large Turkey Tail - #1-6
Size: 5 3/8" L x 1 7/8" W.
Provenance: Found in Indiana in the Ohio River drainage by Red Richmond. John Berner COA dated 5/6/07. Obviously part of a cache, but I do not have further information.
Condition: Super. This one has everything you want to see in a cache quality Turkey. I particularly like the curves from being made off a flake, tip and base cortex, fine flaking, and rather incredible thinness.
Price: $SOLD> THANK YOU>
Note the thinness: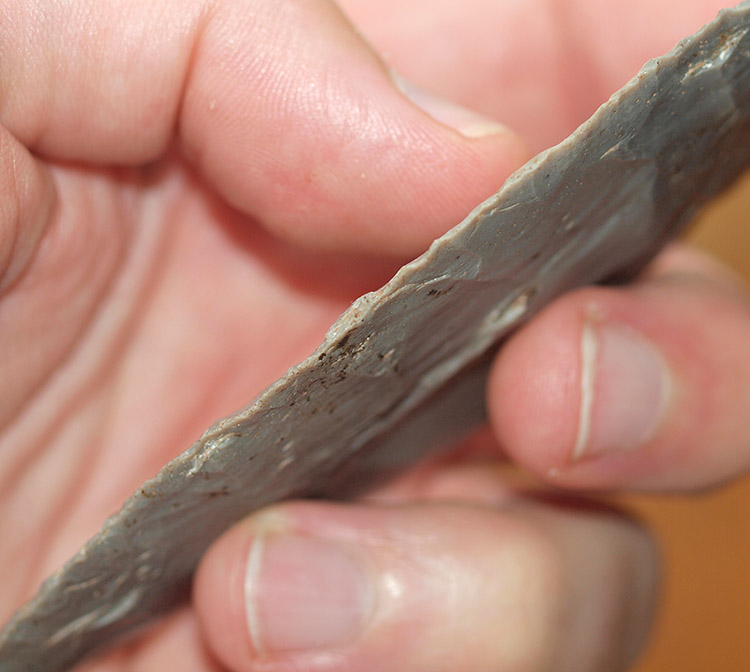 Medium Turkey Tail - #1-7
Size: 4 3/8" long x 1 11/16" wide.
Provenance: Found in Indiana. X: Greg Seigler. Greg Perino COA dated 4/9/2002.
Condition: Killer. Here is Perino's note about the piece: "A medium to large size Turkeytail that is thin for the type. It is a type found in caches." Perino could have accentuated by saying "this piece is among the thinnest examples of a type known for thinness." Much of the backside shows a large unifacial single strike from when the flake was removed from the core. This area is worked expertly into the overall design of the piece, and allows for the almost impossible thinness.
Price: $SOLD> THANK YOU>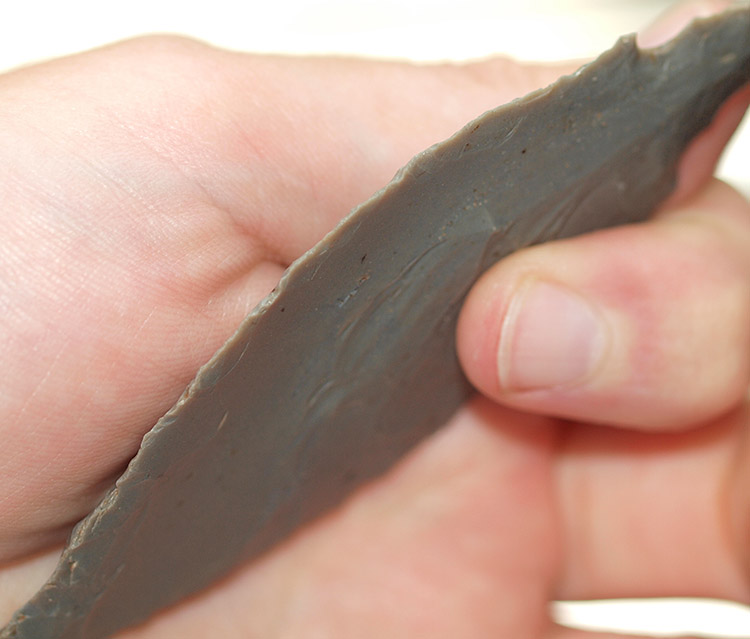 Friley - #1-8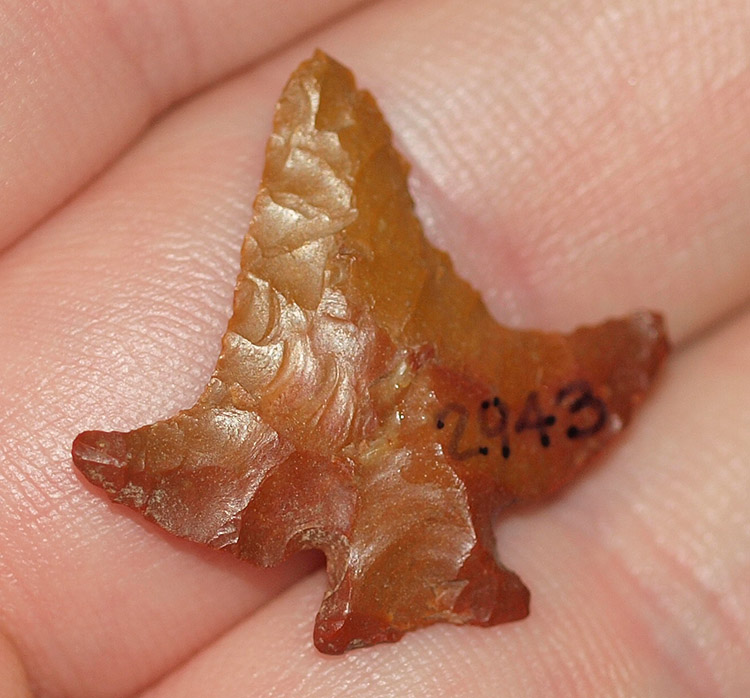 Size: 1" L x 1 1/8" W
Provenance: Louisiana.
Condition: Killer. I wouldn't call it quite perfect. Shows a little use on the tip. Made from beautiful red/orange Jasper. This is a very collectible type for obvious reasons. How many flints can you say are wider than they are long? Unique "mustache" style wings that I don't think are shown on any other type.
Price: $SOLD> THANK YOU>
Giant Kay Blade - #1-9
Size: 6 5/16" L x 1 15/16" W
Provenance: Found in Garvin County, Oklahoma by a Mr. Cassell. I have a letter describing the finding of the piece from the finder. COA by Dwain Rogers in my name 5/15/18. I was interested to know typology and flint source. Dwain calls the material "Light Gray White Color Flint". If anyone knows material, let me know.
Condition: Super. Tip is not perfect, and a two stacks on the backside, but still very worthy of a Super rating, and much more. Starting with the thinness of the piece: It is exceptionally thin for it's size. Especially through the middle. Despite not knowing what the material is, I know it is high grade and translucent. Reminds me of Kaolin but with a bit of quartz grain. Size is obviously a major plus on the piece. I consider this a top shelf flint, and only leaving my collection b/c of it's geographic discovery location.
Price: $SOLD> THANK YOU>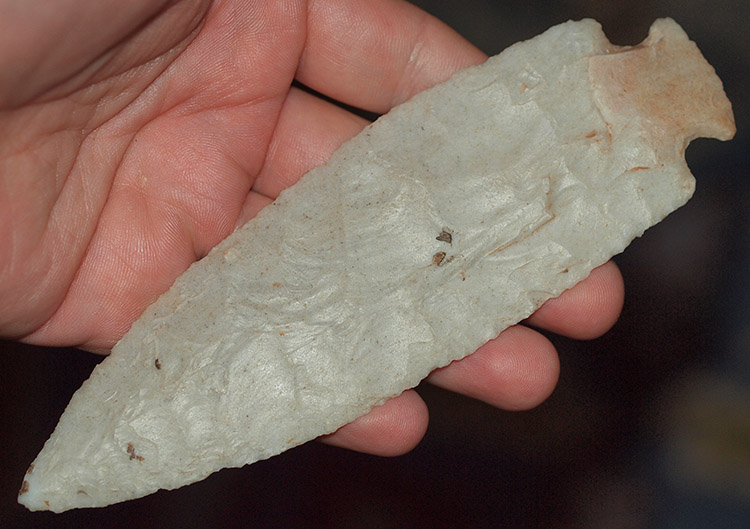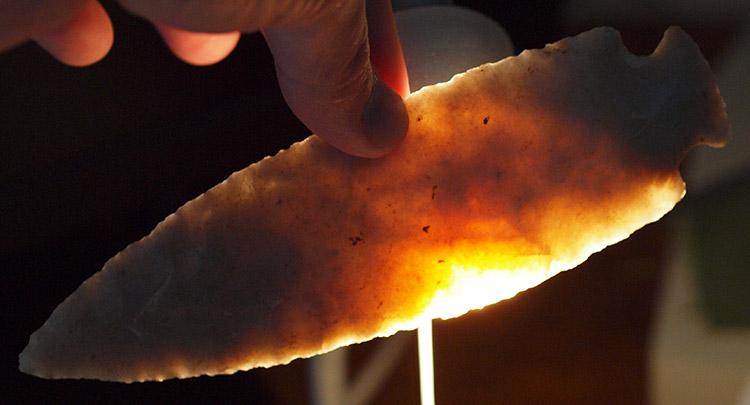 Paleo Lance - #1-10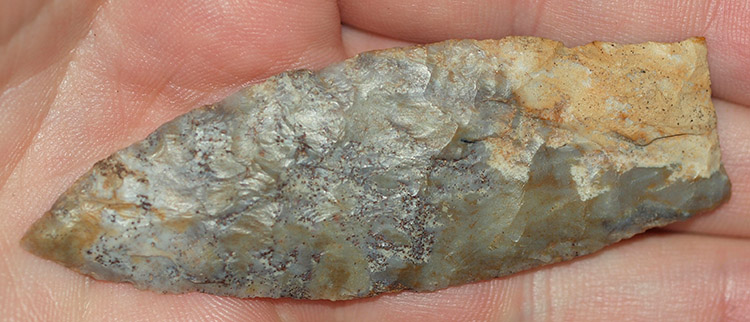 Size: 3 1/4" long x 1 1/8" wide.
Provenance: Knox County, Ohio. Ensil Chadwick collection.
Condition: Super. I like when this type shows a "hint" of a stem. Another great feature is the 45 degree base flake. Wild Flint Ridge.
Price: $SOLD> THANK YOU>
Stone Eyes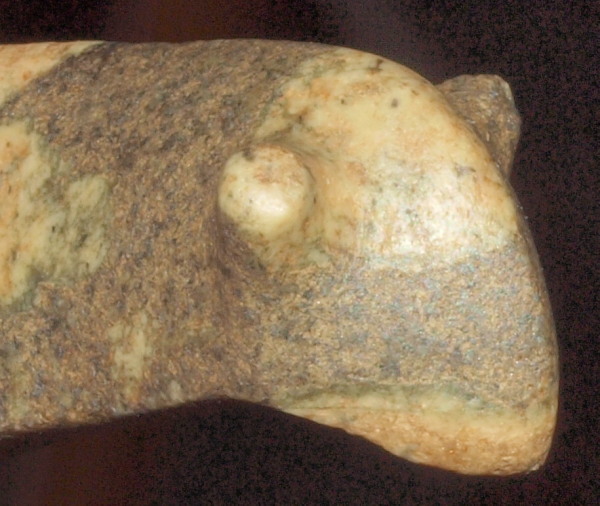 Sometimes we have stone eyes, and mouths, but we still know what you fakers are doing.
Jon Dickinson
Copyright 2004 (Dickinson Contract Marketing). All Rights Reserved.