8/2/17
Museum Grade Double Notch Benton - #1-1
Size: 7 5/8" L x 1 5/8" W.
Provenance: Monroe County, Mississippi. Dick Burnett collection. Dick arguably had the finest Southern Kentucky collection for generations.
Condition: Museum Grade. Graceful and deadly. The entire piece is twisted in two directions, the result of being manufactured from a very large curved flake. The flaking is ceremonial level (I tried to show it in last picture). Double notching on a Benton is seen in an extremely limited area in Mississippi, and the form is about as rare as it gets. Pleasing Fort Payne material that shows a distinct two sided patina. Look at the pictures to view this. The colors are correct for both the top and bottom sides. Probably the most impressive flint piece I have sold on the site, and a sure fire center piece for anyone.
Price: $SOLD< THANK YOU>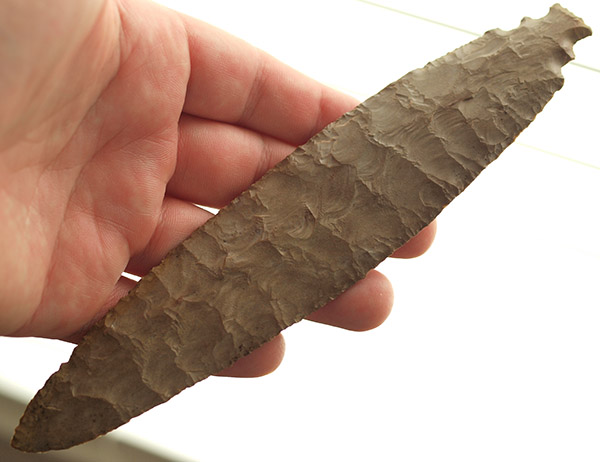 Turkey Tail Documented from Crick Creek Cache - #1-2
Size: 5" long x 1 5/8" wide.
Provenance: Found by David Crick in April 1984 in Calloway County, Kentucky at the Crick Site (15Cw96). This is number 15 out of 44 whole and fragmentary blades. This cache was studied and written about by Murray State University. A 13 page report from Pamela Schenian at Murray State is included. COA and further documentation provided by Jerry Dickey in September 2007.
Condition: Super. Very, very close to perfect. Thin and finely made. Something interesting to talk about is the material. I would have called it a light colored Indiana Hornstone, but Murray State spliced one of the broken examples and broke down the material on the molecular level. They determined the material to be Upper St. Louis Chert, which outcrops very close to the find location of the cache. I guess you could try to get a flint with better documentation.
Price: $500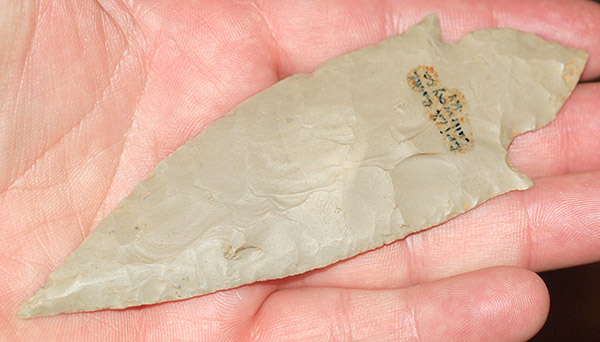 Early Ovoid (Perino) Knife - #1-3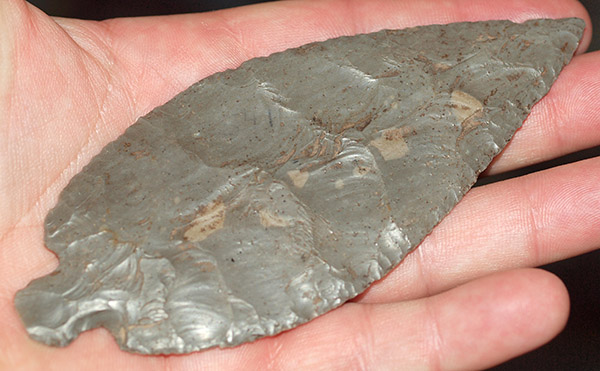 Size: 5 1/4" x 2 5/16" wide x average thickness of 3/16"
Provenance: Unknown. #2331 Tommy Beutell Collection. I wrote to Tommy asking for provenance on this flint, and never received a reply. If anyone can get the info, the flint will surely thank you. It desserves a provenance.
Condition: Killer. Base is not damaged. Made that way, as is often the case from these incredibly rare and enigmatic flints. Most show great workmanship, but this one is exceptional, and scary thin. The science seems to have settled on this form being Paleo. I agree.
Price: $SOLD< THANK YOU>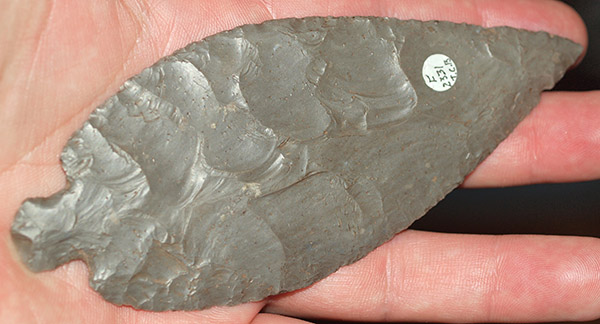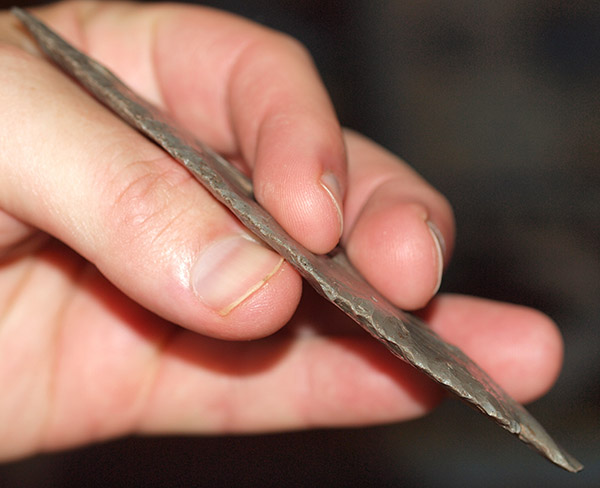 Large Holland - #1-4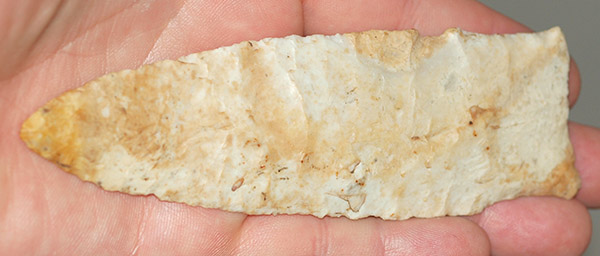 Size: 5 1/4" long x 1 5/8" wide.
Provenance: Listed as Cuyahoga County, Ohio on a Davis COA dated 5/3/2001. Material listed as Flint Ridge.
Condition: Excellent. Very large and wide early Holland type. Forget the COA, and the provenance. This aspect of the piece was clearly altered for an Ohio collector named George Heckman, who was buying up stemmed lances during this time period. It is a shame that folks do this. Heckman's collector mark is on the piece. I would bet dollars to donuts this is a Southern Illinois/Missouri piece, and I think the material is Crowley's. Anyone out that way who wants to correct me, please do.

Price: $SOLD< THANK YOU>
Lost Lake - #1-5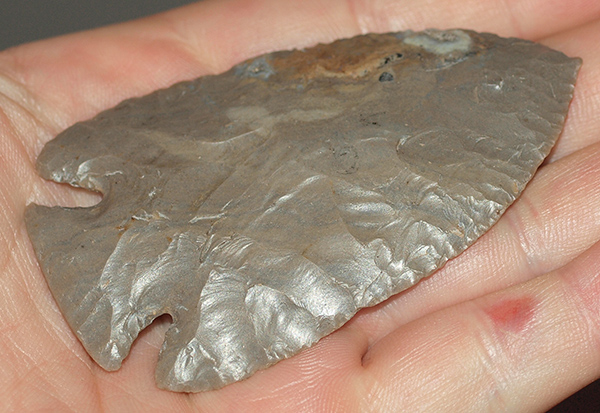 Size: 3 1/4" long x 1 7/8" wide.
Provenance: Southern Ohio. Most likely Montgomery or Butler, where a majority of the flint from this collection came from. Old Ohio collection with details to the buyer.
Condition: Perfect, right down to a little nipple tip, which you only see on the best Lost Lakes. Highly glossed Indiana Hornstone with a great quartz bullseye inclusion on the side. Flaking is everything you would expect from a great flint. There is a slight twisted bevel. Extremely classy flint in hand and under the microscope.
Price: $SOLD< THANK YOU>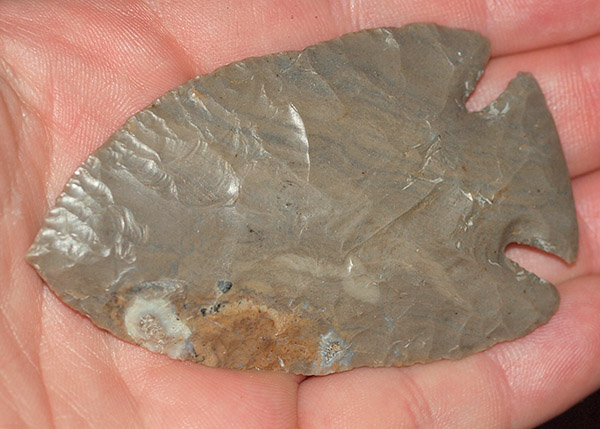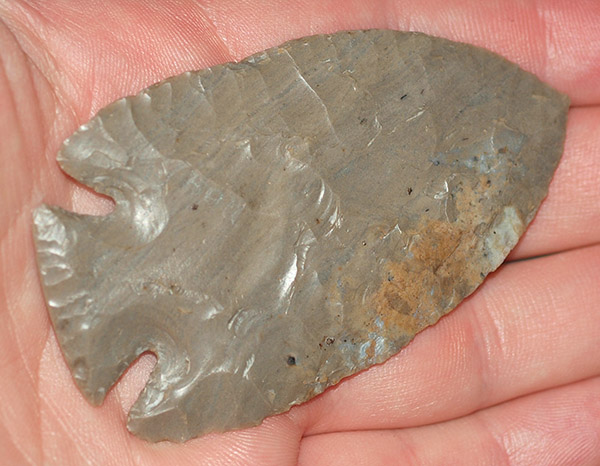 Hell Gap - #1-6
Size: 2 15/16" L x 1 5/16" W.
Provenance: Wisconsin. At one point in time, I had a sticker that gave a county, and I have no idea where it went. Purchased at Collinsville show at least 5 years ago.
Condition: Good. Tip is rounded off. Extra long stem with a ground flat base. Hixton, and a very rare form.
Price: $SOLD< THANK YOU>
Great Documented Ohio Hopewell - #1-7
Size: 4 15/16" long x 1 13/16" wide.
Provenance: Get ready for a story. This point and I have a long history. Piece was found in Clark County, Ohio. Orginally collected by noted Ohio moved to VA oldtimer Elmer Utt. Mr. Utt's collection was sold by Painter Creek/Old Barn on 3/11/1989. This piece is featured as the centerpiece of the auction cover (see below). The flint was purchased by Herman Schiller at the auction, and remained with him until 2003-4? when I purchased it. I subsequently sold the flint to Jim Phillips, who is an old friend and great collector. Jim added the stickers on the back of the piece. He also added "N.F.S" not for sale, b/c "I was being hounded to sell it". Around 2008, Jim needed to sell relics, and this piece ended up in Massachusetts with another friend, Kevin Sedgwick. I was able to get the piece back after Kevin passed away.
Condition: Excellent. Some minor use nicks, but nothing distracting. In this age of collecting, it seems that large colorful Flint Ridge Hopewells sell at every auction. Anyone want to buy some swampland? Make a mental note of the frosted patina on this ice blue Flint Ridge Chalcedony, which is the material for the vast majority of these large Hopewells. The vivid colors in reds, oranges, and greens should call for major skepticism.
Price: $SOLD< THANK YOU>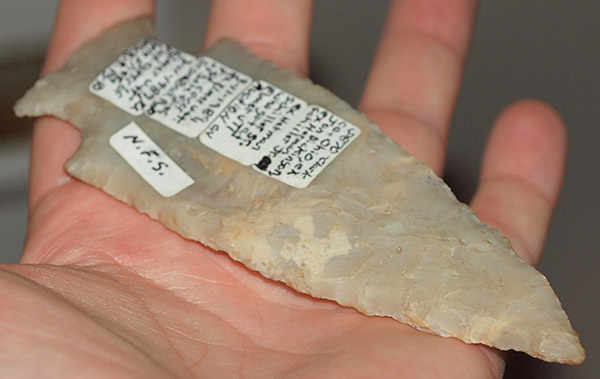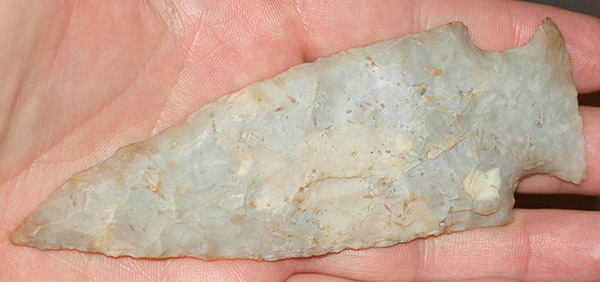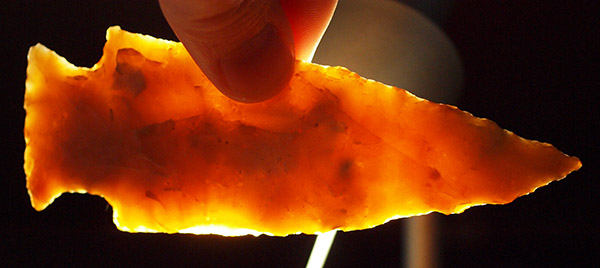 Notched Base Dovetail Drill - #1-8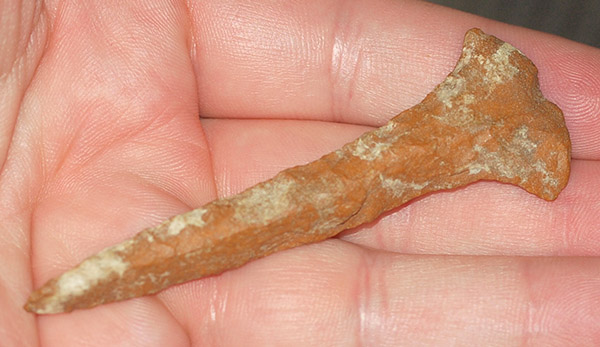 Size: 3 1/4" L x 1 1/16" W
Provenance: Listed as Northwest Louisana. Dwain Rogers COA dated 4/29/10.
Condition: Super. I have no idea what the material is, but I like it. Maybe Orange Jasper? I have no idea what a fine dovetail drill was doing in Louisana, but that is the story. I would rank this drill in the upper 5% of any I have had the luck to acquire.
Price: $250
Dalton - #1-9

Size: 4 1/2" L x 1 1/16" W
Provenance: Found in Pettis County, Missouri. Previously collected by Steve Lee. Roy Motley COA dated 12/11/06.
Condition: Super. Very close to perfect. This is a Dalton Classic, and it does not disappoint. Finely made in tannish Burlington with small serrations and great micro edgework.
Price: $Reserved.
Mackinaw Point - #1-10
Size: 5" long x 2 5/16" wide.
Provenance: Found by Wait Meyers in 1960 in Pike County, Missouri. Greg Perino COA dated 10/8/2000. I am pretty sure that Mr. Perino named and described this point type.
Condition: Super. Will quote Perino: "A variant of the Snyders point having narrower notches. It was larger but has had two resharpenings that reduced the size of the blade." My observation of this type is that there are large and skillfully removed percussion flakes that work towards the center on both sides. This is a giant hunk of flint, and certainly a rare and desirable type.
Price: $SOLD< THANK YOU>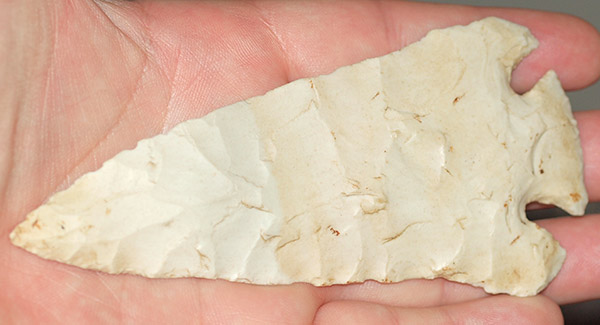 Slate Eyes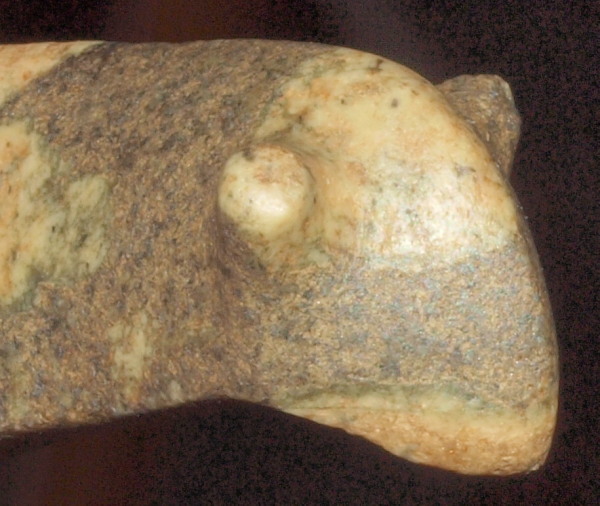 Sometimes we have stone eyes, and mouths, but we still know what you fakers are doing.
Jon Dickinson
Copyright 2004 (Dickinson Contract Marketing). All Rights Reserved.