8/2/17
Ohio Short Based Paleo Lance - #1-1
Size: 3 9/16" L x 1 1/2" W.
Provenance: Northern Ohio old school collection that Mark Palatas was helping to distribute a few years back.
Condition: Super. This is a rare type that seems to be focused on the Late Paleo Plano Complex of Northern Ohio. Made with a median ridge on one side, and flat on backside. Material is a double bonuse on this example. I am calling it variegated Coshocton, but this may be Plum Run also. Northern Ohio guys let me know your thoughts.
Price: $250. Reserved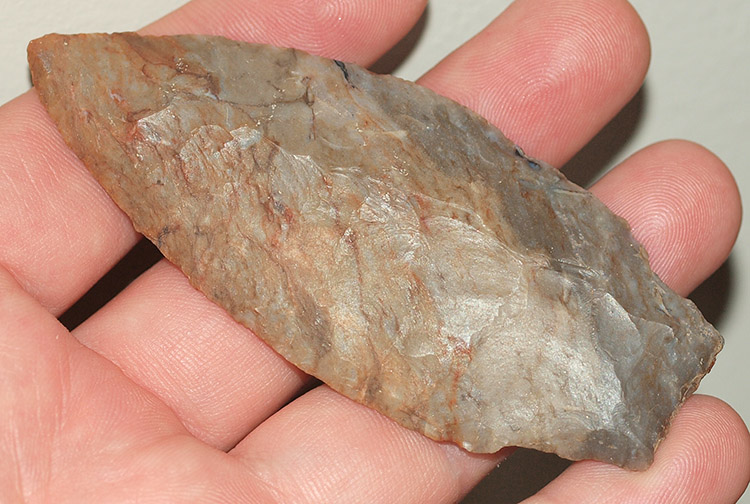 Crooksville Chert Fractured Base Decatur - #1-2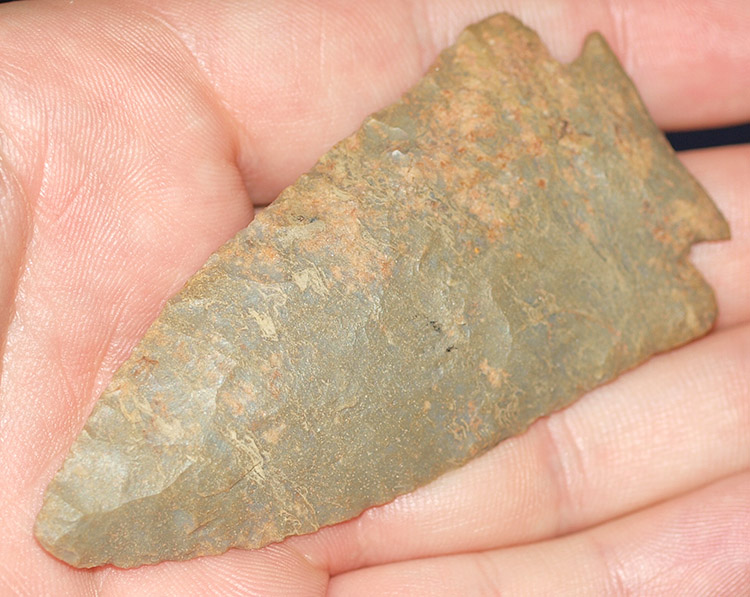 Size: 3 1/4" long x 1 5/8" wide.
Provenance: This piece was labeled "Sharp Collection", which I am sure refers to the fantastic early Frank and Merl Sharp collection. I can't verify, but can pass along info.
Condition: Super. Crooksville Chert is an extremely rare and desirable material from Ohio. I have owned less than 10 pieces of it over the years. Great fractured and ground base. Decatur's are extremely early, some even think they flirt with Paleo. The base fractures are unique in the archaeological record, and this type has always been a favorite of discriminating flint collectors.
Price: $325. Reserved
Ashtabula - #1-3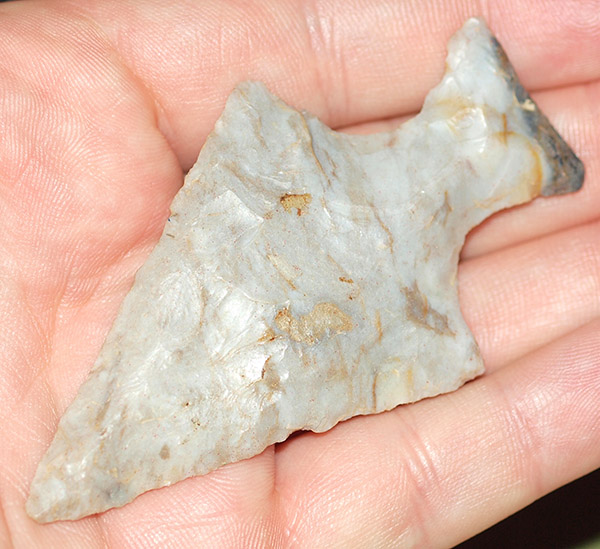 Size: 3 3/8" x 1 7/8" wide
Provenance: Ohio. Mark Bach collection.
Condition: Excellent. High grade Coshocton in a very light color pallet. One of those great uniquely Ohio point types. A favorite in many flint collections.
Price: $225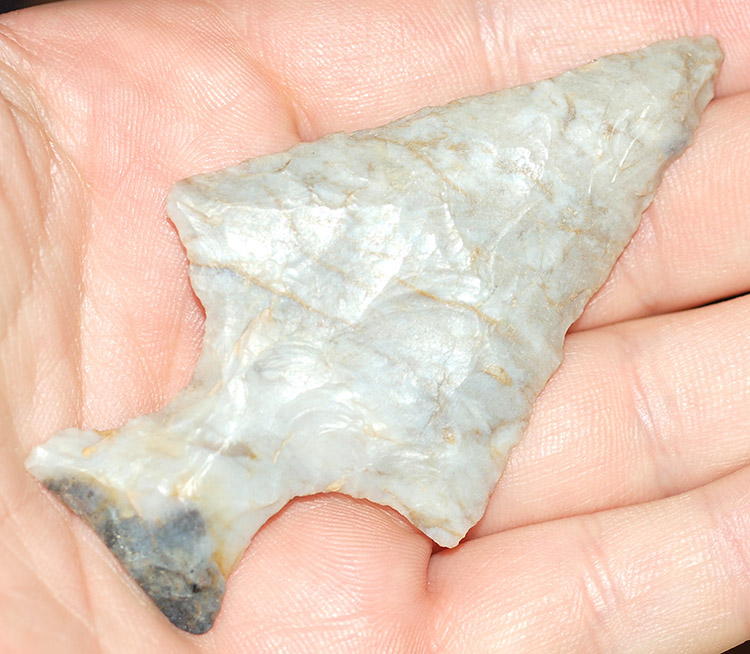 E-Notch - #1-4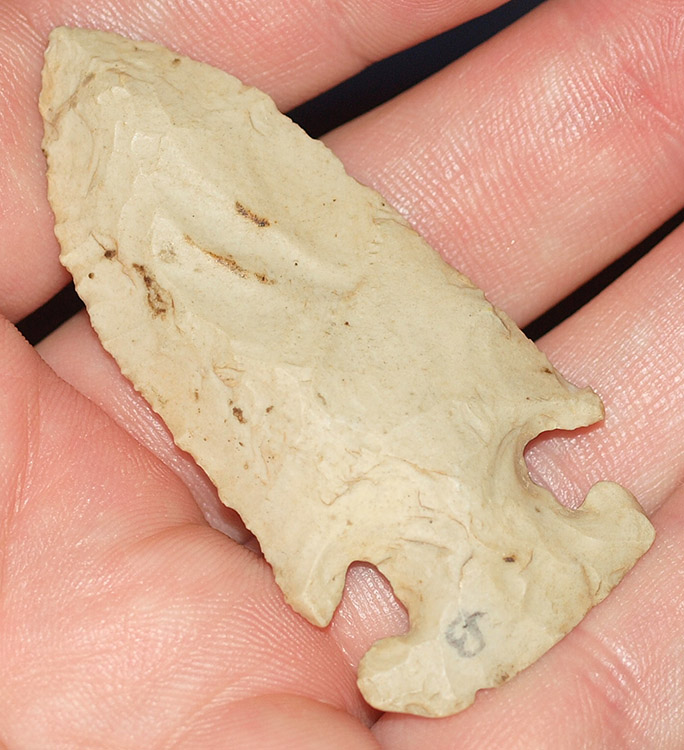 Size: 2 1/2" long x 1 3/16" wide.
Provenance: Notice the "B" on the base. That little B can tell us much about the piece. It it is from Ohio, was collected originally by 1800's collector Mr. Buck. Buck then sold his collection to AT Wehrle, and much of the Wehrle collection ended up being distributed through Stan Copeland. A B can tell you much.
Condition: Super. The only flaw is removable, some glue on the backside. Warm water will do it, but I was a little worried about losing the B. A little time, and being careful will do it. A high grade E-notch built to a smaller scale than most. I would class this piece as fine, and a very nice example for anyone's collection.

Price: $150. Reserved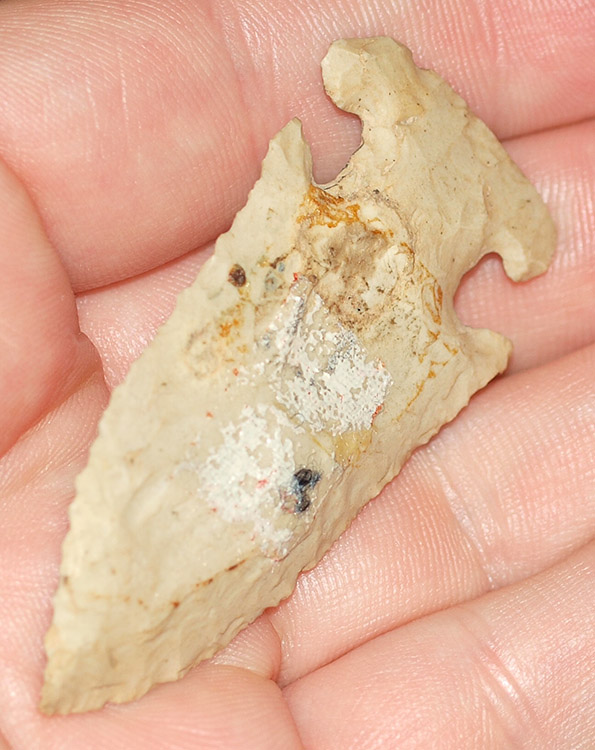 Flint Ridge Decatur - #1-5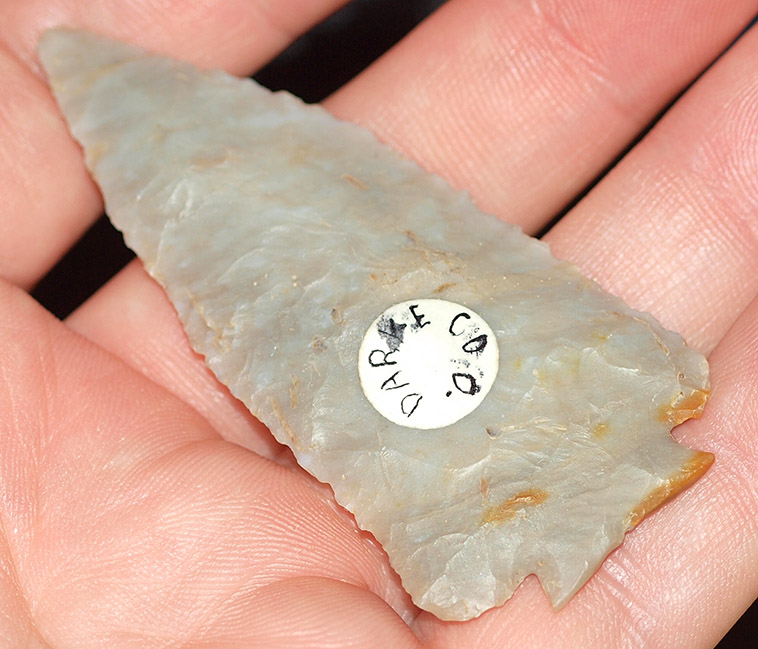 Size: 2 15/16" long x 1 5/16" wide.
Provenance: Darke County, Ohio. Mark Bach collection.
Condition: Killer. This piece is the definition of fine Early Archaic craftmanship. Superior workmanship. Not only great basal fractures, but even rarer fractures to each side of the base. Flint Ridge translucent material. One of the most collectible types...
Price: $325. Reserved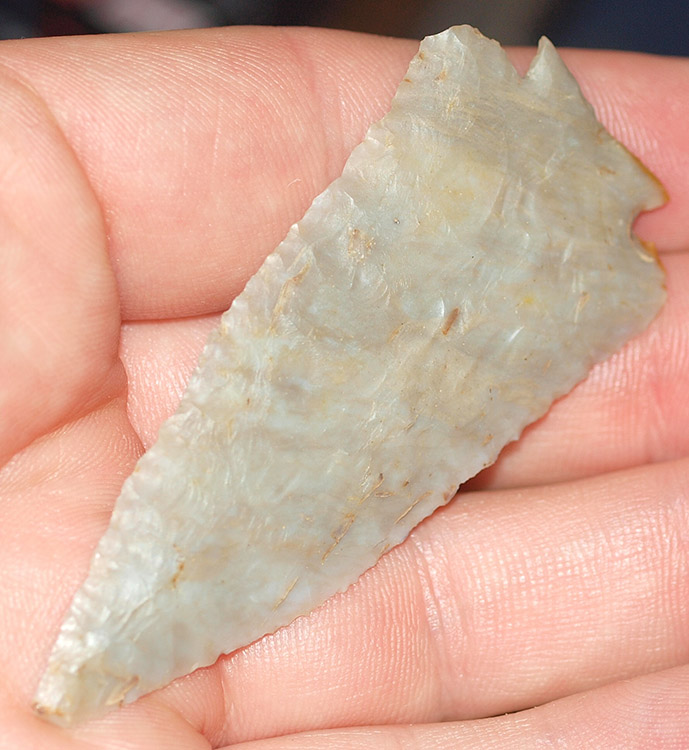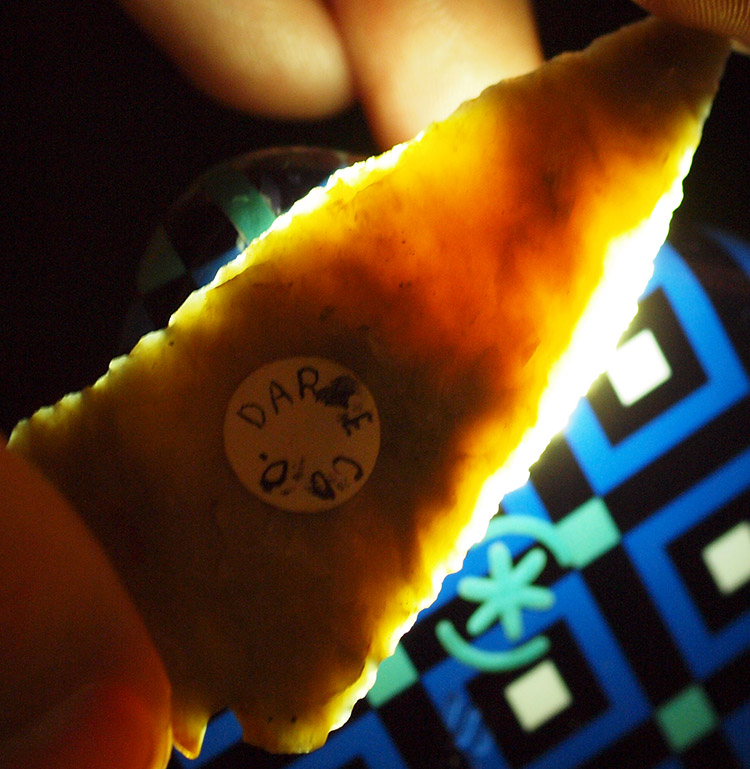 Giant Dovetail - #1-6
Size: 5 3/4" L x 2" W.
Provenance: Found in Breckenridge County, Kentucky across the Ohio River from Derby, Indiana. Piece was originally collected by Irv Daughtery. At some point, Daughtery traded the dovetail to a Dr. Rousch in exchange for doctor services. This exchange occurred in the 1950's. My late friend, Jim Felke, knew of these trades, and contacted the Rousch family many years after both men's death. Jim was able to acquire the piece and collection. He sold this to me in 2006. Jim passed away last year, leaving a major hole in the collecting community.
Condition: Good. The tip is not perfect, but pretty darn good. You see a big patch of minerals on the tip making it appear more dinged. There is a decent "ding" on the side that really looks like it could be a spokeshave. I highly doubt you will find another dovetail of size, authenticity, workmanship, and material priced at this level.
Price: $SOLD> THANK YOU
Great Pinetree - #1-7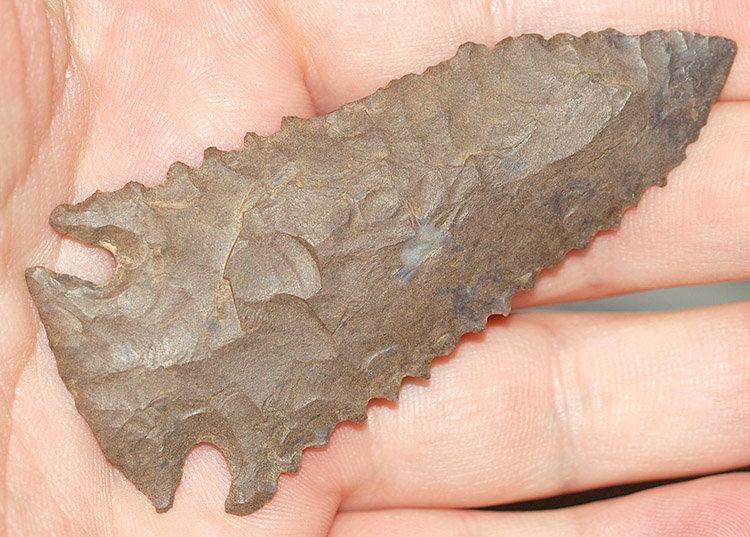 Size: 3 1/4" long x 1 9/16" wide.
Provenance: Wayne County, Kentucky. Tom Davis COA G-10 dated 11/2/2006. COA to buyer.
Condition: Super. A couple of serrations worked off, and a few very minor dings. These tiny imperfections did not stop Tom Davis from grading the piece as a G-10. Obviously a great flint made from Dover Chert with some blue inclusions. Check out the flaking shot in the light. Outstanding!
Price: $300. Reserved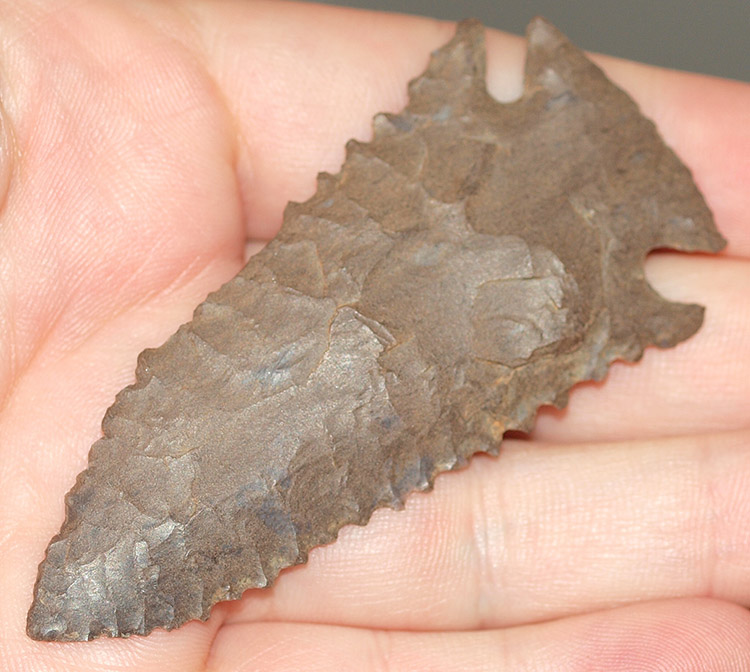 Decent Flaking, huh?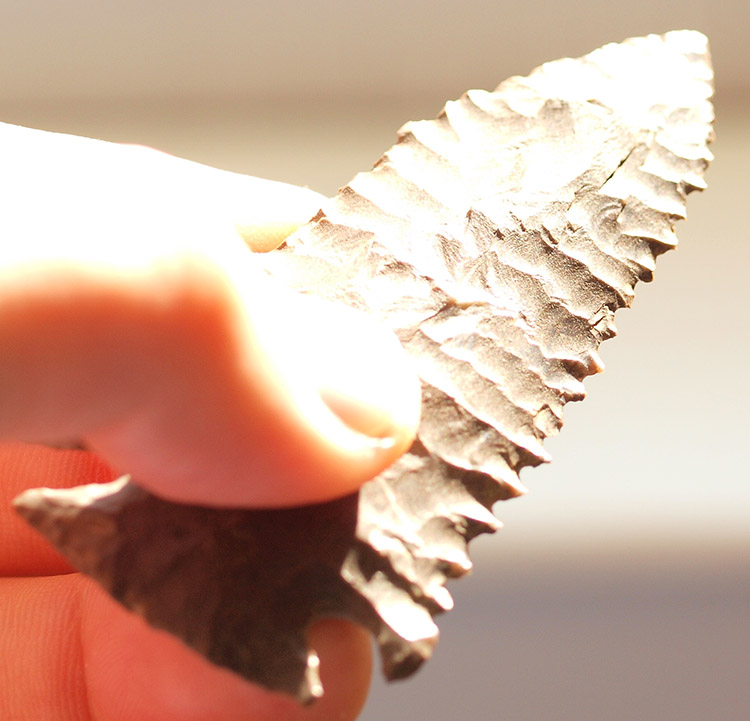 Benton (Lance Style) - #1-8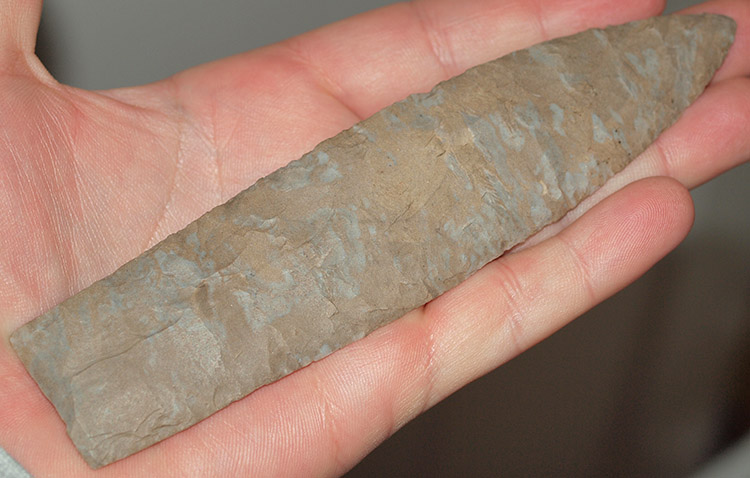 Size: 6" L x 1 5/16" W
Provenance: Clay County, Mississippi. Found on the "Beer Joint Site", which I have learned produced many great flints, and is well known. Tom Davis COA dated 10/2/2000. Strangely, this piece is graded an 8. I can't see how it is not a 10. Misprint?
Condition: Perfect. Huge, thin, classic, well mineralized. This is a flint that has it all. Great color combo on Fort Payne. This style of Benton looks like a coffin shaped Paleo lance, just on steroids. Hardly need to say anything more about it.
Price: $850. Reserved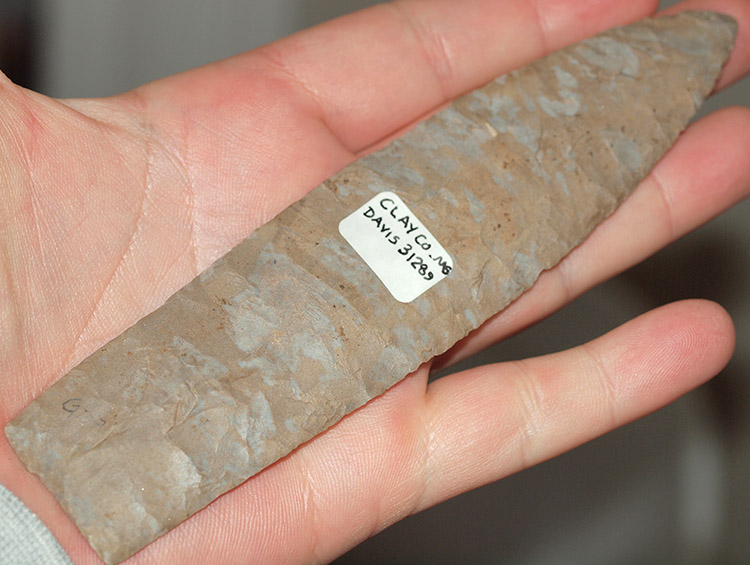 Dr. Stan Copeland E-Notch - #1-9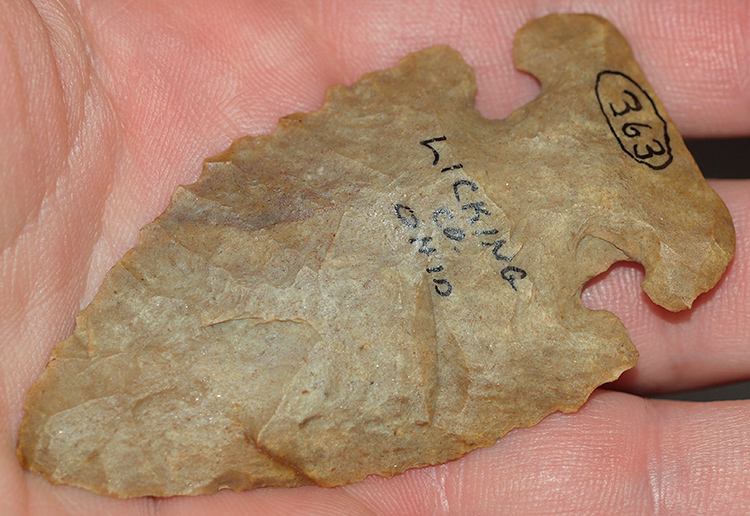 Size: 3" L x 1 5/8" W
Provenance: Found in Licking County, Ohio. A.T. Wehrle flint #1288. Dr. Stanley Copeland circle number 363.
Condition: Killer. The entire piece undulates like a potato chip, but it's not for eating. The material is one of two extremely rare Ohio materials: 1) Plum Run 2) Crooksville. There are large mostly worn away serrations that were created from incredibly skillful flake removals that travel over a 3/8" into the body of the piece. This creates a wonderful flake pattern that is dificult to capture using a flash. I consider this a high grade piece with all the long term value factors going for it. Authenticity, history, material, type, condition...
Price: $SOLD> THANK YOU>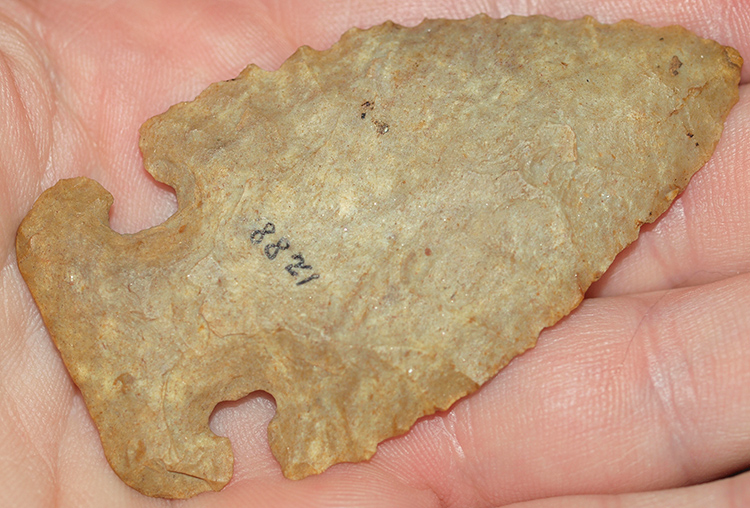 Cache Turkey Tail - #1-10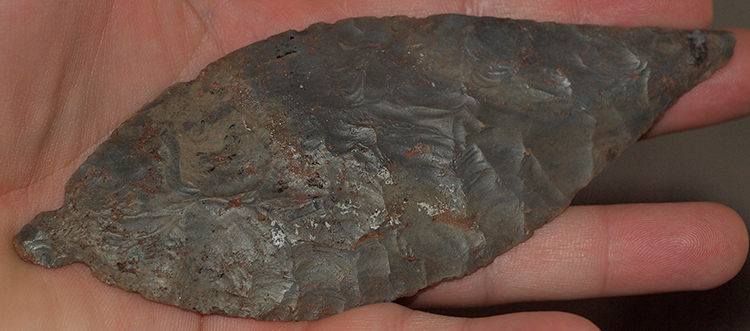 Size: Two eyelashes shy of 6" long x 2 3/8" wide.
Provenance: Found in a mound in Sullivan County, Indiana in the 19th Century. The town of discovery was DeBaun, Indiana, which is now only a cemetary. I would not be surprised if this cemetary was constructed around the mound, like so many other early cemetaries in the Midwest. Additionally, there is a chance that this piece was the result of the famous Harvard Archaeologist Frederick Putnam's explorations of Sullivan County in the 1870's. I do not have direct evidence of this, but I have more than a hunch that further research could produce this answer.
Condition: Museum Quality. The base is the first item to discuss. This basal style in almost unique within known turkey tail caches, except for one very famous find. The Hasler Mound turkey tails (See Townsend Birdstone Book) have identical bases to this example. Where was the Hasler Mound? Greene County, Indiana, which is the adjacent county to Sullivan. From what I can figure, the two sites are less than 30 miles apart. This could be evidence of a single maker, or a highly specific regional variant. There is way more than enough to write a great journal article. I would be willing to help the new owner if they decided to pursue. This piece is obviously part of a larger cache. Where the other examples have gone since discovery is something I would really like to know. There is abundant ochre staining on the piece to further bolster the cache hypothesis. Piece is extremely well made, thin, and skillful straight lined blade edges.
Price: $email.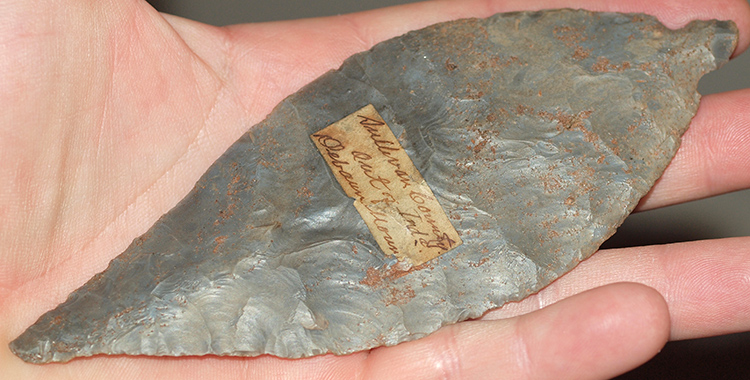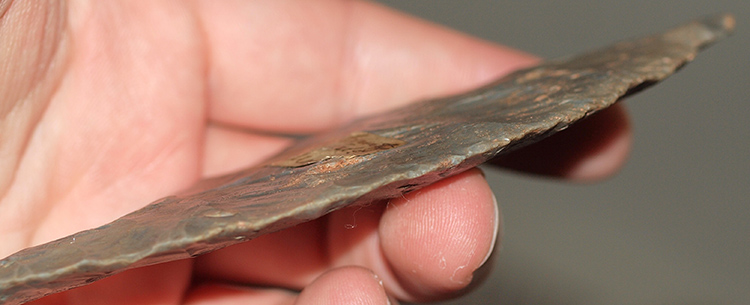 Slate Eyes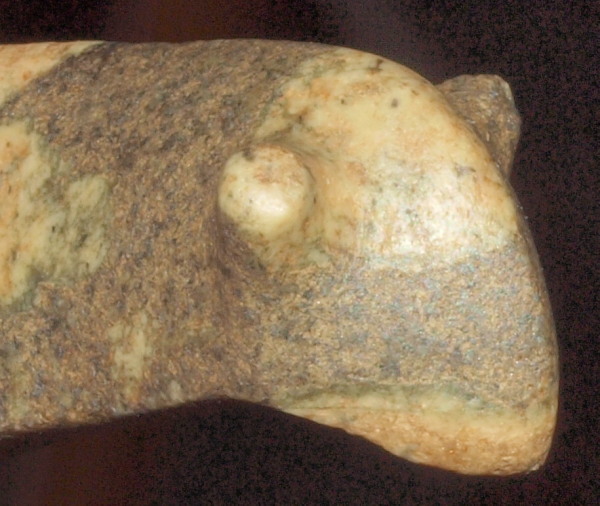 Sometimes we have stone eyes, and mouths, but we still know what you fakers are doing.
Jon Dickinson
Copyright 2004 (Dickinson Contract Marketing). All Rights Reserved.