12/20/18
Flint Ridge Decatur - #1-1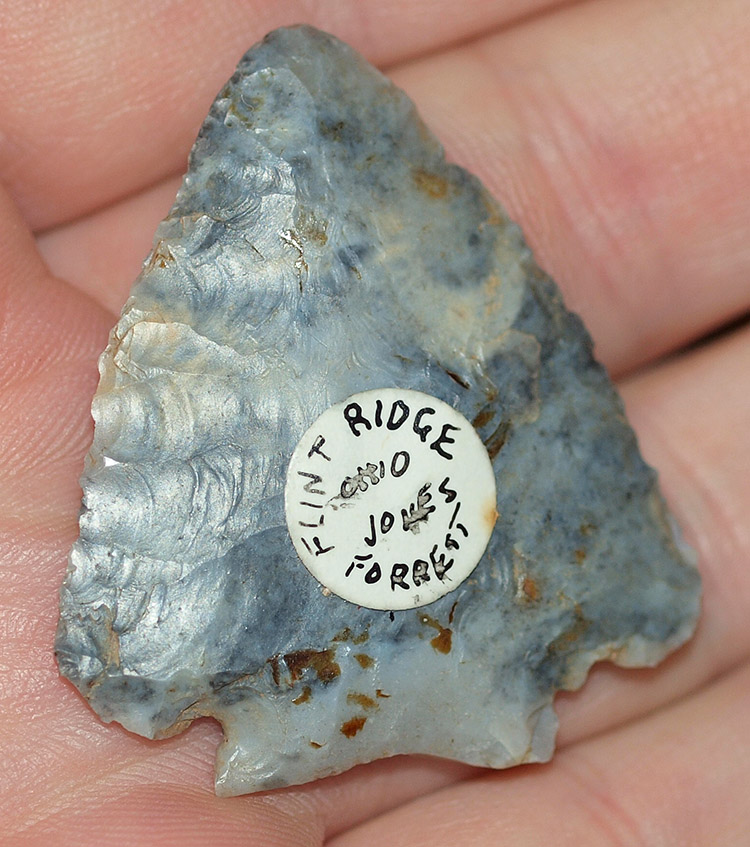 Size: 1 3/4" L x 1 1/2" W.
Provenance: Found at Flint Ridge, Ohio by Forrest Jones. X: Bach.
Condition: Super. Tiny ding to one side of the base. A superior blend of material, form, and condition.
Price: $125 - Reserved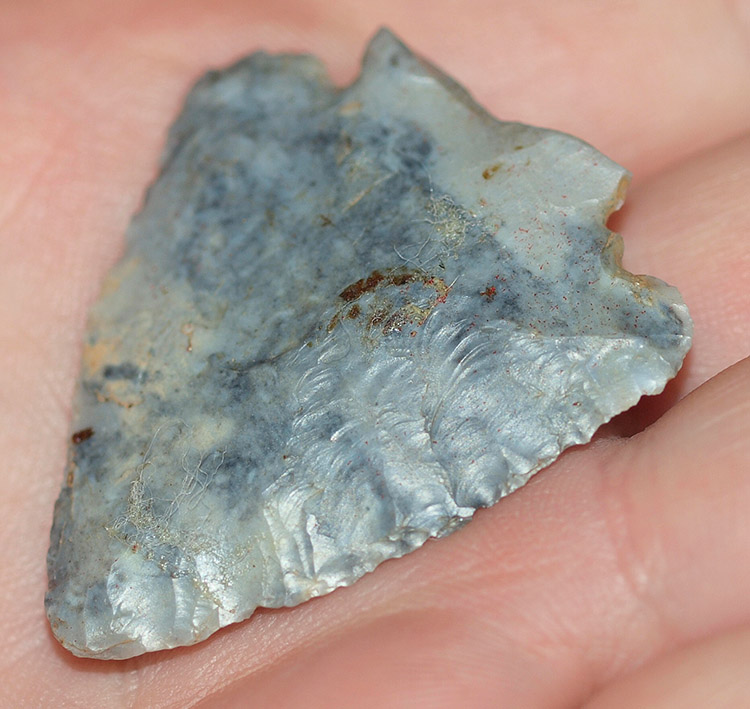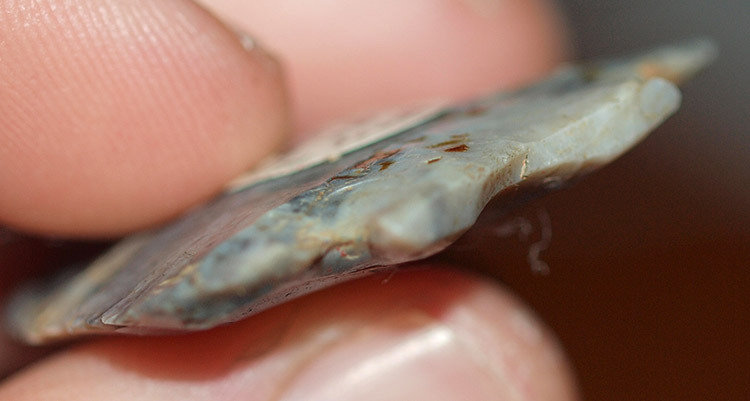 Decatur - #1-2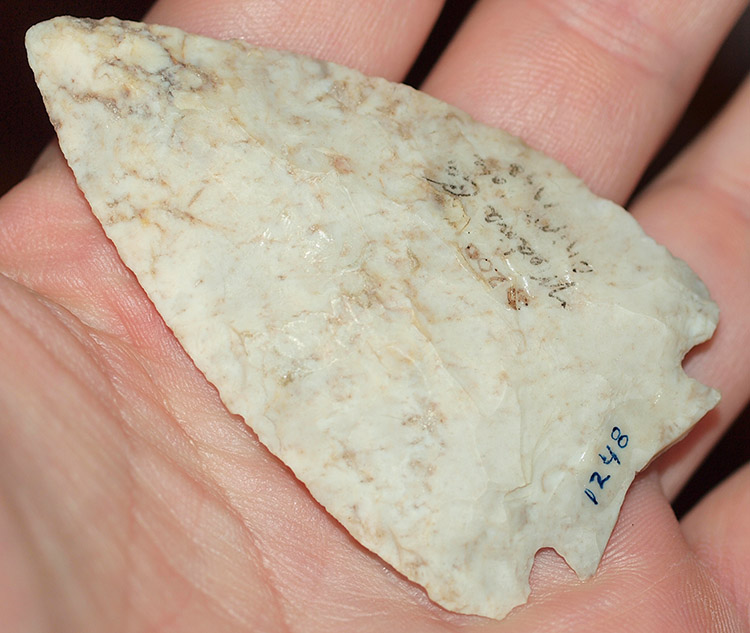 Size: 2 7/8" long x 1 5/8" wide.
Provenance: Found in Medina County, Ohio near Chippewa Lake in 1942. #1248 Dale and Betty Roberts collection.
Condition: Super. Great fractured base made of semi-translucent Flint Ridge. I purchased this piece from Betty Roberts directly.
Price: $175
Killer Uniface Blade - #1-3
Size: 5" x 1 11/16" wide
Provenance: Found in Defiance County, Ohio.
Condition: Killer. I really like this piece. Uniface blade may not be entirely accurate b/c the unifacial area covers only about 40% of the backside of the piece. I wanted to keep the name b/c it signals Paleo era, and the piece has a great unifacial area. I strongly feel this is a Paleo era tool, with both ends being used for different purposes. Not the profile pic below that shows the rounded end. Flaking and straight blade edges seal the deal in my mind. If you know me, this is what I collect. You better buy it before I wake up and pull the listing.
Price: $SOLD> THANK YOU>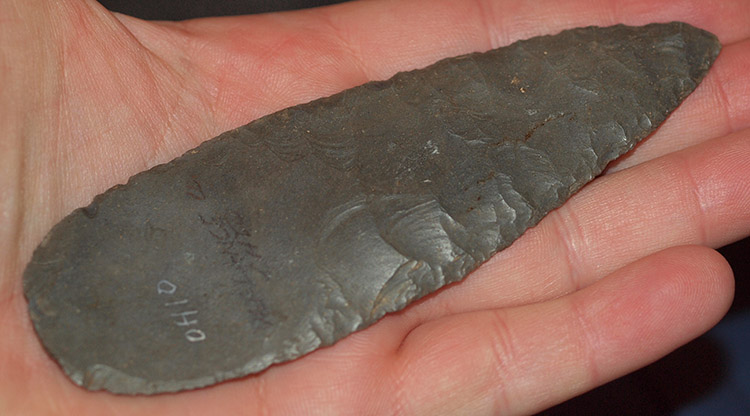 Concave Base Big Sandy - #1-4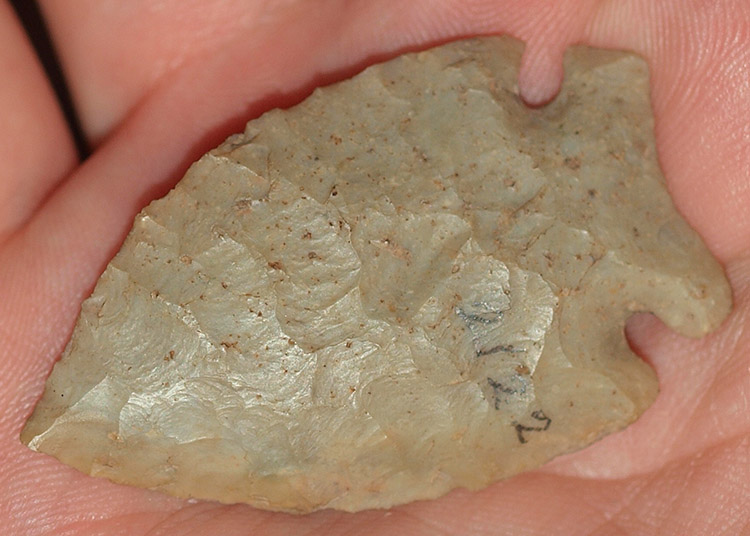 Size: 2" long x 1 3/16" wide.
Provenance: Found on the J. Doughtery Farm located in Logan, Hocking County, Ohio. Collected by Joseph Verba in the 1940's-1950's. I will include with the piece my personal collection card, and a picture of the original frame this point was located in.
Condition: Perfection. Several years ago I distributed the Joseph Verba collection through the website. It was a wonderful early Ohio collection, and I sold every piece in a couple days. This is the only piece I kept from the collection. It is such a rare form, and then it is dead solid perfect. After a couple years in my collection, time for someone else to enjoy. I am on record stating that I will take fine over size any day.

Price: $100 - Reserved.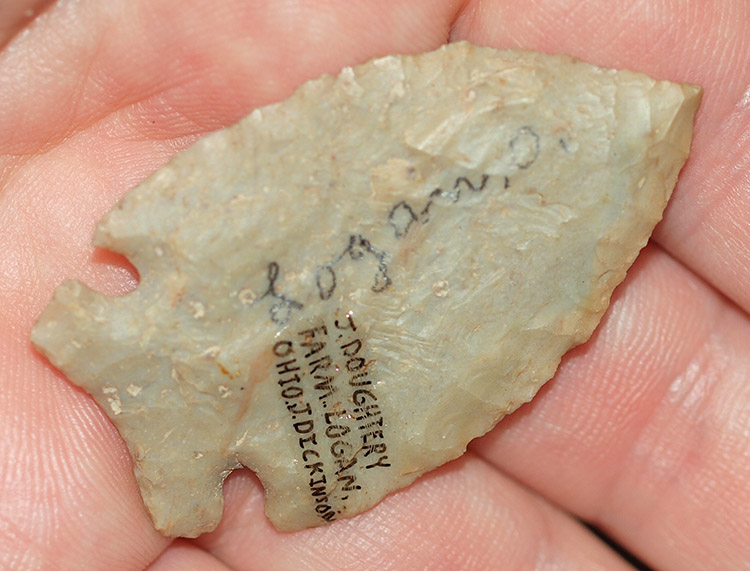 The Pinetree - #1-5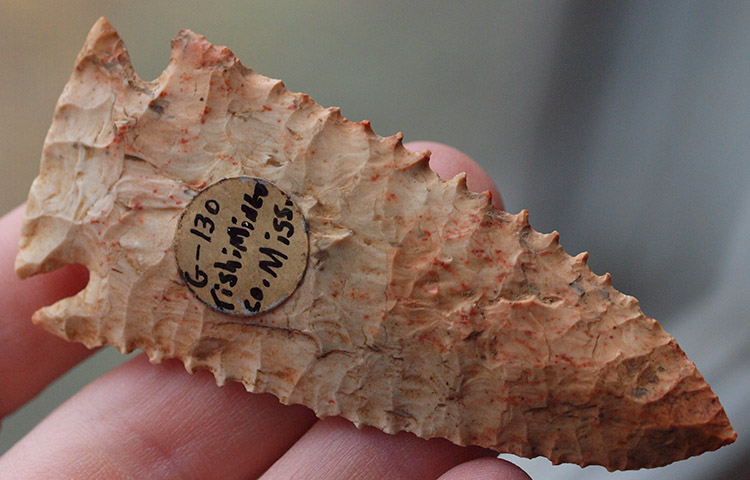 Size: 3 7/16" long x 1 9/16" wide.
Provenance: Tishomingo County, MS. Jerry Dickey COA. Listed as X: BW Stephens, and tag seems to match. Can anyone confirm via catalog?
Condition: Museum. Some of the largest and toothiest serrations you will see. Color is outstanding. Jerry Dickey calls the material Tuscaloosa Gravel, which I am not familiar with. Everything about this piece is top shelf.
Price: $800 - Reserved.
Polished Dalton Drill - #1-6
Size: 2 1/4" L x 15/16" W.
Provenance: Found in IIlinois.
Condition: Special. Dalton's are cool. Dalton drills are cooler. A polished Dalton drill is the coolest. "Polished" points are known, but extremely rare, in the Midwest. Whether these items were talismans, picked up by later cultures and cherished, or produced for an unknown reason, we don't know. I have only owned two over the years, and this is your chance to buy them.
Price: $150 - Reserved.
Jacks Reef - #1-7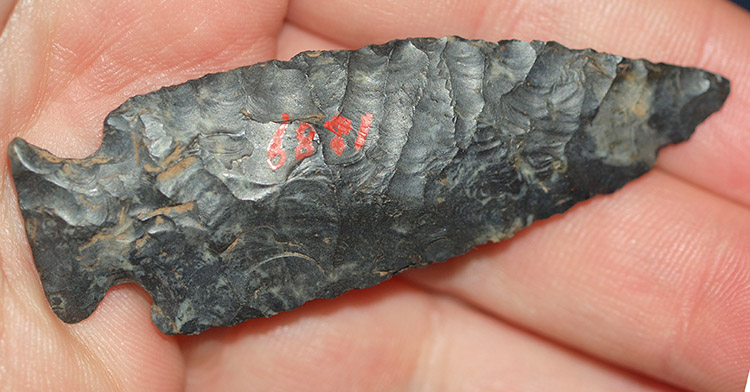 Size: 2 7/8" long x 15/16" wide.
Provenance: Found around Gambier, Knox County, Ohio. In the very early collection of Peter Neff. Yes, he left a big tag on it. 1889 is written in old red ink, which may be a catalog number or a year found.
Condition: Super. This one has all the great features of the ever popular Jacks Reef / Intrusive Mound Culture points we come to expect. This one has a little extra with an overall twist to the piece. Love old collection material.
Price: $100 - Reserved.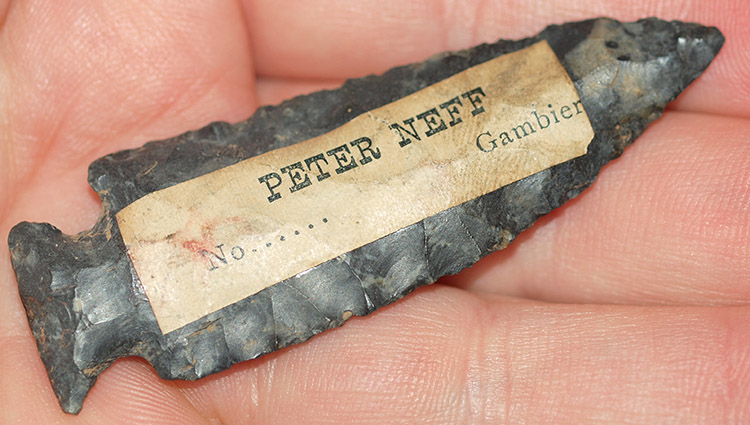 William C. Mills Cache Blade - #1-8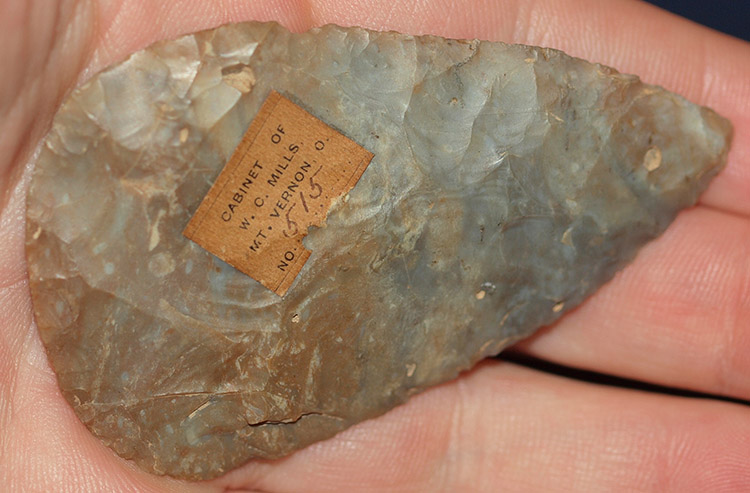 Size: 3 1/16" Long x 1 7/8" Wide.
Provenance: Collection of William C. Mills, Mt. Vernon, Ohio #515.
Condition: Super. Get ready for a long description. This blade is an extremely nice Flint Ridge cache blade from the Adena Culture. The old tag is from William C. Mills, and this is the only Mills tag known to exist. Mills is Ohio's most prominent professional archaeologist. He excavated The Adena Mound, Tremper Mound, Seip Mound, Mound City Group, Rogers Mound, Baum Village, Harness Mound.... He also wrote and published the important work "The Archaeological Atlas of Ohio". Served as director of Ohio Historical from 1921 until his death in 1928. Before this piece turned up, I was under the impression that Mill's never had a personal collection. Now we know that Mills did have a personal collection, and it contained at least 515 items. Where did these go? Does Ohio Historical have them? Good to know he traded at least one into the collecting publics hands. Even better that he understood a 100 years ago that he better label the piece as owned by him, or else Ohio Historical would claim ownership.
Price: $SOLD> THANK YOU>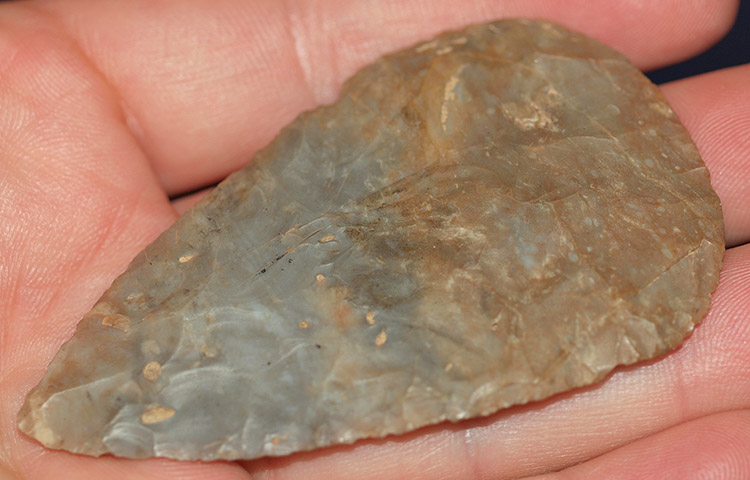 Flint Ridge Nether's Pentagonal - #1-9
Size: 2 5/8" L x 1 7/16" W
Provenance: Found in "Hyatt", Knox County, Ohio. Hyatt is now only a road near the town of Fredericktown, Morris Township. Collected and labeled by Dr. Stanley Copeland.
Condition: Museum. This piece of Nether's is gem grade. I can't imagine a waxier, higher quality flint. The flint quality allowed the maker to create amazing blade edges. This form is known for it's unique resharpening patterns, and this one is almost a 4 sided Pentagonal with one spur highly defined, and the other side spur almost absent. As Cliff Bauer would note with great rarity "a master's work". The colors and shades of pink are too numerous to count. Take a good look at this piece, b/c this grade of Nether's (old timer's called it "Core Flint") was exhausted prehistorically. The faker's simply don't have access to it.
Price: $SOLD> THANK YOU>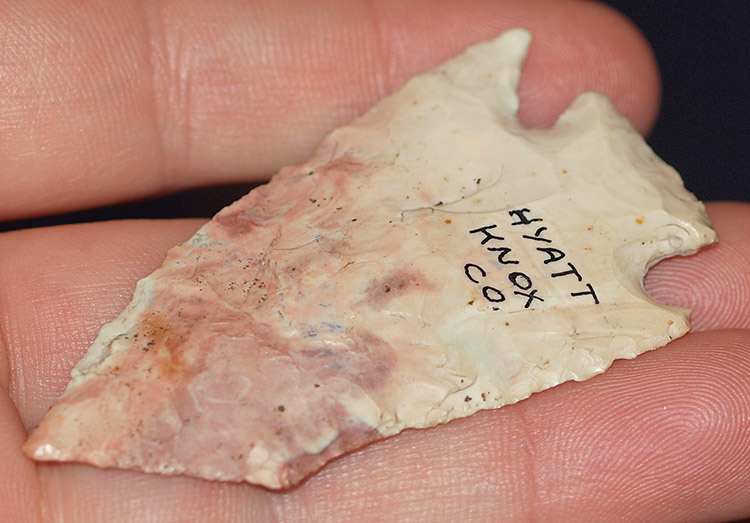 Peter Neff Blade - #1-10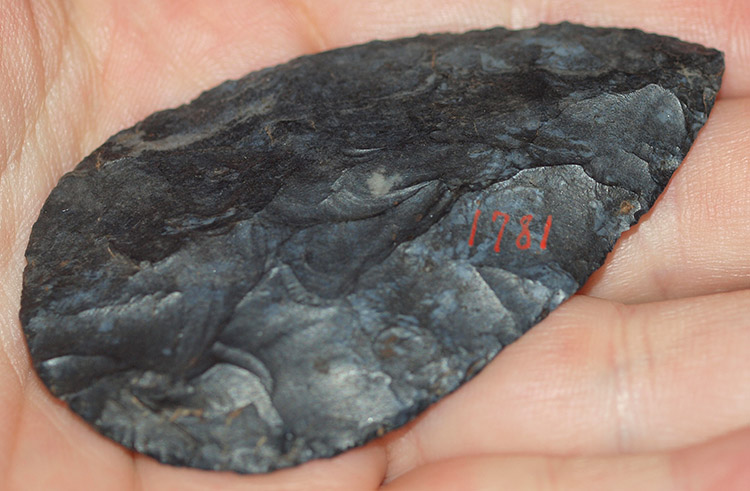 Size: 3 1/8" long x 1 3/4" wide.
Provenance: Collected by pioneer collector Peter Neff of Gambier, Knox County, Ohio.
Condition: Super. A very fine cache blade with a very early discovery date. Very few of these were made from Upper Mercer flint.
Price: $SOLD> THANK YOU>
Stone Eyes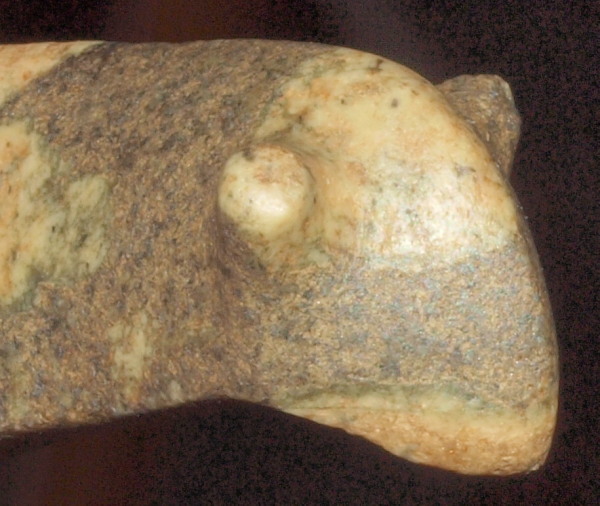 Sometimes we have stone eyes, and mouths, but we still know what you fakers are doing.
Jon Dickinson
Copyright 2004 (Dickinson Contract Marketing). All Rights Reserved.